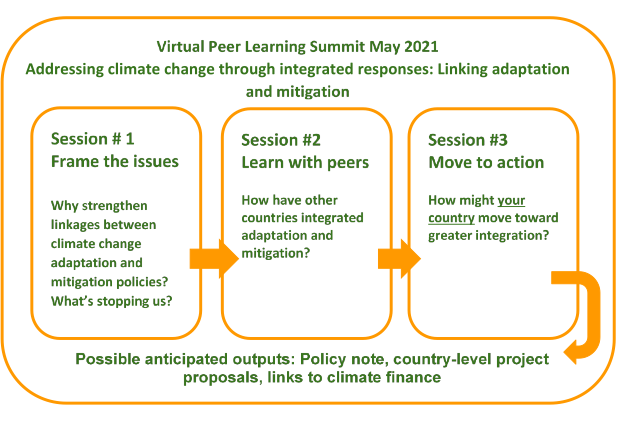 The NAP Global Network and the Low Emission Development Strategies Global Partnership (LEDS GP), with assistance from the Deutsche Gesellschaft für Internationale Zusammenarbeit (GIZ) GmbH's Support for the Implementation of the Paris Agreement (SPA) project, are jointly hosting learning and capacity development activities in three sessions to support countries in designing and applying integrated approaches in their adaptation, mitigation, and development agendas.
This virtual peer learning summit consists of three interrelated sessions taking place on the following dates:
Session #1: Frame the issues | May 4th: 9 am – 11 am EST
Session #2: Learn with peers | May 18th: 9 am – 11 am EST
Session #3: Move to action | May 25th: 9 am – 11 am EST
This summit will provide a platform for government representatives to share perspectives, experiences, and lessons learned on integrated climate strategies that simultaneously take into consideration both low-carbon development and adaptation actions to growing climate risks.
Through a facilitated exchange, participants will have the opportunity to hear from experts and peers on designing and implementing integrated strategies, to learn from one another, and to reflect on their own processes. This will enable the identification of concrete next steps they can take to ensure that mitigation and adaptation planning processes are aligned and build on one another.
Attendees will receive a certificate upon successful participation of the event.
If you are a government representative or working closely with a country's ministry or department on adaptation and/or mitigation processes
and would like to participate in this peer learning summit, please apply below.
Please note that spaces are primarily reserved for country representatives.