On July 25 and 26 in Kingston, over 30 budget, policy and planning officers from Jamaica's public sector took part in a two-day training focused on strategies to integrate climate change adaptation into national and ministerial budgets.
Coming out of a request for support made by the Government of Jamaica through the NAP Global Network's Country Support Hub, this workshop was co-hosted by the Climate Change Division of Jamaica's Ministry of Economic Growth and Job Creation as well as the Ministry of Finance and the Public Service.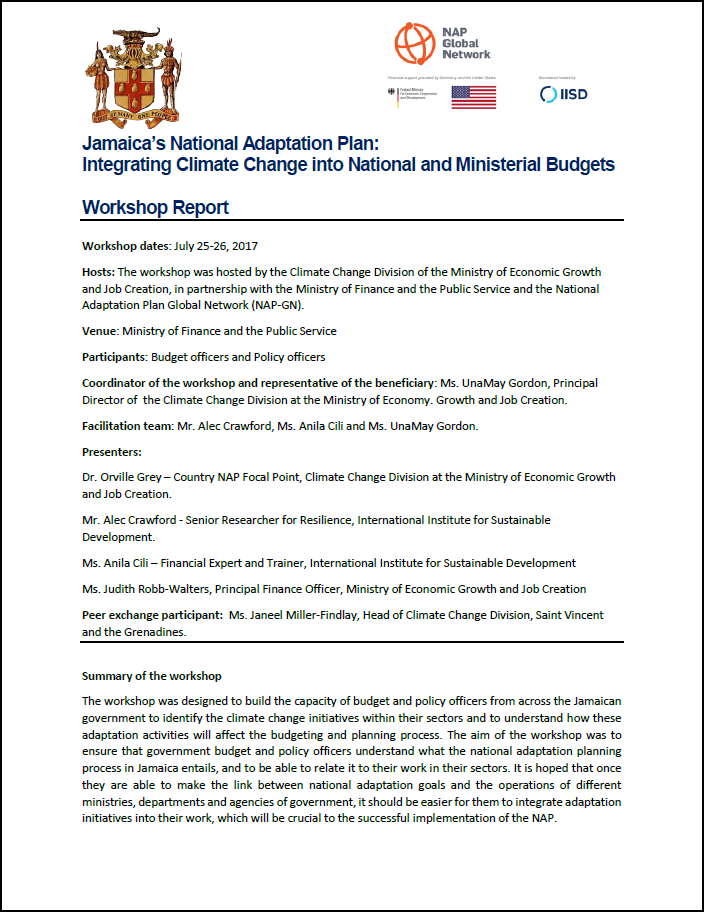 Jamaica's NAP process is centred on the development of 12 sectoral strategies and action plans for those sectors deemed most vulnerable to the impacts of climate change. These strategies and plans will fully integrate climate change considerations, and are expected to be completed by next year. Once done, they will form the foundation for Jamaica's NAP.
The initiative was geared towards building the capacity of the participants to identify the climate change risks to their industry and understand how it will affect the budgeting and planning process. Principal Director of the Climate Change Division, UnaMay Gordon, emphasized the importance of the workshop and encouraged participants to work with the Division to ensure that climate change resilience efforts are properly targeted and that the financial resources to support the work is allocated.
Read the workshop report, or scroll down to read presentations from this event.