Version française / Version en español
The NAP Global Network's activities are demand-driven and we strive to respond flexibly to support participants in addressing emerging NAP-related challenges and opportunities.
Through our Country Support Hub, Network participants in developing countries can request free expert advice and/or short-term, targeted in-country technical support on specific issues that will help them to maintain momentum in their NAP process or its implementation.
How do I submit a request?
Download and complete the request form. Please submit the completed form by email to: info@napglobalnetwork.org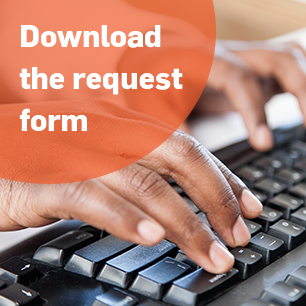 What types of support can my country request?
Click on the below graphic to see some examples of the types of requests we can respond to through the Country Support Hub.
Planning
Developing an outreach and stakeholder engagement process.
Developing a communications strategy to support the NAP process.
Implementation
Developing a financing strategy for NAP implementation.
Structuring public-private partnerships for adaptation projects.
Support in designing domestic fiscal instruments to support implementation of prioritized adaptation actions.
Monitoring & Evaluation
Developing M&E indicators.
Institutional Arrangements
Conducting an institutional context analysis.
Information Sharing
Facilitating dialogue between actors at national and sub-national levels to help encourage vertical integration.
Capacity Development
Advice on mainstreaming gender in the NAP process.
Advice on ensuring the NAP process is inclusive of indigenous groups.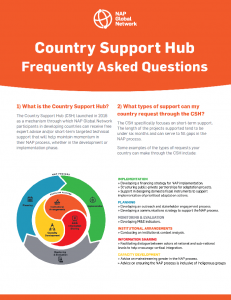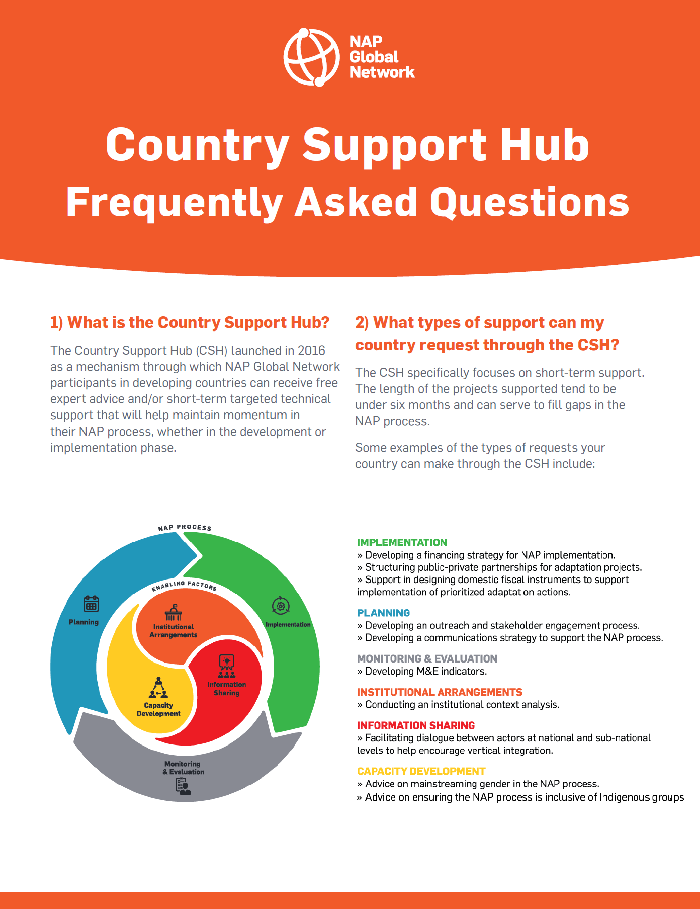 How will the request be processed?
The Network Secretariat will review your request and acknowledge receipt within three business days, including an estimated timeline for providing a full response to your request and a description of the type of support that we can offer.
Response times may vary depending on the nature of your request and volume of requests received, but we aim for a turn-around time of between one and two weeks. If your request is not accepted, we will advise you accordingly with reference to the criteria listed below.
What type of support can the Network offer?
Depending on the nature of your request, the Network may respond to your request in one of the following ways:
Expert advice from a member of the Network Secretariat or our growing roster of experts from around the world in response to questions about the NAP process and implementation. This advice would be provided virtually, from a distance.
Targeted in-country technical support that addresses a specific, short-term gap inhibiting momentum in NAP process or its implementation, and that complements broader support for adaptation that may be available through bilateral or other programs., This might include, but is not limited to:

Feed-in analysis: Specific analysis that can be used in a NAP process–e.g. sectoral vulnerability or risk assessments; economic costing of adaptation options; review of a legal framework; review of adaptation considerations in a draft sector plan.
Pipeline development: Support to develop project/program concepts and proposals.
Strategies to support implementation: The development of frameworks, strategies, or action plans to support NAP implementation, for example a financing strategy, a communications strategy or an adaptation M&E framework.
Ensuring linkages and alignment with other national planning and policy processes, including NDCs: This might include help with the preparation or revision of the adaptation component of an NDC, translation of adaptation contributions in an NDC into activities or outputs, helping to ensure climate risk is taken into account in a country's plan to pursue SDGs, linkages with disaster risk reduction, etc.
Support for convening and facilitating meetings with key stakeholders to advance or build support for the NAP process and its implementation. For example, this could include a kick-off meeting, a technical workshop on a specific topic, or the launch of a NAP document and discussion on how to move forward with implementation.
How will the Network assess my request and determine eligibility for support?
The Network will assess your request and determine if and how the Network can provide support based on an assessment against the criteria listed below:
Country ownership: You must be working for a developing country government (in any agency and at any level) that is involved in the NAP process or implementation. While you should ensure your NAP focal point is aware of requests made, he/she is not the only person who can submit requests.
Network participation: You must be registered as a Network participant to submit a request (if you haven't already registered, you can easily do so online).
Justification and relevance to the NAP process: Clear indication of how the assistance provided would fill a gap to support the NAP process and/or implementation in the country.
Targeted and complementary scope of support: Clear definition of the gap the support would fill and the timeframe within which you envision it taking place, particularly in relation to longer-term support being provided by other donors in the country. Given the targeted and complementary nature of the support the Network provides, the scope of the support requested must be achievable within up to approximately six months. Complementarity with other support may be verified by the Network Secretariat in consultation with in-country donors, as needed.
Number of requests per country: At any given time, the Network can only address up to two requests per country from different Ministries/agencies involved in the NAP process.