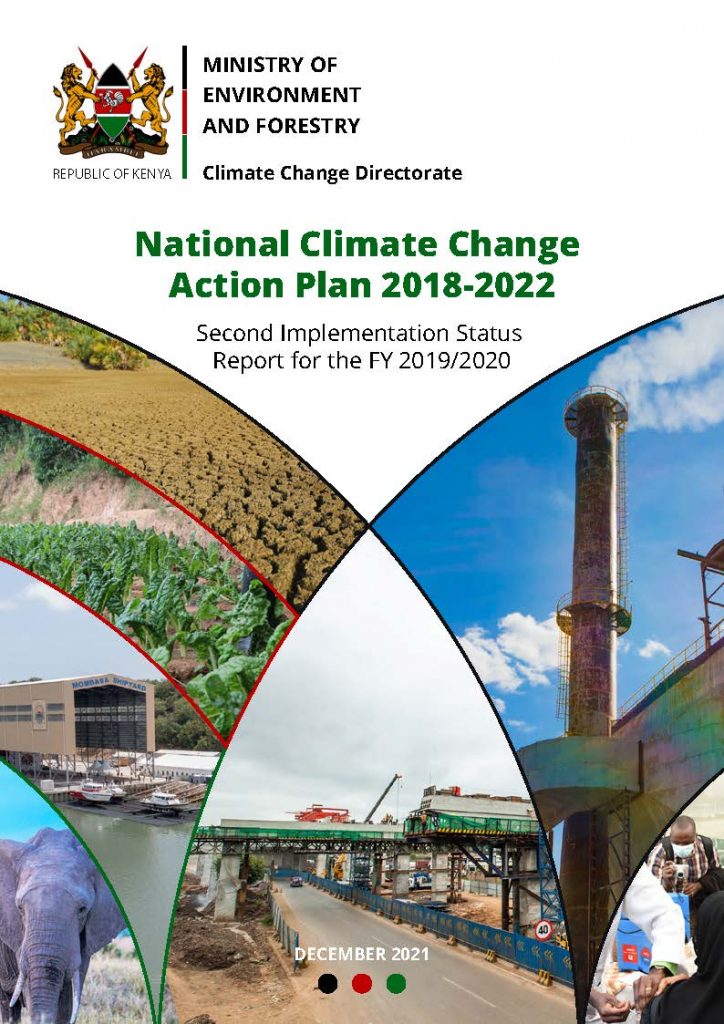 The National Climate Change Action Plan (NCCAP) 2018-2022 sets out the path towards low carbon climate resilient development in a manner that prioritises adaptation. It provides a framework for Kenya to deliver on its National Adaptation Plan (NAP) 2015-2030 and its Nationally Determined Contribution (NDC) under the Paris Agreement of the United Nations Framework Convention on Climate Change (UNFCCC). It encourages the mainstreaming of adaptation and mitigation actions across sectors and levels of government; and engagement and participation of key stakeholders including the private sector, development partners and the general public in climate change processes and interventions.
This second NCCAP implementation progress report covers the period July 2019 to June 2020 and is based on submissions by national and county governments and informed by contributions from the private sector and Civil Society Organisations (CSOs). It covers progress made in the seven priority areas in the NCCAP namely disaster risk management; food and nutrition security; water and the blue economy; forestry, wildlife and tourism; health, sanitation and human settlements; manufacturing; and energy and transport. Also included is progress made with the enablers, namely the policy and regulatory framework; technology and innovation; capacity development and knowledge management; climate finance and resource mobilization; and transparency, measurement, reporting and verification plus (MRV+). The enabling actions are meant to enhance delivery of the adaptation and mitigation actions set out under the seven priority areas.
This progress report was prepared with assistance from the NAP Global Network via financial support from the Government of Canada.
Related content
Publisher: Government of Kenya