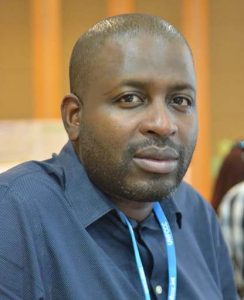 We were deeply saddened to receive news of the sudden passing of our friend and colleague Fred Kossam.
Fred will be remembered as a champion and advocate for climate change action. Serving as the Head of Climate Change and Research Services at the Ministry of Environment and Meteorological Services in Malawi, he was a climate change negotiator for Malawi under the UN Framework Convention on Climate Change. He held many roles, including sitting on the Adaptation Committee and previously serving as the Chair of the Least Developed Countries Expert Group (LEG).
Fred also served on Malawi's national technical team on the National Adaptation Plan (NAP) process, and was one of the adaptation practitioners who called for the NAP Global Network to be established. He was a founding member of the NAP Global Network's Steering Committee and continued in this role until his passing. He was both an ambassador for and an active contributor to Network activities, having participated four Targeted Topics Forums to share lessons on the NAP process with peers from around the world. He will be remembered fondly for his insights on adaptation and his warm personality.
In His Colleagues' Words
Our friend and brother Fred Kossam was a courageous leader who made an enduring contribution to protecting the world's most vulnerable. His passing is a great loss to Malawi, Africa, and the LDCs, whom he served tirelessly in climate negotiations. May his soul rest in peace. pic.twitter.com/6JtkVmk7I9

— LDC Chair (@LDCChairUNFCCC) June 4, 2018

"Fred helped launched the Network, and we'll greatly miss his commitment to improving our understanding of the NAP process and the role that support programs should play. He always brought us back to what was needed on the ground in developing countries."
— Anne Hammill, Director, NAP Global Network Secretariat

"I remember Fred as someone who led people with his questions to think beyond business-as-usual."
— Nele Buenner, Deutsche Gesellschaft für Internationale Zusammenarbeit (GIZ) GmbH
It is with great shock that we have learned of the passing of our brother Fred Kossam, AGN lead coordinator and a stalwart for climate action. May his soul rest in peace and his family find the strength through this difficult time. We mourn his loss and will miss him dearly. pic.twitter.com/8uy5dcbCvS

— AGN Chair (@AGNChairUNFCCC) June 3, 2018
Shocked and deeply saddened of the news that Fred Kossam from Malawi has passed away yesterday. Fred was a long time #Adaptation negotiator and former #LEG_UNFCCC Chair. A great loss not only for Malawi but for the #LDCs and #climatechange community.

— Julie Amoroso-Garbin (@JulieAG8) June 3, 2018