Listen to radio coverage on Zodiak Malawi:

LILONGWE, FEB 12, 2016—Representatives from 12 countries meet in Lilongwe this week to discuss strategies to adapt to the impacts of climate change.
The forum will focus on best practices related to measuring the success of National Adaptation Plan (NAP) processes. Countries from many regions are represented at the forum, including Albania, Brazil, Grenada, Jamaica, Kenya, Malawi, Peru, Togo and the Philippines.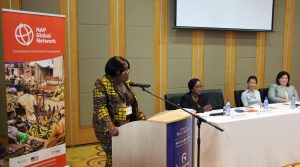 "Malawi is dedicated to building our country's resilience to climate change through engaging in the National Adaptation Plan process," said Dr Yanira Mtupanyama, Chief Director for Environment and Climate Change Management in the Ministry of Natural Resources, Energy and Mining. "We welcome the international delegates gathered here this week, and look forward to sharing lessons on preparing our societies for climate change impacts."
Malawi has faced a range of climate change-related impacts, including more frequent flooding and drought. Changes to precipitation and temperature could pose a threat to Malawi's food security and many Malawians' livelihoods.
In the recent Global Climate Risk Index, the organization Germanwatch ranked Malawi as one of three countries that were most affected by climate impacts in 2015.
This week's international forum is organized by the NAP Global Network and co-hosted by Malawi's Ministry of Natural Resources, Energy, and Mining. The NAP Global Network's Targeted Topics Forums bring together policy-makers and adaptation practitioners from across the globe for focused, technical discussions on the NAP process. The network is funded by the United States and Germany.
"USAID has been working very closely with our Malawian colleagues to scale up adaptation planning across the country," said David Chalmers, Environmental Lead for USAID in Malawi. "We are very pleased to be continuing this support for Malawi by helping bring together an impressive group of international adaptation experts in Lilongwe through the NAP Global Network."
The NAP process was created by the United Nations as an opportunity for countries to plan for sustainable development in the face of climate stress. Each country's NAP is driven by its unique adaptation needs.