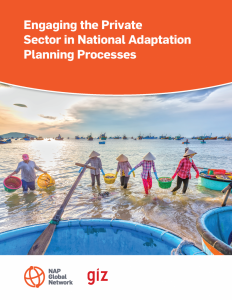 SONGDO, April 10, 2019 — In order for National Adaptation Plans (NAPs) to be successfully implemented and climate resilience strengthened, private sector actors will need to be involved.
This is according to the latest study from the NAP Global Network, Engaging the Private Sector in National Adaptation Planning Processes, which was launched during NAP Expo in South Korea. It reveals that the private sector will be relied on to create the jobs needed to support adaptation, to develop the products and services needed for societies to become more climate resilient and to finance—either directly or indirectly—many adaptation actions.
Although governments remain the overall owners and drivers of the NAP process, adapting to the impacts of climate change is not the responsibility of national governments alone.
"In developing countries, the private sector accounts for 60 per cent of Gross Domestic Product, 80 per cent of capital flows and 90 per cent of jobs," said Alec Crawford, Senior Researcher with the International Institute for Sustainable Development and lead author for this study. "As such, private businesses and financiers will be key actors in adapting to climate change. Governments need guidance on how to engage these actors in the NAP process, and that's what this study aims to accomplish."
Adapting to the impacts of climate change will require coordinated input from multiple stakeholders, including local authorities, development partners, communities and civil society. Businesses and investors also need to be involved, as they are the key engines of economic growth in developing countries. The strategic inclusion of the private sector in climate change adaptation planning must be a key part of countries' efforts since they will be partners in the design, financing and implementation of adaptation priorities.
For more information, read the full report here.
– 30 –
---
About the NAP Global Network
The NAP Global Network was created in 2014 to support developing countries in advancing their NAP processes and help accelerate adaptation efforts around the world. To achieve this, the Network facilitates sustained South–South peer learning and exchange, supports national-level action on NAP development and implementation, and enhances bilateral support for adaptation and climate-sensitive sectors through donor coordination. The Network's members include participants from more than 110 countries involved in developing and implementing National Adaptation Plans, as well as 11 bilateral donors. Financial support for the Network has been provided by Austria, Canada, Germany and the United States. The Secretariat is hosted by the International Institute for Sustainable Development (IISD). For more information, visit www.napglobalnetwork.org.