PHNOM PENH – Cambodia is hosting a global forum on national adaptation planning to prepare for climate change impacts.
The forum, which involves representatives from over 10 countries, is organized by the National Adaptation Plan (NAP) Global Network and will focus on building political support for climate change adaptation.
"Cambodia takes climate change very seriously, and it is high in our development agenda," said His Excellency Eang Sophalleth, Kingdom of Cambodia's Under Secretary of State at the forum's opening ceremony at the Raffles Hotel in Phnom Penh. "We need to prepare our communities for climate change impacts, and Cambodia's National Adaptation Plan process is one new initiative to move Cambodia forwards to address climate change."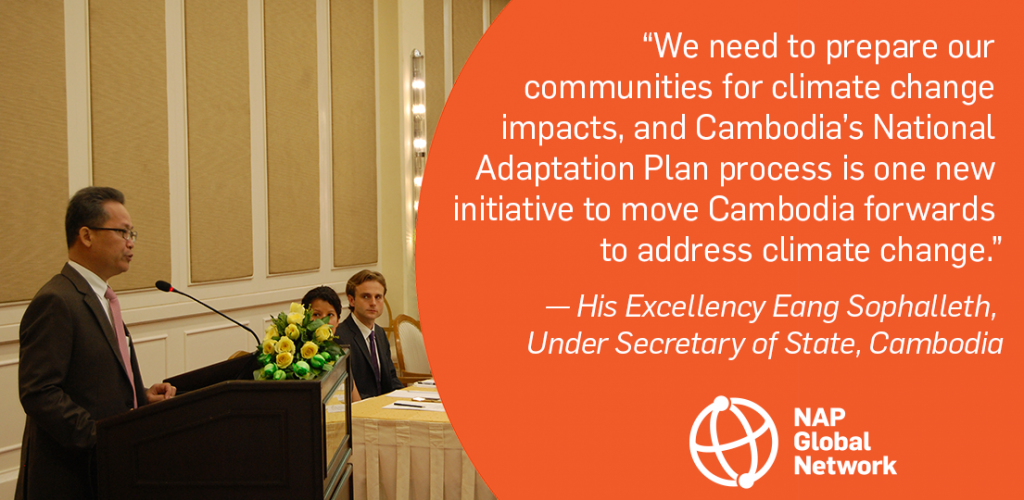 The 2015 World Risk Report by the United Nations University ranked Cambodia 8th in a list of countries that are most at risk from natural hazards, and the 2016 Global Climate Risk Index by the group Germanwatch ranked Cambodia as the 13th most vulnerable country to climate change risks.
The NAP process was created by the United Nations as an opportunity for countries to plan for robust, sustainable development in the face of climate stress. Each country's NAP is driven by its unique adaptation needs.
The NAP Global Network's biannual Target Topics Forum brings together policy-makers and adaptation practitioners for focused, technical discussions on the challenges and best practices related to national adaptation planning.
"The United States is dedicated to supporting climate-resilient development in Cambodia and internationally," said John Furlow, U.S. steering committee member for the NAP Global Network.
"Through the NAP Global Network's forums, we're having important conversations that help us ensure our support for national adaptation planning and sectors affected by climate change is as effective as possible."
"We are very pleased to support these forums to bring together international adaptation experts for sustained peer-learning," said Ludgera Klemp, Head of Cooperation at the Embassy of the Federal Republic of Germany in Cambodia. "We have seen exciting results from our collaboration with bilateral donor partners in supporting the Cambodian Ministry of Environment to develop a Climate Change Strategic Plan, and look forward to building on this progress toward a climate-resilient future."
For more information on the NAP Global Network, please visit: www.napglobalnetwork.org
-30-

Media Contact:
Christian Ledwell
Media & Communications Officer, Resilience
International Institute for Sustainable Development
Email: cledwell@iisd.ca