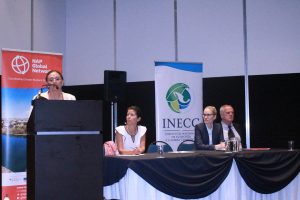 Read more and download presentations from this event. 
The Government of Mexico through the National Institute of Ecology and Climate Change (INECC) hosted a Global Forum on Strategies of Adaptation to the impacts of climate change from June 20 to 22, 2017.
The forum looked at how different countries are approaching the National Adaptation Plan (NAP) process. This important forum was attended by official representations of the Governments of Benin, Cambodia, Colombia, Madagascar, Mexico, Solomon Islands, South Africa, Tanzania, Thailand and Vanuatu
"Mexico has been engaged in the formulation of several policy instruments regarding adaptation to climate change to safeguard Mexicans' wellbeing, and we welcome this opportunity to exchange best practices on the topic," said Dr. María Amparo Martínez Arroyo, General Director of the National Institute of Ecology and Climate Change (INECC) of the Government of Mexico.
Scientists and officers warn that climate change will cause more variable weather patterns and make extreme weather events more frequent and more intense. President Enrique Peña Nieto recently commented on Mexico's efforts to build climate-resilience: "Natural phenomena do not recognize national borders or orders of government, and affect the most vulnerable populations most."
This forum on national adaptation planning is co-organized by the NAP Global Network, which convenes international policy-makers and adaptation practitioners members of the network for focused, technical discussions on the NAP process. The network is funded by the United States and Germany.
"Countries are learning important lessons about preparing for climate change through the National Adaptation Plan process," said Anne Hammill, Director of the NAP Global Network. "Our network supports sustained peer-learning between countries so that they can learn from one another about creating and implementing more effective adaptation actions."
The NAP process was created by the United Nations Framework Convention on Climate Change as an opportunity for countries to plan for sustainable development in the face of climate change. Recently, under the Paris Agreement, countries have been requested to implement their adaptation commitments under a five-year assessment. Each country's NAP is driven by its unique adaptation needs.
Media contacts:
Rodrigo Fernández Borja
Directorate of Social Communication and Dissemination of the INECC
rodrigo.fernandez@inecc.gob.mx, comunicacionsocial@inecc.gob.mx
Christian Ledwell
Media & Communications Officer, NAP Global Network
International Institute for Sustainable Development
cledwell@iisd.ca
About the NAP Global Network
The NAP Global Network was created in 2014 to enhance support for national adaptation planning through sustained peer learning, support for national level action on NAP development and implementation, and through donor coordination. The NAP Global Network's participants include representatives of bilateral donors, as well as participants from over 50 developing countries involved in creating and implementing national adaptation plans. Initial funding for the Network is provided by the United States' State Department and Germany's Federal Ministry of Economic Cooperation and Development BMZ. The Secretariat is hosted by the International Institute for Sustainable Development (IISD).
About the INECC
The National Institute of Ecology and Climate Change (INECC) was created in 2013 as a research agency of the Government of Mexico, dedicated to generate and integrate technical and scientific knowledge on mitigation and adaptation to climate change, as well as on ecology, green growth, air quality and health, in relation to the environment.