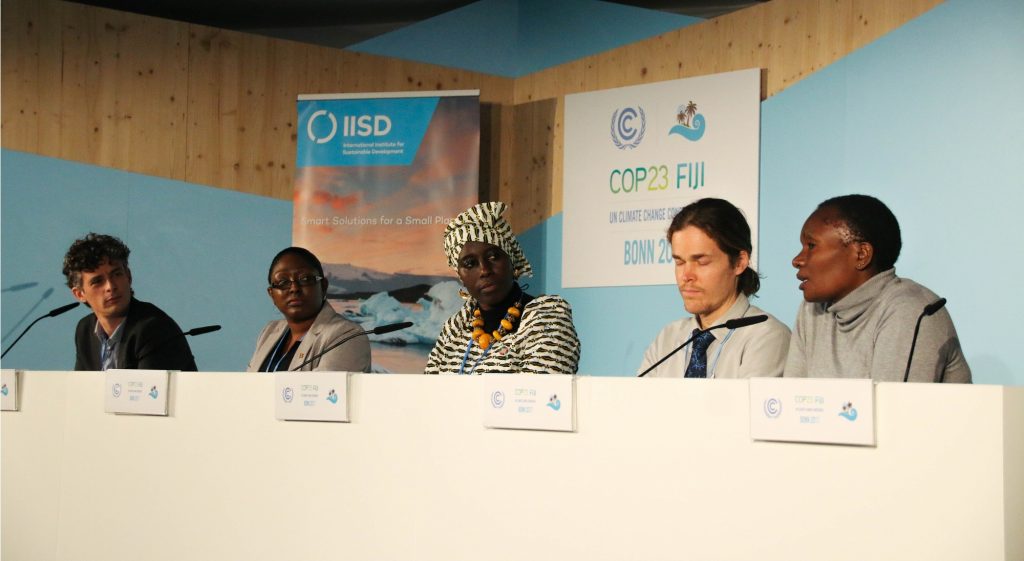 The first United Nations Framework Convention on Climate Change (UNFCCC) Gender Action Plan (GAP), developed under the Lima work program on gender, was adopted at COP 23 to help UNFCCC parties implement gender-related decisions and mandates under the UNFCCC process.
The (draft) decision includes a commitment to gender balance, participation and women's leadership and gender-responsive implementation. It also addresses the need for integration of gender considerations in capacity building, knowledge sharing and communications, as well as monitoring and reporting. The GAP increases the ambition level—parties agree that gender is a key consideration in addressing climate change and that gender-responsive climate action is the way forward. However, the "how" remains a more difficult question to answer.
Alongside the negotiations, parties and observer organizations were engaged in dialogue on this question, exploring the challenges and sharing experiences with gender-responsive climate action. Reflecting on these conversations in the context of National Adaptation Plan (NAP) processes, a few key themes emerged.
We have yet to develop a shared understanding of what gender-responsive climate action means in practice.
Recent decisions and documents under the UNFCCC and beyond refer to gender-responsive approaches, but these references are rarely accompanied by definitions or practical explanations of what this looks like.
At the NAP Global Network, we understand gender-responsive approaches as those that explicitly aim to achieve gender equality. They go beyond sensitivity to gender differences to actively examine and address gender inequalities (see this brief for more details).
In the context of NAPs, this involves confronting the underlying issues driving inequality and vulnerability to climate change, empowering those who are typically excluded and involving both women and men in finding collaborative solutions that build resilience in their families, communities and societies.
A more informed approach to gender and climate change adaptation is needed.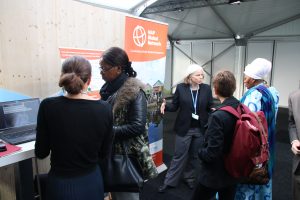 Discussions about gender and climate change adaptation often centre on the need to address the particular vulnerability of women. This is true in many contexts, but it is not the whole story.
In order to promote adaptation processes that are genuinely gender-responsive, we need to focus more on the differing strengths and capacities of women and men and how these can be applied to the challenge of adapting to climate change. This is not to say that we do not need targeted actions to address the particular factors that make some women more vulnerable than others or than their male counterparts.
As acknowledged in the GAP, women's leadership is essential, but gender-responsive approaches also require a deeper understanding of diverse experiences, the dynamics between women and men and the implications for climate change adaptation.
Through the NAP Global Network's gender initiative, we have found that a key need for gender-responsive NAP processes is targeted gender analysis to delve into these issues. This will provide a basis to move from assumptions and generalities to context-specific approaches, so that adaptation planning, implementation and monitoring and evaluation (M&E) are coming from a more informed place.
Inclusive planning and policy-making are about more than representation.
When the topic of gender-balanced participation comes up, the focus is often on the numbers of women and men who have been involved in a particular process or decision. But simply evening out the numbers is not enough.
First, there is considerable diversity among women in terms of their decision-making power and access to information and resources, so focusing only on gender balance does not necessarily mean that the full range of perspectives is captured or that more vulnerable groups have a voice.
Second, unless those leading decision-making processes actively seek out and value diverse voices, it is unlikely that those who are typically marginalized will have influence over the outcomes.
Finally, ensuring meaningful participation will require an investment in capacity building, both for adaptation actors to understand why these processes must be inclusive, as well as for representatives of vulnerable groups, women's organizations and government agencies responsible for gender equality to advocate for their adaptation needs and priorities.
The GAP's role in advancing gender and climate change adaptation links
The GAP represents an important step forward in bringing these issues to the forefront.  The challenge now is to translate these commitments into concrete action.
The NAP process represents a key opportunity for this–with its participatory, iterative nature, it provides ongoing opportunities to address gender inequalities that create barriers to adaptation. Support to countries on integrating gender considerations in NAP processes will remain a priority theme for the NAP Global Network, and we look forward to sharing experiences and progress towards the goals of the GAP.
---
Any opinions stated in this blog post are those of the author and do not necessarily reflect the policies or opinions of the NAP Global Network, its funders or Network participants.
Read more about our work on gender-responsive NAP processes.
Interested in joining the Network as a participant? Find out more.