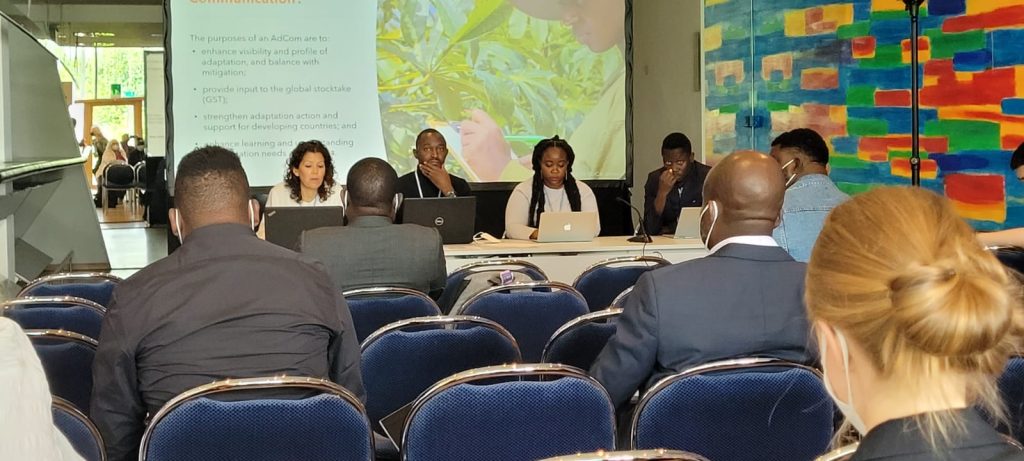 The Bonn Climate Change Conference (SB 56) held this month advanced negotiations to set the stage for the UN climate summit (27th Conference of the Parties [COP 27]) in November, where the Egyptian COP 27 Presidency has made progress on adaptation a priority.
Adaptation communications (AdComs) to the United Nations Framework Convention on Climate Change (UNFCCC), established under the Paris Agreement, are a key tool for informing the global conversation on adaptation, synthesizing countries' adaptation priorities, support needs, plans, and results from ongoing adaptation actions.
The NAP Global Network Secretariat, hosted by the International Institute for Sustainable Development (IISD), has been supporting 20 developing countries with their first AdComs and convened an SB 56 side event to highlight the role AdComs can play in catalyzing the shift from adaptation planning to action.
The event featured insights from speakers from Haiti, Liberia, Namibia, the United Kingdom, and the UNFCCC Secretariat. Key messages from this event included:
AdComs can provide an important summary and distillation of countries' rich experiences and knowledge on adaptation. The concise length of most AdComs can help make adaptation information more accessible for decision-makers, stakeholders, and donors.
Countries are making strong links to their National Adaptation Plan (NAP) process—regardless of where they are in that process—for NAPs and AdComs to be complementary.
Consultation as part of AdCom development plays an important role in securing stakeholder ownership of the document and having it be reflective of local, on-the-ground needs.
Adaptation Communications: Purpose and context
Anne Hammill, Senior Director of the Resilience Program at IISD, moderated the session. In framing the purpose and background of AdComs, she highlighted the fact that 42 AdComs have been submitted to the UNFCCC to date, 27 of which are from developing countries.
The main purposes of AdComs are to increase the profile of adaptation, balancing it with mitigation; mobilize further adaptation action and support for developing countries; inform the Global Stocktake; and provide a source of information on adaptation experiences, needs, and lessons learned.
Recognizing the significant investments that countries are making in their NAP processes, Hammill highlighted the opportunity for countries to leverage the results of the NAP process to prepare an AdCom, speaking to the principle of minimizing the reporting burden under the UNFCCC. She noted that although AdComs are designed as an international reporting mechanism, they are also being used as a go-to resource on adaptation information by domestic stakeholders.
Matti Goldberg, Adaptation Division, UNFCCC Secretariat, provided an update on the work of the UNFCCC Adaptation Committee on preparing supplementary guidance for voluntary use by countries in preparing AdComs. This guidance is being prepared in collaboration with the IPCC Working Group II and builds on existing guidance.
The Adaptation Committee has been working on the guidance since 2019 and is now focused on refining and finalizing the draft. Goldberg noted that this guidance is not intended as a strict template but in essence, aims to help understand and apply existing guidance, make informed choices about how to submit an AdCom (recognizing countries can use vehicle documents such as Nationally Determined Contributions, National Communications, Biennial Transparency Reports, and NAPs), help find opportunities to reduce duplications, and find additional resources to help with the preparation of the AdCom elements.
Gerard Howe, Deputy Director of the Adaptation, Nature, and Resilience Department of the United Kingdom's Foreign, Commonwealth and Development Office, noted that COP 26 was "a real milestone for adaptation" but that it is now crucial to demonstrate progress and learnings from tangible actions.
The United Kingdom is urging countries to produce their AdComs before COP 27 in November 2022 to help increase the visibility and profile of adaptation at national and global dialogues. Howe highlighted AdComs' roles in communicating local and national experiences, progress, and learnings—and that civil society engagement is critical. He also noted the United Kingdom's ongoing support to countries via the NAP Global Network to help accelerate adaptation implementation and improve the quantity and quality of adaptation learning.
Country Experiences: Haiti, Liberia, Namibia
Rockendy Rene, Technician in the Climate Change Directorate of Haiti's Ministry of Environment, shared an overview of policies and plans on climate action, noting his country is mainly focused on adaptation efforts, which are critical for building resilience, eradicating poverty, and promoting gender equality. He said more awareness of the actions carried out was needed among national and international actors.
Gerty Pierre, Haiti's Director of Climate Change, spoke from the floor to note that Haiti has elucidated its AdCom and its NAP and is preparing to submit both documents to the UNFCCC later this year. Pierre said that adaptation financing needs are approximately 1 USD billion per year, and that what ties these two documents together is their focus on adaptation priorities and implementation goals in priority sectors—including agriculture, forestry, water, and coastal zones.
Danise Love Dennis, Media and Communications Specialist from the Environmental Protection Agency (EPA), Liberia, highlighted how the country has made "tremendous progress on adaptation" and that the AdCom sounds "an alarm" on the need to adapt to climate change.
Liberia completed a NAP and its first AdCom, submitting both documents to the UNFCCC in December 2021. The AdCom served to reinforce the key messages from the NAP and communicate them to the international community as well as national stakeholders. Liberia anticipates using the AdCom to appeal for capacity building and financial support, including international public finance. They estimate their needs to be USD 89.9 million for adaptation from 2020 to 2025.
At the national level, Dennis noted the EPA-Liberia developed the AdCom through a participatory, consultative process aimed at fostering community ownership, consulting with stakeholders representing Indigenous groups, disabled persons, youth, students, and academia. Dennis said that it is important for everyone to understand the role they can play in adaptation efforts as individuals, which is also why a condensed version of the country's NAP was translated and communicated in local communities. Ultimately, Liberia's objective is to "leave no one behind."
Dennis said that a key benefit of Liberia's AdCom is that it is helping to achieve political buy-in for adaptation.
Reagan Chunga, Ministry of Environment, Forestry and Tourism, Namibia, said his country—among the driest countries in sub-Saharan Africa and highly vulnerable to climate change—is using its AdCom to appeal for financial and technical support for the development of its first NAP and of a MEL system. Adaptation efforts in Namibia are estimated to cost USD 1.7 billion from 2021 to 2030.
In closing the event, responding to the question of what advice panelists would provide to peer countries considering whether or not to develop an AdCom, Chunga's advice was: "If you are thinking of doing it, for those countries that do not have a NAP: please, do it. It will make your NAP much easier." He added, "And please don't sit on your computer and make it a desktop study. Go talk to the people to understand what's happening on the ground."
To find out more about Adaptation Communications, read out our FAQ or visit the UNFCCC Adaptation Communications Registry at unfccc.int/ACR.