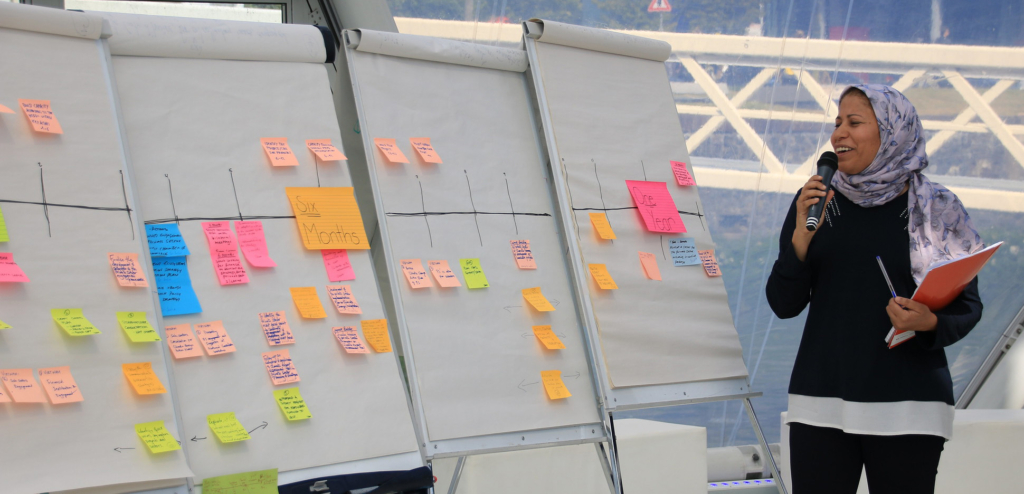 As the climate crisis intensifies, countries are stepping up to protect their communities, nature, and economies from the impacts of current and future climate hazards like floods, droughts, and heat waves. But how do we know if their national adaptation plans (NAPs)—governments' main tool for planning and implementing climate change adaptation—are making a dent in reducing vulnerability?
The Global Status of NAPs 
As of October 2023, nearly every country has engaged in some form of climate change adaptation planning, with many having completed and submitted their NAP documents to the United Nations Convention on Climate Change's NAP Central portal. This group comprises 47 developing countries, 21 of which are least developed countries (LDCs), with the earliest submissions dating back to 2015.
Despite these efforts, a 2021 study found that over 60% of all countries (developing and industrialized) with NAPs are not actively tracking their implementation, meaning we don't know if these plans are being put into action or if they are effective. On a brighter note, 68% of developing countries have committed to reporting progress on their NAPs, and a few have already started doing so.
Why Report Progress on the NAP?
Similar to how regular health check-ups monitor well-being, identify potential issues early, and guide necessary interventions for a healthier future, NAP progress reports play a critical role in assessing a country's climate change preparedness and advising on next steps. Progress reports consolidate the information gathered from various monitoring, evaluation, and learning (MEL) activities to track advancements in the NAP process and encourage countries to continuously learn, adapt, and improve their climate change adaptation efforts.
More importantly, progress reporting is not just a bureaucratic exercise; it's a communication and education tool, bridging the gap between national governments and stakeholders, including citizens, businesses, and the international community. So, if you wonder how well a country is doing in preparing for climate change, these reports might offer insights.
Setting the Objectives for Progress Reports 
Our review of progress reports from 20 different countries revealed four primary objectives that countries set for themselves, including a range of approaches to achieve them.
Objective 1 – Tracking the implementation of the NAP: Approaches vary in complexity, from simple checklists tracking which activities have started to lists of achievements and challenges, various completion criteria, colour codes and percentages, outputs and outcomes indicators, and categorizing activities based on required effort and funding. Experiences from Saint Lucia, Brazil, Burkina Faso, France, and Chile offer valuable insights into this objective.
Objective 2 – Evaluating the NAP's implementation and its enabling environment: Assessment methods can include a list of evaluation criteria with associated questions, case studies, stories of change, and Strengths, Weaknesses, Opportunities, and Threats (SWOT) analysis. Fiji and Finland serve as illustrative examples.
Objective 3 – Assessing the integration of climate change adaptation into development planning and budgeting: Methods such as the scanning of strategic documents or key experts' evaluations can help collect information on the extent of the integration. Spain and Tonga provide useful case studies for this objective.
Objective 4 – Building capacity and raising awareness for action on climate change adaptation: Various means—like surveys, one-on-one discussions, focus groups, and consultative workshops—help to collect data, validate findings, and determine next steps, all the while sensitizing and educating stakeholders. Grenada and Albania offer good examples of how this can be achieved.
Ten Lessons We Learned From Existing Progress Reports
The existing NAP progress reports provide a wealth of valuable insights and actionable lessons. Here are 10 key takeaways:
A fully formed MEL system is not required to get started on NAP progress reporting: Countries can use progress reporting as a "learn-by-doing" approach to MEL.
It can be done at any point: There's no need to wait until the end of the implementation or the review phase to start tracking progress. In fact, early reporting can help address issues early on.
Start simple, iterate, and improve: An initial report doesn't need to be fully comprehensive and cover everything. Different approaches can be used to begin and enhance reporting over time.
Mandates help: Laws and policies prioritize progress reporting and clarify roles, responsibilities, timelines, and budgets for an effective process.
There's no one-size-fits-all: Each country has its unique, context-dependent definition of progress on adaptation, though lessons from peer countries can be valuable.
Set clear objectives: Clarifying the scope upfront aligns expectations, determines the required resources and reporting methods, and ensures that everyone is on the same page.
Coordinate efforts: Mobilizing and revitalizing entities like interministerial working groups, committees, or independent commissions ensures coordinated action.
Leverage existing resources: Use existing MEL systems, indicators, and sources of information while seeking alignment with other reporting processes.
Empower and educate throughout: Integrating capacity-building and awareness-raising on the NAP within the reporting process promotes inclusive and responsive stakeholder engagement.
Speak the right language: Identify primary audiences and tailor the report, making use of visuals and different formats to communicate the results.
As climate change challenges evolve, the ability to understand how effective NAP processes are in order to improve them will be key to enhancing adaptation action and building more resilient societies.
For a deeper dive into NAP progress reporting and to explore the different approaches adopted by countries, check out our latest report.
Related content