Le français suit.
Watch the session's full recording.
The UNFCCC Gender Action Plan agreed at COP25 in 2019 gave an impetus to strengthen gender issues within adaptation strategies (nationally determined contributions, NAPs) and projects. Now at the midpoint of the UNFCCC GAP, where do we stand in terms of gender-responsive adaptation strategies in Africa?
This session shared inspiring examples from the NAP Global Network's experiences with developing countries and highlight key points from its recent synthesis report on gender-responsive NAPs. Participants also explored lessons learned and key outputs from AFD's Adapt'Action Programme in Africa. Finally, panellists from Benin and Senegal shared their countries' progress and experiences with gender-responsive adaptation.
Full schedule of NAP Global Network events at COP27. 
---
L'adaptation qui tient compte des questions de genre en Afrique : Exemples et défis à venir
Quand : le lundi 14 novembre, 13:00-14:00 (GMT+2)
Où : Pavillon de l'IDFC – International Development Finance Club
Organisateur(s) : Adapt'Action (AFD), Réseau mondial de PNA, PNUD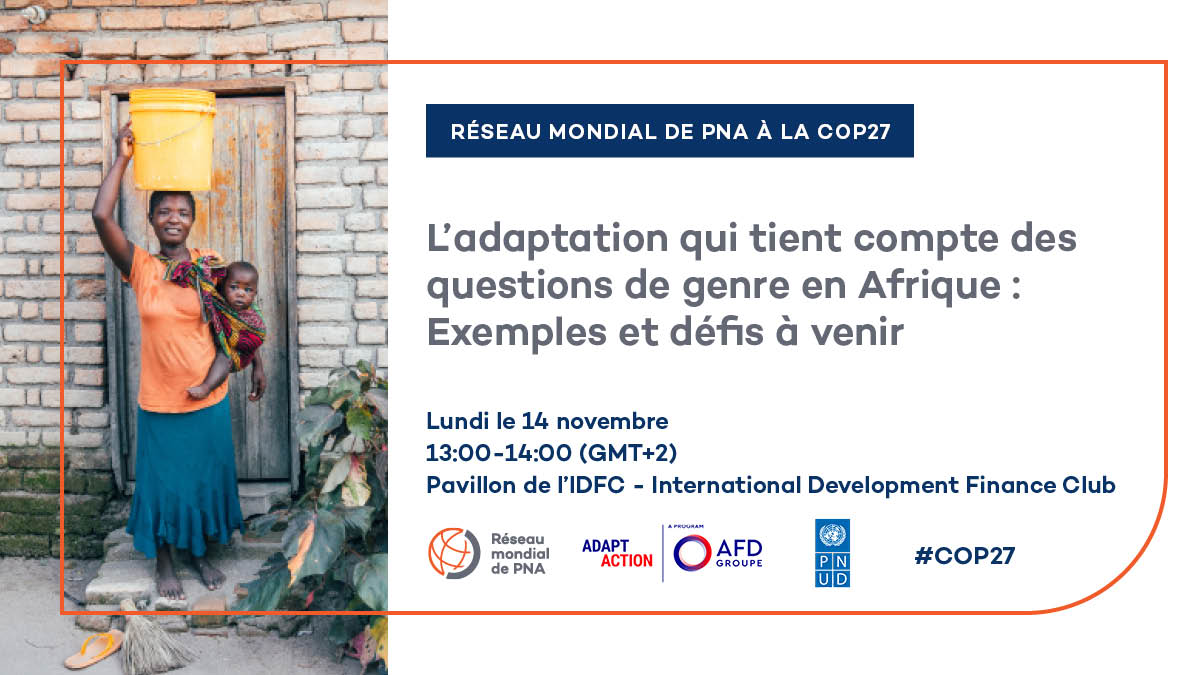 Le Plan d'action pour l'égalité des sexes de la CCNUCC convenu en 2019 lors de la COP25 a donné une impulsion au renforcement des questions de genre dans les projets et stratégies d'adaptation (contributions déterminées au niveau national, PNA). Maintenant que nous sommes à mi-parcours du PAES de la CCNUCC, où en sommes-nous dans les stratégies d'adaptation qui répondent aux questions de genre en Afrique ?
Cette session a permis de partager des exemples inspirants issus des expériences du Réseau mondial de PNA avec les pays en développement et mettra en lumière les points clés de son récent rapport de synthèse sur les PNA qui répondent aux questions de genre. Les participants ont explorer également les enseignements tirés et les principaux résultats du programme Adapt'Action de l'AFD en Afrique. Enfin, des panélistes du Bénin et du Sénégal ont partagé les progrès et les expériences de leurs pays en matière d'adaptation qui répond aux questions de genre.
Programme complet des événements du Réseau mondial de PNA à la COP27.