INSURESILIENCE ANNUAL FORUM 2021: ON OUR WAY TO ACHIEVING VISION 2025- MOVING FROM POLITICAL AMBITION TO IMPLEMENTATION
Breakout session 8: Accelerating Climate and Disaster Risk Finance and Insurance Solutions through National Adaptation Planning
EVENT DATE: October 29, 2021
EVENT TIME: 12:00 – 13:15 (CET)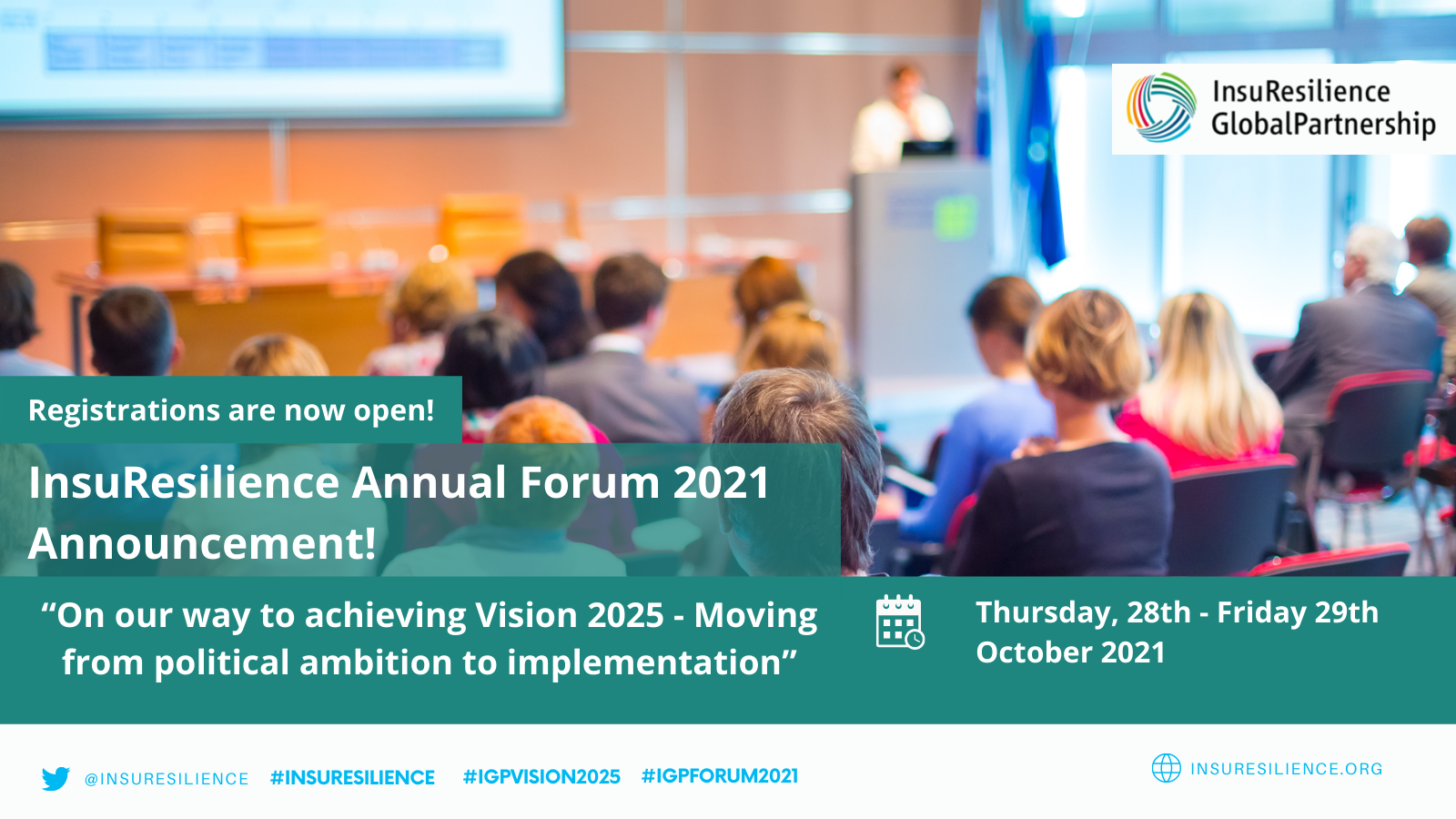 The Annual Forum is the opportunity for members of the InsuResilience Global Partnership (IGP) to come together to showcase what has been achieved throughout the year, reflect on challenges, and inspire action for the year ahead.
National Adaptation Plan (NAP) processes will guide investments in adaptation over the coming years, whether from domestic budgets, the private sector, or international climate finance. Having climate and disaster risk finance and insurance (CDRFI) solutions better reflected in NAP processes will not only increase awareness of the role of these financial tools in a country's adaptation journey, but also provide a basis for quickly and effectively scaling up such solutions.
Through an interactive exchange of knowledge run by the NAP Global Network and the Munich Climate Insurance Initiative (MCII), the session will explore how countries can use their NAP processes to accelerate CDRFI solutions that build resilience to climate change at different levels. Speakers will share country experiences of integrating CDRFI in NAP processes and discuss key challenges of scaling up CDRFI solutions, as well as present co-developed strategies to overcome these challenges.
Speakers:
Moderator: Mr Christian Ledwell, Manager, NAP Global Network
Ms Viktoria Seifert, Manager Disaster Risk Finance & Policy, Munich Climate Insurance Initiative
Ms Angie Dazé, Senior Policy Advisor and Lead, Gender Equality, NAP Global Network
Mr Kemuel Jn Baptiste, Chief of Extension and Rural Advisory Services, Ministry of Agriculture, Fisheries, Physical Planning, Natural Resources and Co-operatives
Mr Arthur Becker, Project Officer, Multilateral Environmental Agreements, Environmental Protection Agency, Liberia