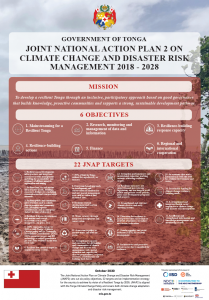 Climate change poses a serious threat to Tonga. The impacts—and how the Kingdom adapts to them—are a concern for all Tongans.
Tonga's Ministry of Meteorology, Energy, Information, Disaster Management, Environment, Climate Change and Communications (MEIDECC), in partnership with the NAP Global Network, is organizing a series of events to raise awareness and build skills on sharing information on climate change adaptation.
On March 25, MEIDECC will be briefing journalists on the how the Government of Tonga has been addressing climate change impacts through the Joint National Action Plan, and continues to do so through the Joint National Action Plan 2 on Climate Change and Disaster Risk Management 2018 – 2028.
On March 26, MEIDECC will organize a training for government personnel on communicating public policy and science related to climate adaptation by creating key messages that resonate with the public, and tailoring messages to social media, television, print and radio. The workshop will be co-facilitated by experienced journalists and communicators from the Tongan Broadcasting Commission and popular photoblog Ordinary Tongan Lives.
These workshops are financed in part from Federal Ministry for Economic Cooperation and Development (BMZ) of Germany via the NDC Partnership Climate Action Enhancement Package (CAEP). CAEP support to increase visibility of adaptation and resilience through communications is implemented by the NAP Global Network Secretariat, the International Institute for Sustainable Development (IISD).