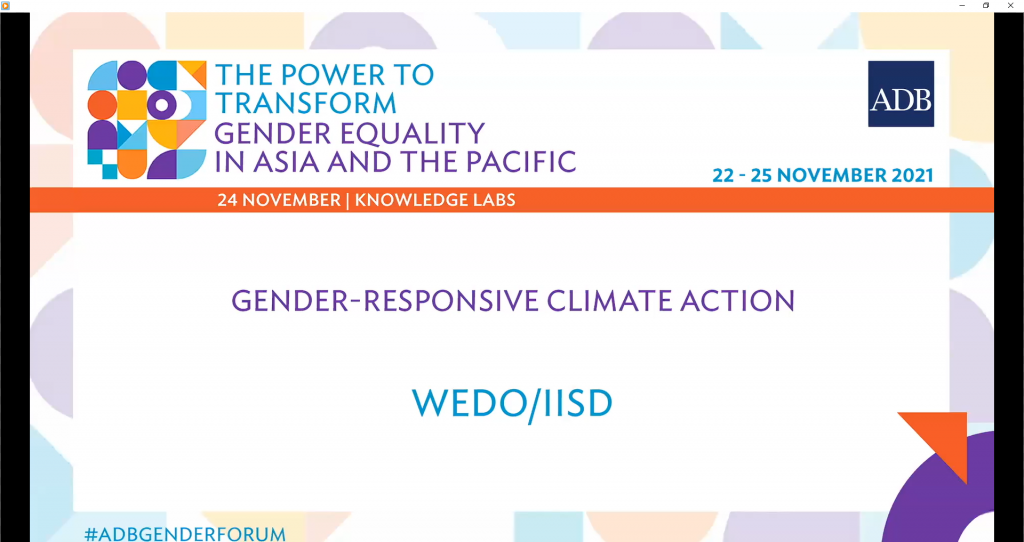 2021 ADB Asia and the Pacific Virtual Gender Forum
This knowledge lab explored how countries can pursue gender-responsive NAP processes and the extent to which gender is currently being integrated into NDC documents. Key takeaways from this session include:
The NAP process and NDCs offer opportunities to address the gender dimensions of climate change if undertaken in a gender-responsive manner.
Opportunities exist to adopt a gender-responsive approach at any point of the NAP process, and targeted gender analysis is essential to support this process;
Learning from Nepal's experience, it is critical for NDC formulation to be country driven. In addition, it needs to use a consultative approach at the national and local levels, following the principle of "leave no one behind" with the active involvement of women, youth, and Indigenous People.
This session, co-hosted by the International Institute for Sustainable Development (IISD) and the Women's Environment & Development Organization (WEDO), was part of the 2021 ADB Asia and the Pacific Virtual Gender Forum.
See below the session's full recording and slides.
Related Content:
Publisher: International Institute for Sustainable Development and the Women's Environment & Development Organization (WEDO)