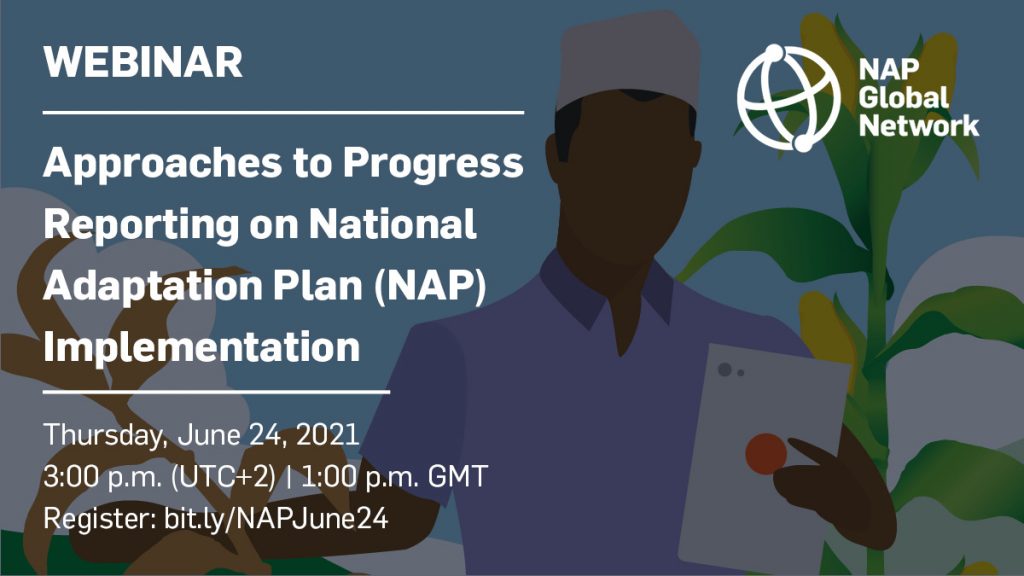 Webinar Recording | Webinar Slides | Related Resources
**Le français suit**
A progress report for a National Adaptation Plan (NAP) can serve to inform government workers, the general public, and the international community about what is working to build resilience to climate change and what is not, in which contexts, and why. This is essential for accountability purposes, as well as for learning and improving the next version of the NAP.
As more and more countries start implementing NAP processes and develop monitoring, evaluation, and learning (MEL) systems, the question of how to report on the progress and results of adaptation actions to different stakeholders, from local to international levels, becomes more urgent.
In May 2021, the NAP Global Network conducted a review of the available NAP progress reports. The results indicate that these reports use different objectives, approaches to evaluating progress, and ways in which the results are presented and communicated. The process of developing a progress report seems to present as many challenges as it does opportunities to strengthen NAP processes.
The panelists of this webinar discuss what has already been done in terms of NAP progress reporting and derive lessons that could guide countries through the reporting process.
To explore this topic further, our experts wrote a blog about the findings of their review of NAP progress reports!
Read it here: http://bit.ly/Progress-NAP
---
Un rapport d'avancement d'un Plan national d'adaptation (PNA) peut servir à informer les fonctionnaires, le grand public et la communauté internationale sur ce qui fonctionne – et ne fonctionne pas – pour bâtir une résilience face au changement climatique, dans quels contextes, et pourquoi. Cela est indispensable à des fins de responsabilisation, mais aussi pour apprendre et ainsi améliorer la prochaine version du PNA.
Alors que de plus en plus de pays commencent à mettre en œuvre des processus PNA et développent des systèmes de suivi, évaluation et apprentissage, il est d'autant plus urgent de déterminer comment rapporter les avancées et les résultats des actions d'adaptation à différentes parties prenantes, depuis le niveau local jusqu'à l'international.
En mai 2021, le Réseau mondial de PNA a procédé à une évaluation des rapports de suivi disponibles sur les PNA. Les résultats indiquent que ces rapports visent différents objectifs et approches dans l'évaluation des progrès et emploient diverses manières de présenter et de communiquer les résultats. Le processus
d'élaboration d'un rapport de suivi semble présenter autant de difficultés que
d'opportunités de renforcer les processus PNA.
Les panélistes de ce webinaire discutent ce qui a été déjà accompli en termes de rapports de suivi des PNA et en tirer des enseignements à même de guider les pays au cours du processus d'émission de rapports.
Pour en savoir plus, nos experts on écrit un blog sur les conclusions de leur examen des rapports d'avancement de PNA !
Disponible en anglais seulement : http://bit.ly/Progress-NAP
Webinar Recording
Webinar Slides