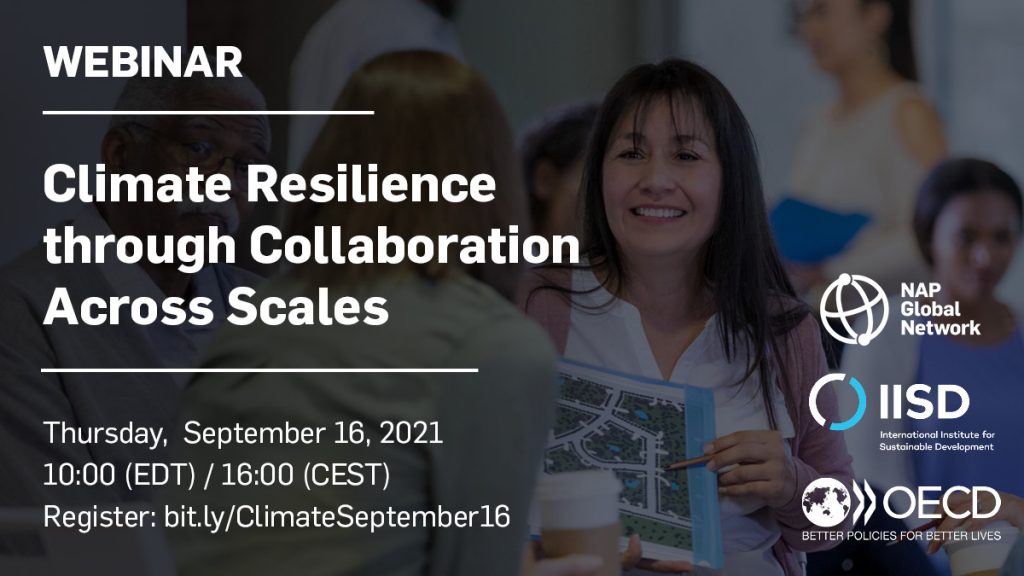 Webinar Recording |  Related Resources
Empowering local climate action through greater integration, coordination, and collaboration across layers of governance is essential to strengthening the climate resilience of human and natural systems.
The NAP Global Network and the Organisation for Economic Co-operation and Development (OECD) hosted a joint webinar on vertical integration for locally led climate adaptation action. This webinar facilitated exchanges on the valuable lessons learned from collaborating across layers of governance and with non-state stakeholders in the design, development, and implementation of National Adaptation Plans (NAPs) and sector-specific development plans that focus on climate resilience.
National governments have a key role in the development of just and inclusive climate policies, and in overseeing their implementation. Local actors—such as sub-national governments, communities, local businesses and their networks, as well as civil society and research institutions—are not only at the forefront of implementing measures on the ground: they should also contribute to designing and prioritizing these measures.
A more consultative and multilevel approach to the governance of climate action can help overcome technical, financial, and political challenges in aligning adaptation goals and visions across levels. This approach also enables the integration of climate risks and opportunities into local development strategies.
The webinar included speakers from governments and development partners who shared their experiences in implementing multilevel collaboration. Representatives of the OECD and the NAP Global Network also provided perspectives from their latest projects.
This webinar launched the briefing note Progress and Challenges in Achieving Vertical Integration in Adaptation Processes. The objective of this publication is to reflect on the experiences of several countries with vertical integration. The NAP Global Network reflects on what is working well, what is proving particularly difficult, and how to move forward.
Webinar Recording
Related Resources