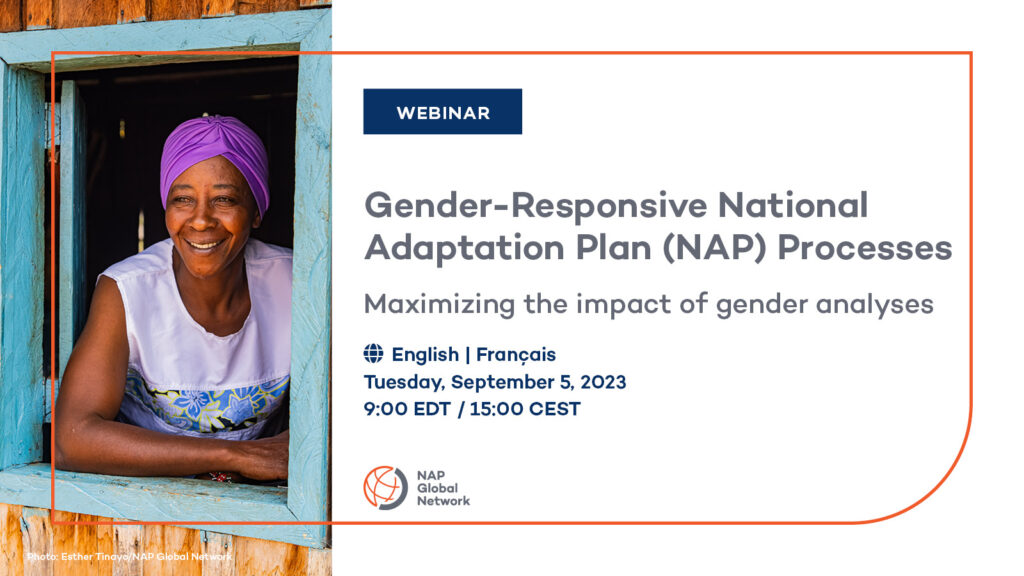 Maximizing the impact of gender analyses 
This webinar demonstrated the value of using gender analyses to inform National Adaptation Plan (NAP) processes. Panelists from Côte d'Ivoire and Chad shared their experience with gender analyses and discussed the resulting changes in their NAP processes. With the active participation of our audience, they answered as many questions as they could.
The event also launched a new briefing note that reflects on the impacts of the gender analyses that were conducted in nine countries to inform their NAP processes (in 2017-2022). The publication also identifies key enablers that will maximize the impacts of the analyses on countries' NAP processes.
Presenter
Aurélie Ceinos, Policy Advisor, Gender Equality and Social Inclusion, NAP Global Network, IISD
Panellists
Anna Koffi KOUAME, Head of Gender and Social Inclusion Unit, National Programme on Climate Change (PNCC), Ministry of Environment and Sustainable Development, Côte d'Ivoire
Colette BENOUDJI, Lead author of Chad's gender analysis, Director of the LEAD Tchad association
Closing Remarks
Dibor SARR, Adaptation Programme Officer and National Gender Focal Point for the UNFCCC, Climate Change Division, Ministry of the Environment, Sustainable Development and Ecological Transition, Senegal
Recording
Slides
---
Les processus des plans nationaux d'adaptation (PNA) qui répondent aux questions de genre : Maximiser l'impact des analyses de genre
Ce webinaire a démontré la valeur de l'utilisation des analyses de genre pour informer les processus de plans nationaux d'adaptation (PNA). Des intervenantes de la Côte d'Ivoire et du Tchad ont partagé leurs expériences en matière d'analyses de genre spécifiques aux processus de PNA et ont discuté des changements qui en ont résulté. Avec la participation active de notre public, elles ont répondu à autant de questions qu'elles pouvaient.
L'événement a également permis de lancer notre nouvelle note d'information qui détaille les impacts des analyses de genre qui ont été menées dans neuf pays entre 2017 et 2022 afin d'informer leurs processus de PNA. Cette note identifie également les principaux facteurs qui permettent de maximiser les impacts de ces analyses sur les processus de PNA des pays.
Présentatrice
Aurélie Ceinos, Conseillère politique, égalité de genre et inclusion sociale, Réseau mondial de PNA, IISD
Intervenantes
Anna Koffi KOUAME, Cheffe de l'unité "Genre et inclusion sociale", Programme national sur le changement climatique (PNCC), ministère de l'Environnement et du Développement Durable, Côte d'Ivoire
Colette BENOUDJI, Rédactrice principale de l'analyse de genre au Tchad, Directrice de l'association Lead Tchad
Remarques finales
Dibor SARR, Chargée de programme adaptation et point focal national genre pour la CCNUCC, Division Changements Climatiques, Ministère de l'Environnement, du Développement durable et de la Transition Ecologique, Sénégal
Enregistrement
Diapositives
Related content | Contenu connexe