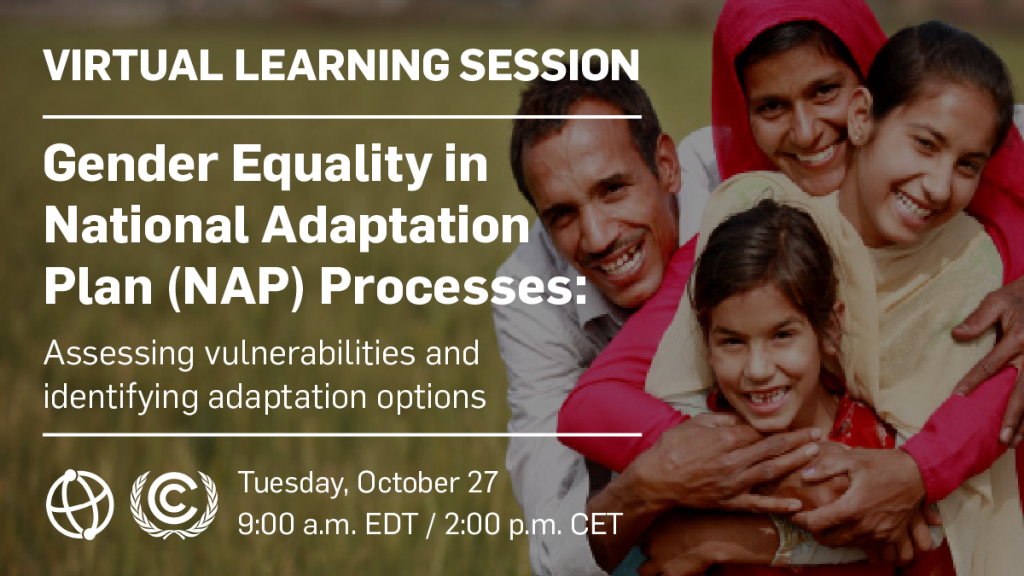 Webinar Recording | Insights from Various Countries | Webinar Slides | Related Resources
A key step in National Adaptation Plan (NAP) processes is to assess vulnerabilities and identify adaptation options that will help people and systems become more resilient to climate change. This process provides the opportunity to actively engage those whose voices are not always heard, to ensure that adaptation actions respond to the differing needs and priorities of women, men, and nonbinary people.
In fact, gender equality can be promoted throughout every step of a NAP. The key is knowing how.
This virtual learning session provided guidance on how to make NAP processes gender responsive—with participants choosing which actions to explore at key entry points in the NAP process!
Organized in collaboration with the UNFCCC Least Developed Countries Expert Group (LEG) and Adaptation Committee, this NAP Global Network event highlighted how to use the Toolkit for a Gender-Responsive Process to Formulate and Implement NAPs to ensure gender equality is considered in the assessment of vulnerabilities and identification of adaptation options.
This interactive session encouraged lively discussion with participants on what they can do to put these actions into practice in their own countries.
Webinar Recording
Country Perspectives on Gender Responsive NAP Processes
Webinar Slides