Climate Resilience From Mountaintop to Seafloor
How three communities in Grenada are implementing the national climate change adaptation plan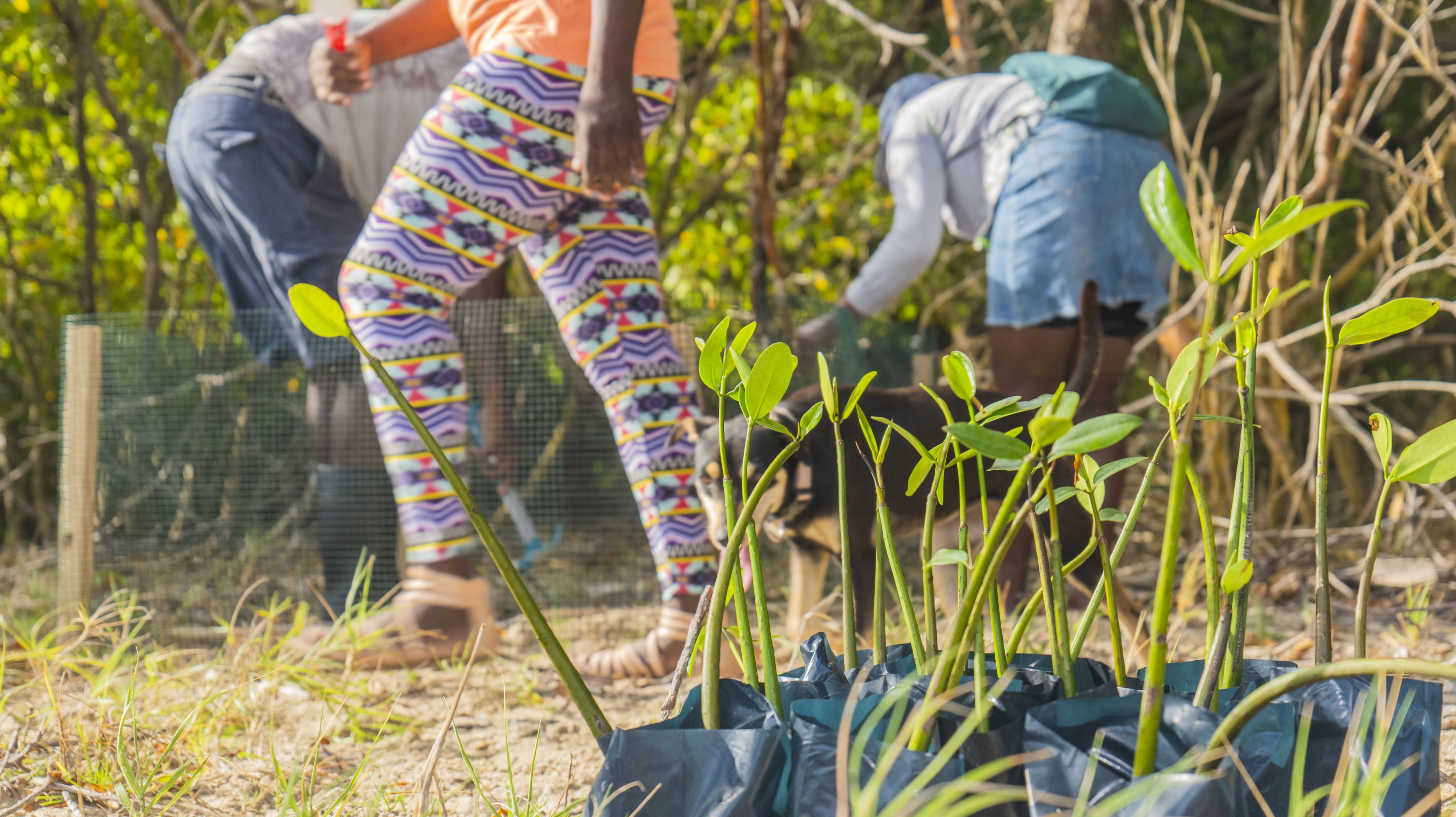 In 2004, Hurricane Ivan ravaged the tri-island state of Grenada, Carriacou, and Petite Martinique, claiming the lives of 34 people and causing damage worth twice the nation's annual economic output. As Grenadians rallied in the disaster's aftermath, the government made climate change resilience a national policy priority.
"Hurricane Ivan was, and continues to serve as, an example for the Caribbean region of the importance of disaster preparedness and the critical need to bolster climate resilience and adaptation as small island states," said Prime Minister Dickon Mitchell in a 2022 statement marking the 18th anniversary since the climate event.
In the intervening years, Grenada has made meaningful progress on building resilience to cope with the impacts that climate change is having on the islands' way of life—including drying up sources of drinking water, salt water intrusion into fresh water aquifers, sea level rise and eroding coastlines, devastation of coral reef and deep ocean ecosystems and associated fisheries, and threatening livelihoods.
Importantly, Grenada was one of the first Caribbean countries to develop a national adaptation plan (NAP) in 2017 to articulate the country's medium- to long-term priorities.
Grenada's National Adaptation Plan
Following early, critical steps like the 2007-2011 Climate Change Policy and Action Plan, Grenada's 2017 NAP was developed through a consultative, Small Island Developing State-specific process that builds on existing policies and strategies.
The NAP put forward 12 programs of action and is an instrument to mobilize international financial resources for climate resilience. The NAP document also outlines specific vulnerabilities of sister islands Petite Martinique and Carriacou.
After 5 years of implementing the NAP, Grenada has gained hard-won lessons for how adaptation can be scaled up through the NAP process. This article looks at how three communities—Blaize, Lauriston, and Telescope—are part of country-wide efforts to reduce vulnerability and build resilience in a changing climate.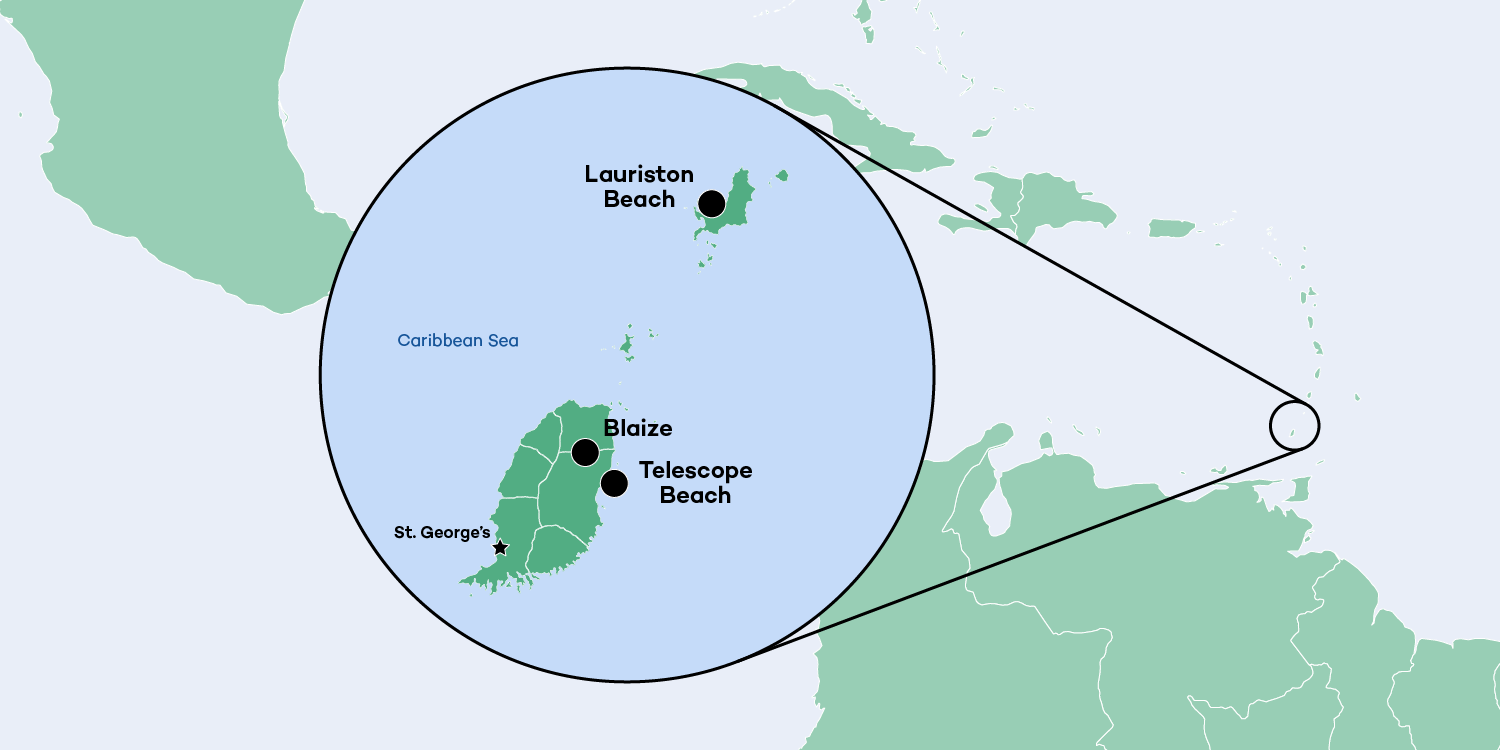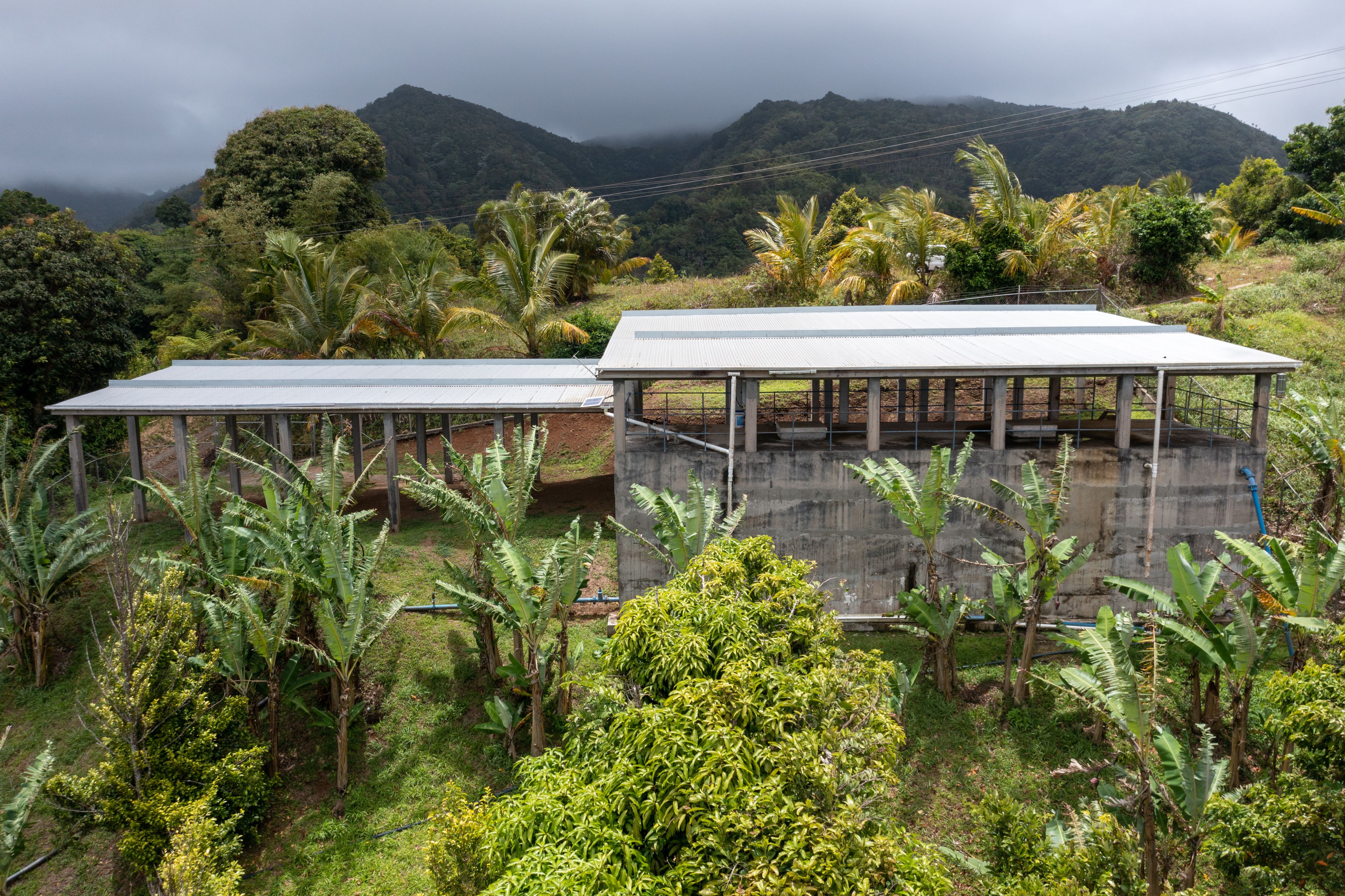 Hydration at High Elevation: Water availability in Blaize
Blaize is the location of one of Grenada's highest-altitude communities. Nested in the mountainous terrain of the St. Andrew's parish at 427 feet above sea level, the Blaize village is too far up the mountains to receive water through traditional plumbing.
Water availability had been a perennial problem for Blaize. For many years, community members fetched water from a spring—enduring steep muddy terrain for almost 2 miles.
"The spring where we originally used to get water started to dry up. When it started to dry up, we had to resort to alternate methods," explains Blaize resident Ermine Thomas.
Several attempts to improve water access fell flat, including damming natural water sources to create reservoirs, introducing personal water tanks that would catch rainwater, and even weekly visits from water trucks sent by the National Water and Sewerage Authority (NAWASA).
In 2016, with support from the government and partners, Blaize completed a community rainwater harvesting system to provide the entire community with treated, gravity-fed water directly to villagers' houses through conventional modern plumbing. 
However, due to decreasing amounts of rainfall, as well as issues with engineering and construction of the roof catchment system, the 50,000-gallon tank was never full, and often became empty—especially during Grenada's annual dry season period (January to May). Several alterations were made to the design, including expanding the roof catchment area and building wind barriers to prevent water from being blown off the roof before being captured by the guttering. All met with limited success.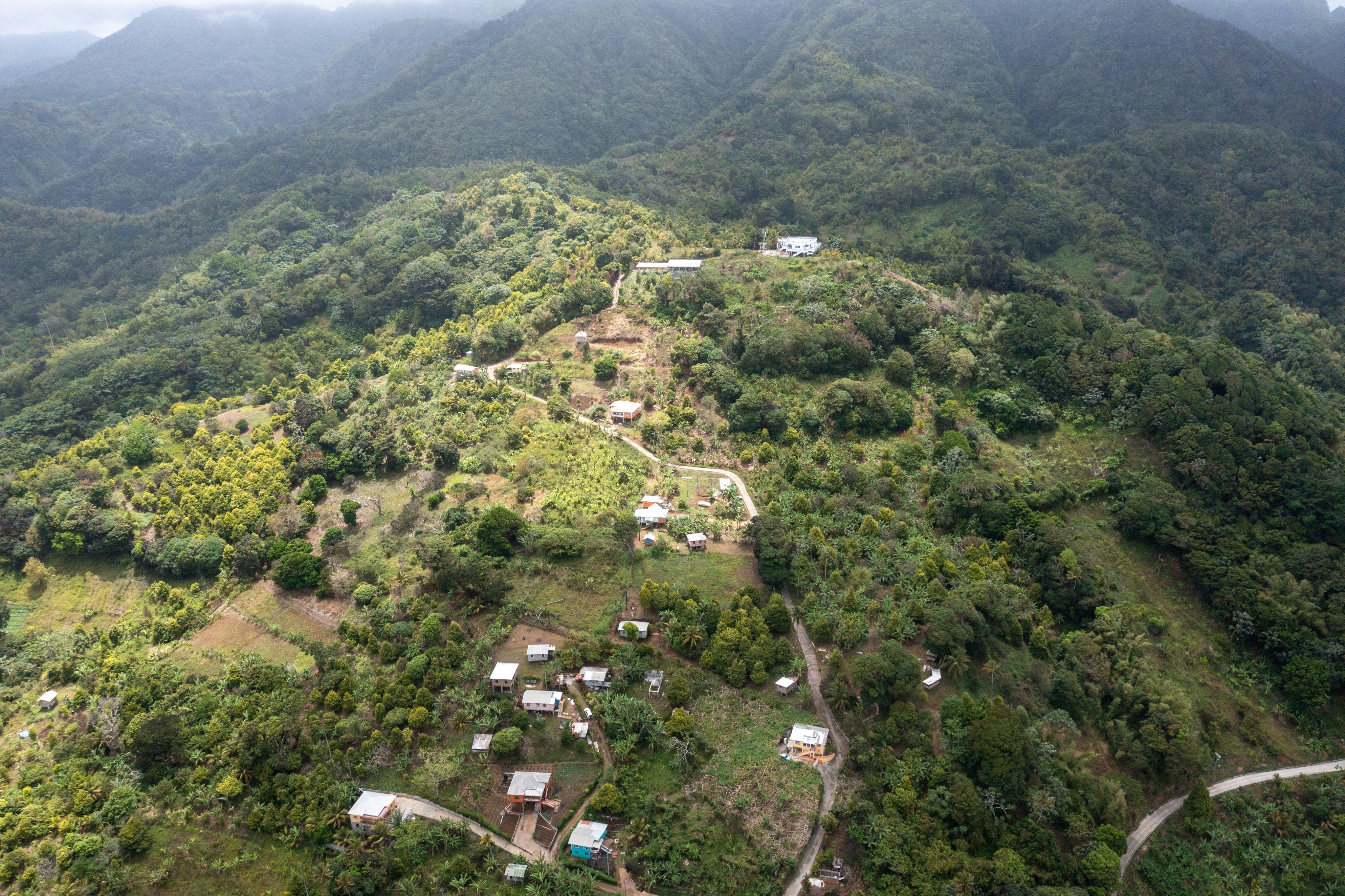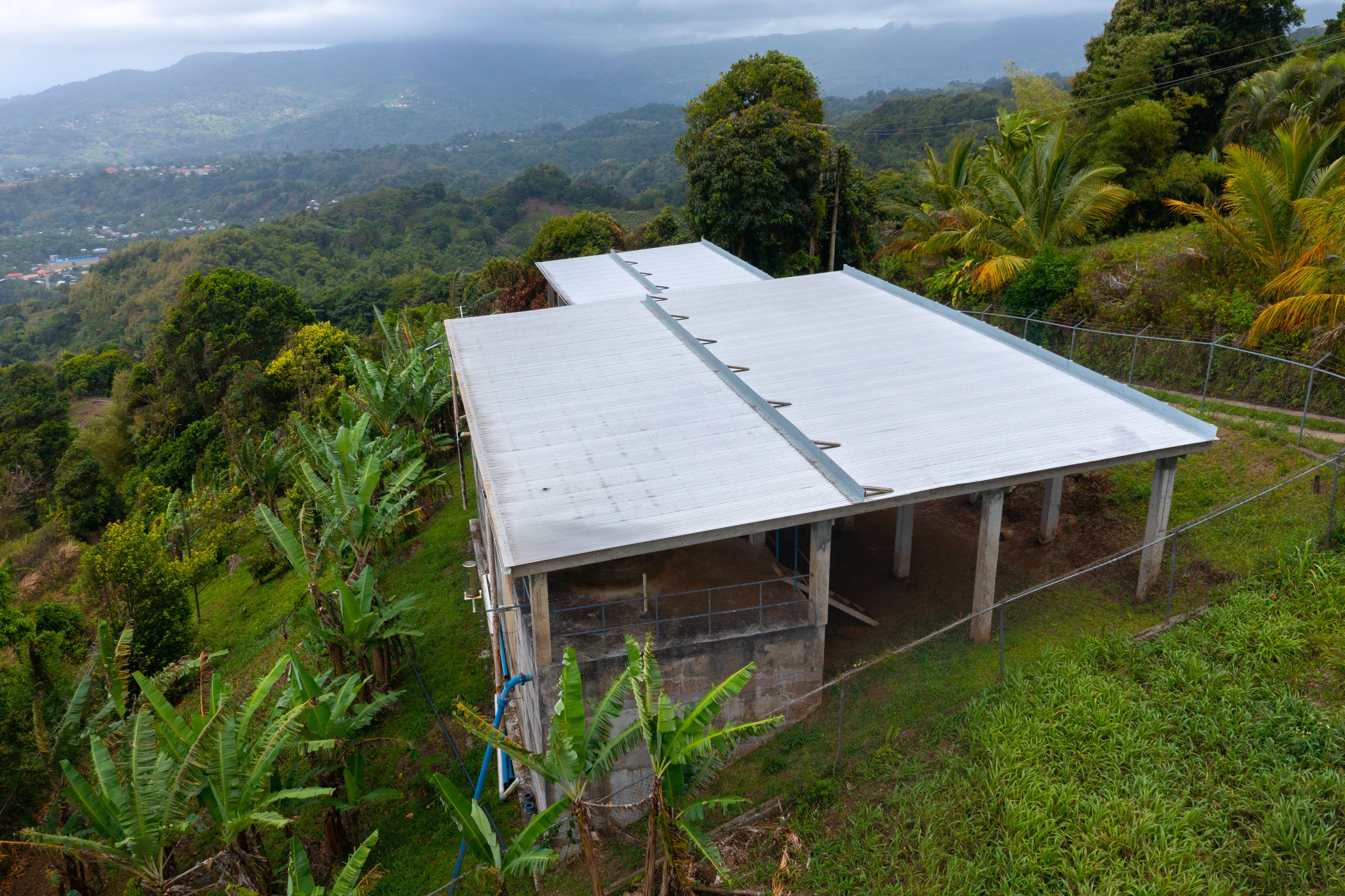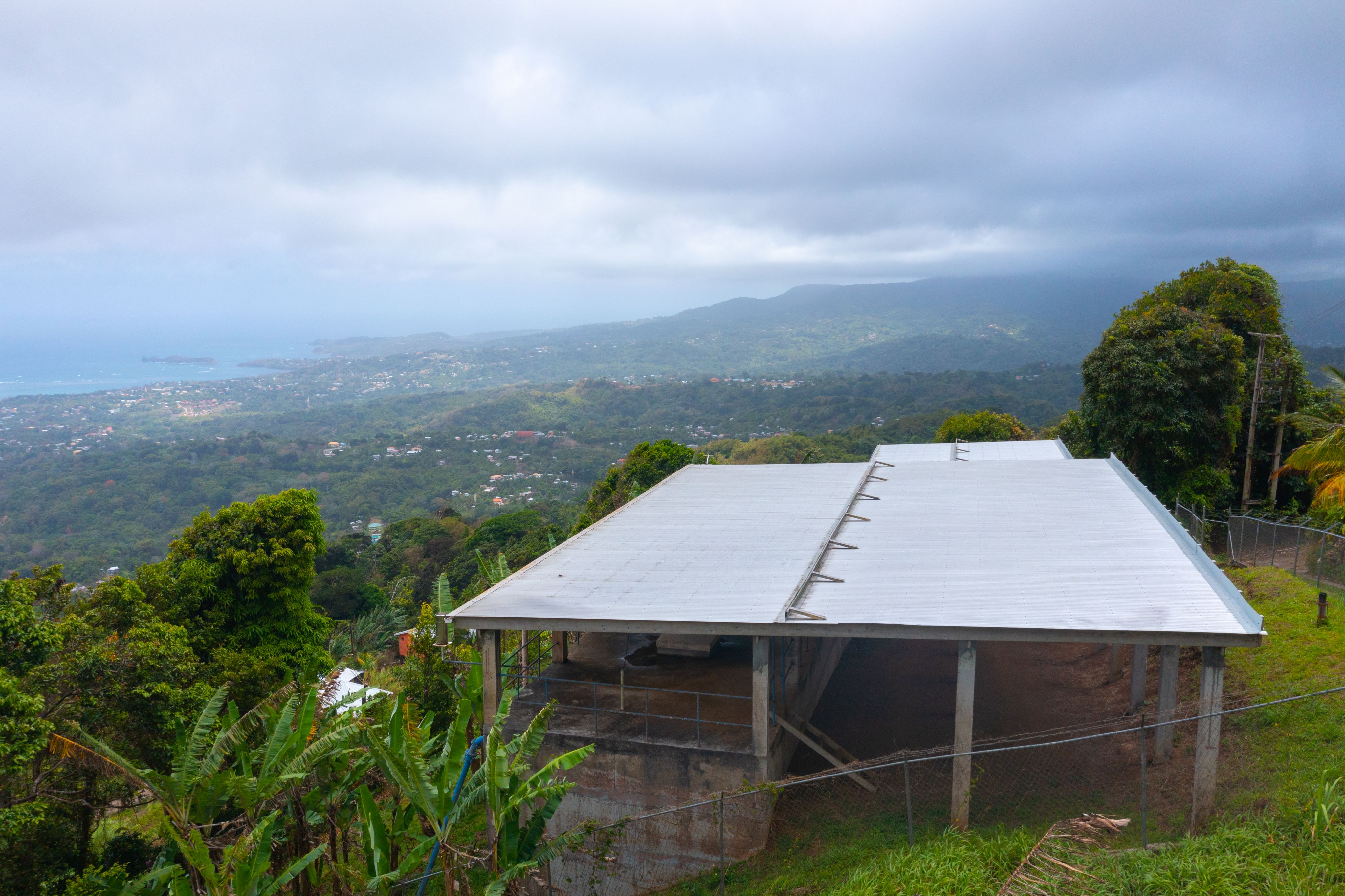 Item 1 of 3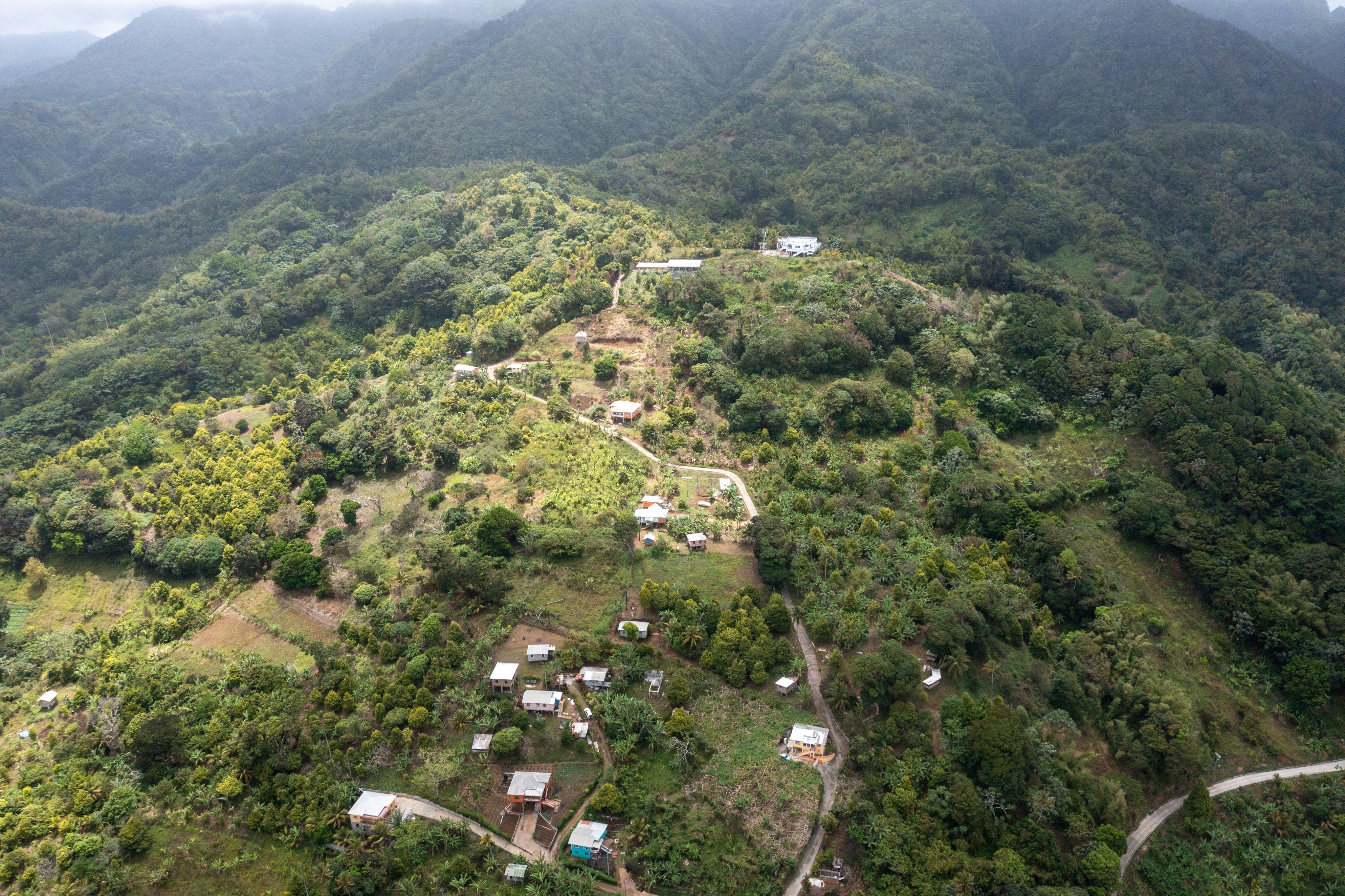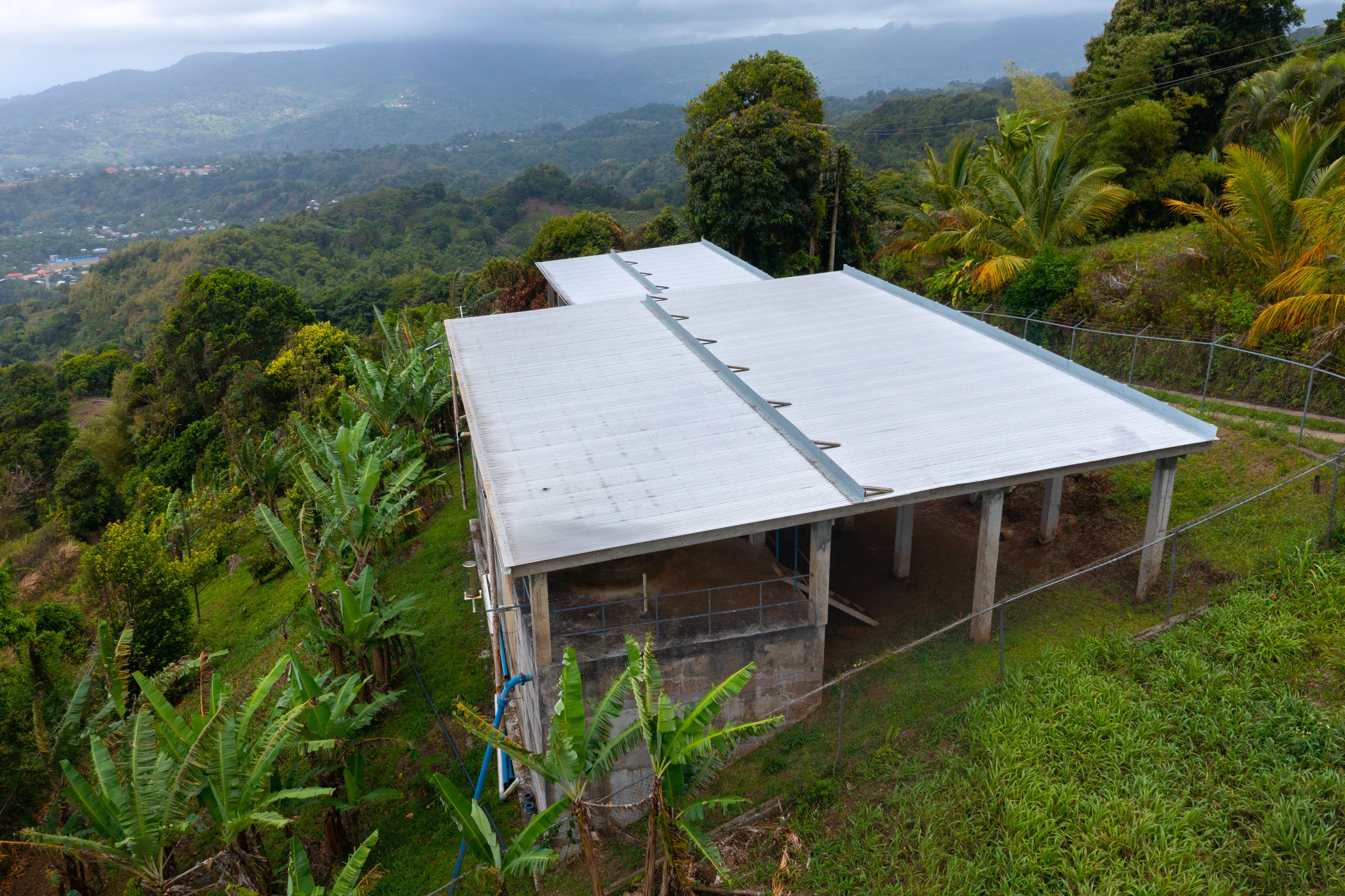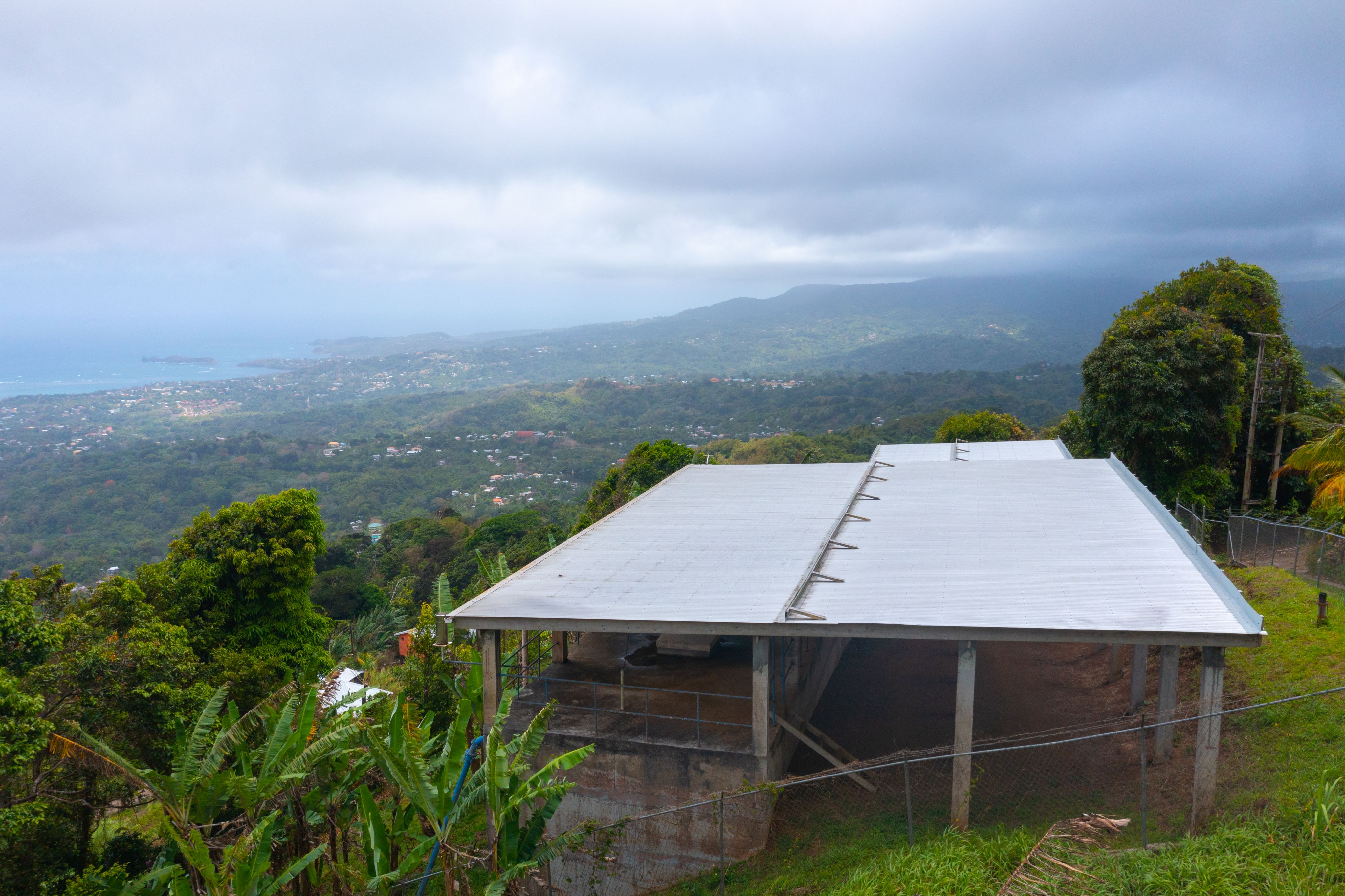 In 2018, NAWASA and Japan's Grant Assistance for Grassroots Human Security Projects (GGP) collaborated to pump water from the nearby Carriere tank to the Blaize rainwater harvesting tank. Martin Thomas (Ermine's brother) was hired to operate the pump station and monitor and maintain water levels and water quality in the tank.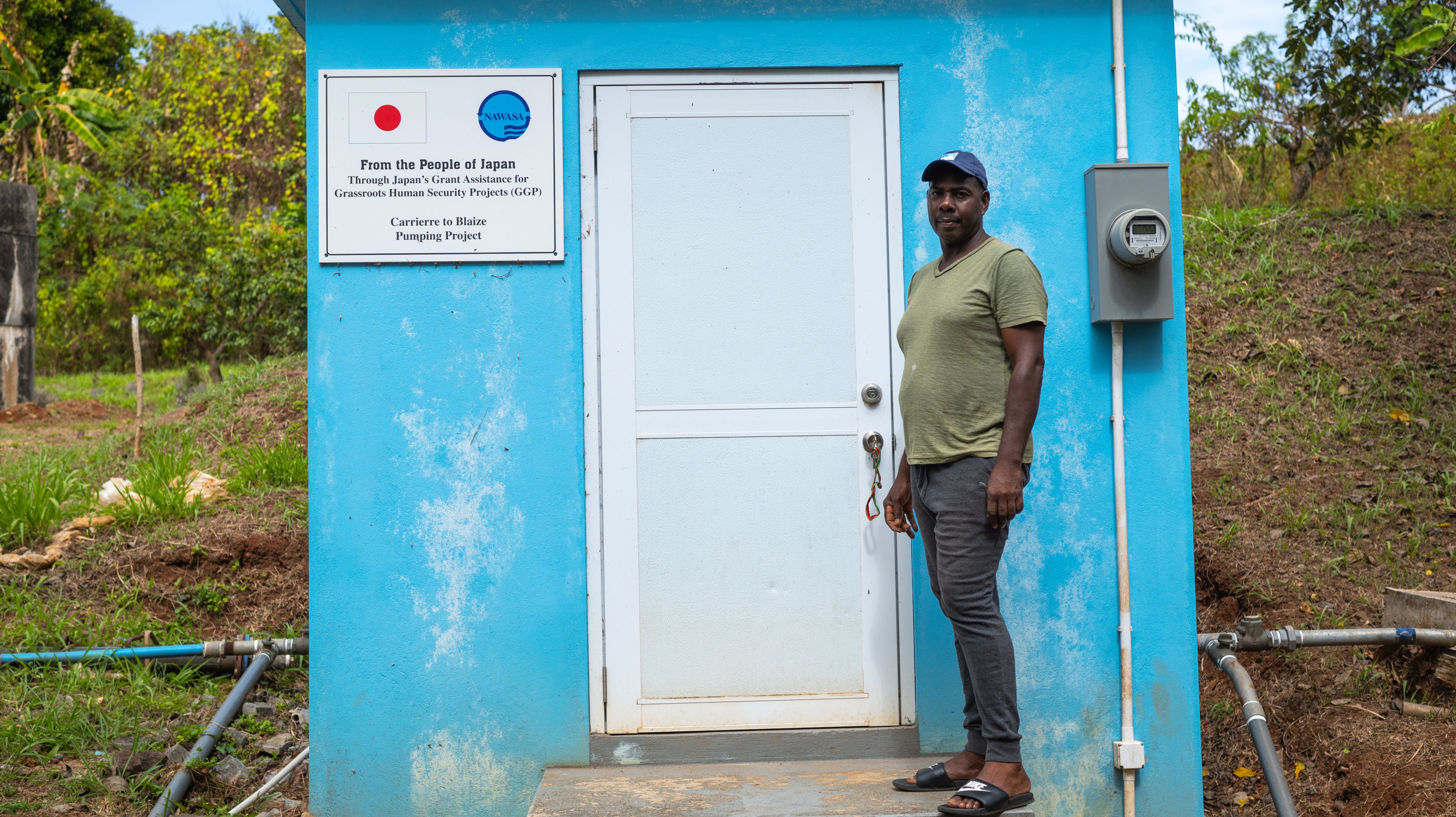 Today, the tank serves more as water storage than a rainwater harvesting system—for close to a year, the guttering that guides rainwater into the tank has fallen away due to exposure to the elements. But despite the challenges, the tank has significantly helped ease the community's water challenges.
Blaize community members now enjoy water year-round—even during the difficult dry season. "We haven't been having any problems with water at all," says Ermine Thomas.
Improved access to rainwater and water availability is one of Grenada's 12 programs of action in the NAP, which writes that rainwater harvesting "is not standard practice in Grenada." Blaize's experience as the first community to adopt rainwater harvesting has provided important lessons as the country scales up such approaches in response to water scarcity issues that are worsened by climate change.
The Deutsche Gesellschaft für Internationale Zusammenarbeit (GIZ) and NAWASA are currently developing plans to reintroduce rainwater contributions to the tank, and are taking lessons learned from this Blaize project for implementation in other villages facing similar challenges as part of a USD 50 million project Climate-Resilient Water Sector in Grenada (G-CREWS) that that contributes to the implementation of the NAP and is financed by the Green Climate Fund, the German Federal Ministry for the Environment, Nature Conservation, Nuclear Safety and Consumer Protection (BMUV) under its International Climate Initiative (IKI), and the Government of Grenada.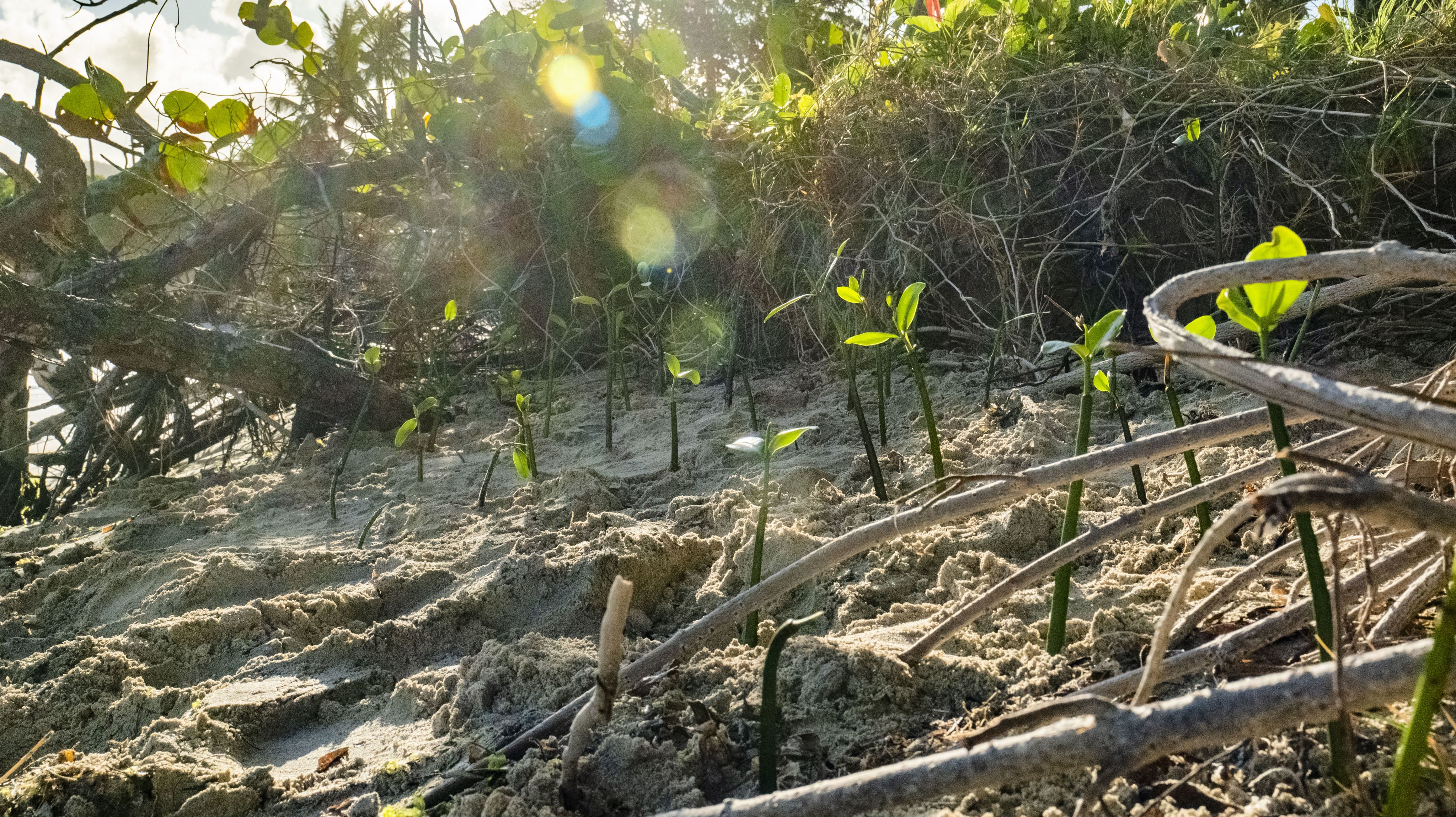 Restoring Mangroves to Fight Erosion in Lauriston, Carriacou​
Carriacou, known as the "Isle of Reefs," boasts rich coastal ecosystems that have long captivated divers and nature lovers.
"Over the last 30 or so years, this area—Lauriston Beach and Lauriston Point in Carriacou—has really suffered a lot of coastal erosion," says Tyrone Buckmire, Executive Director of the Grenada Fund for Conservation.
"[Our task] under this project is to do a restoration of mangroves and other vegetation along the coastline and within the mangrove ecosystem."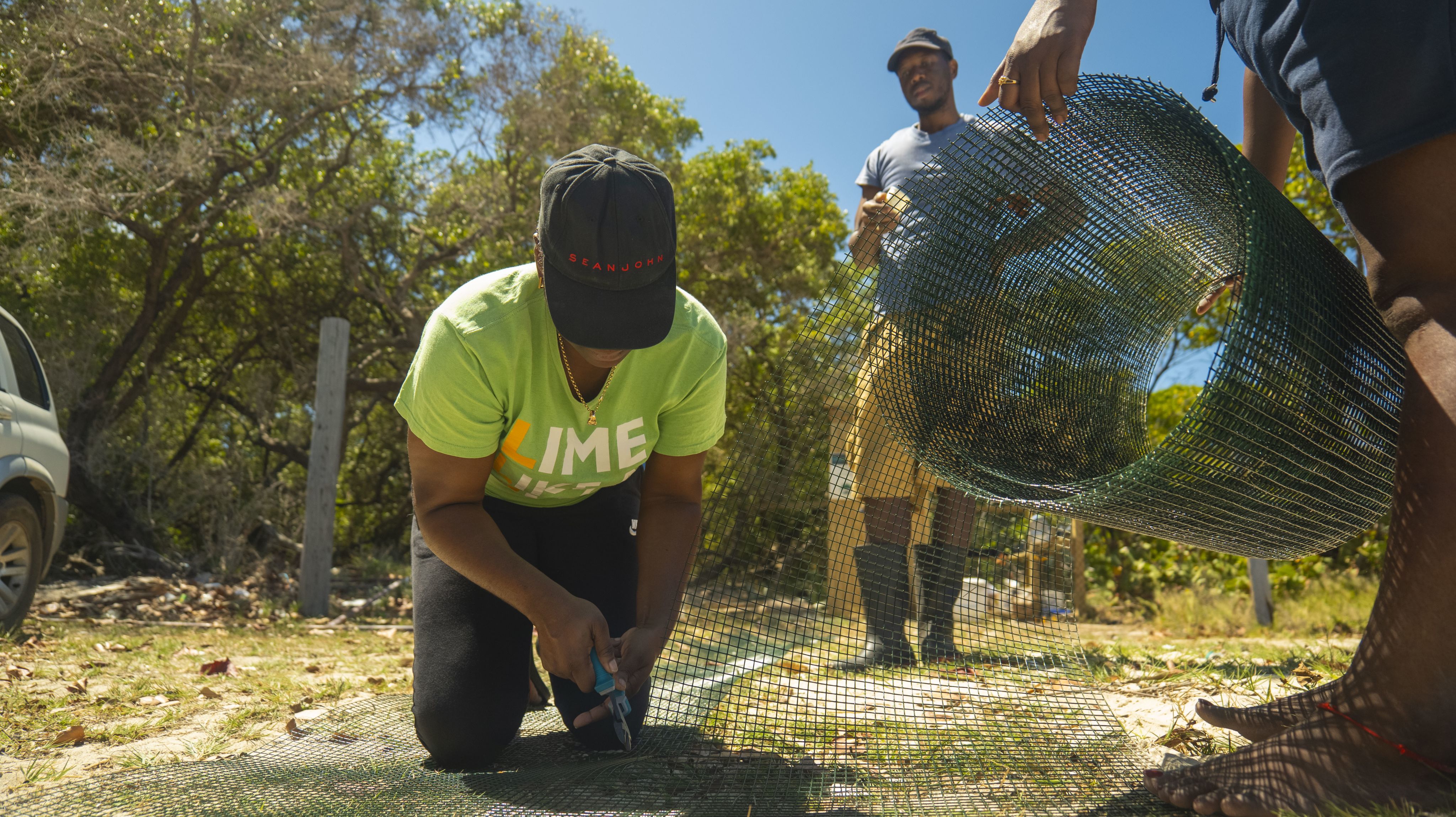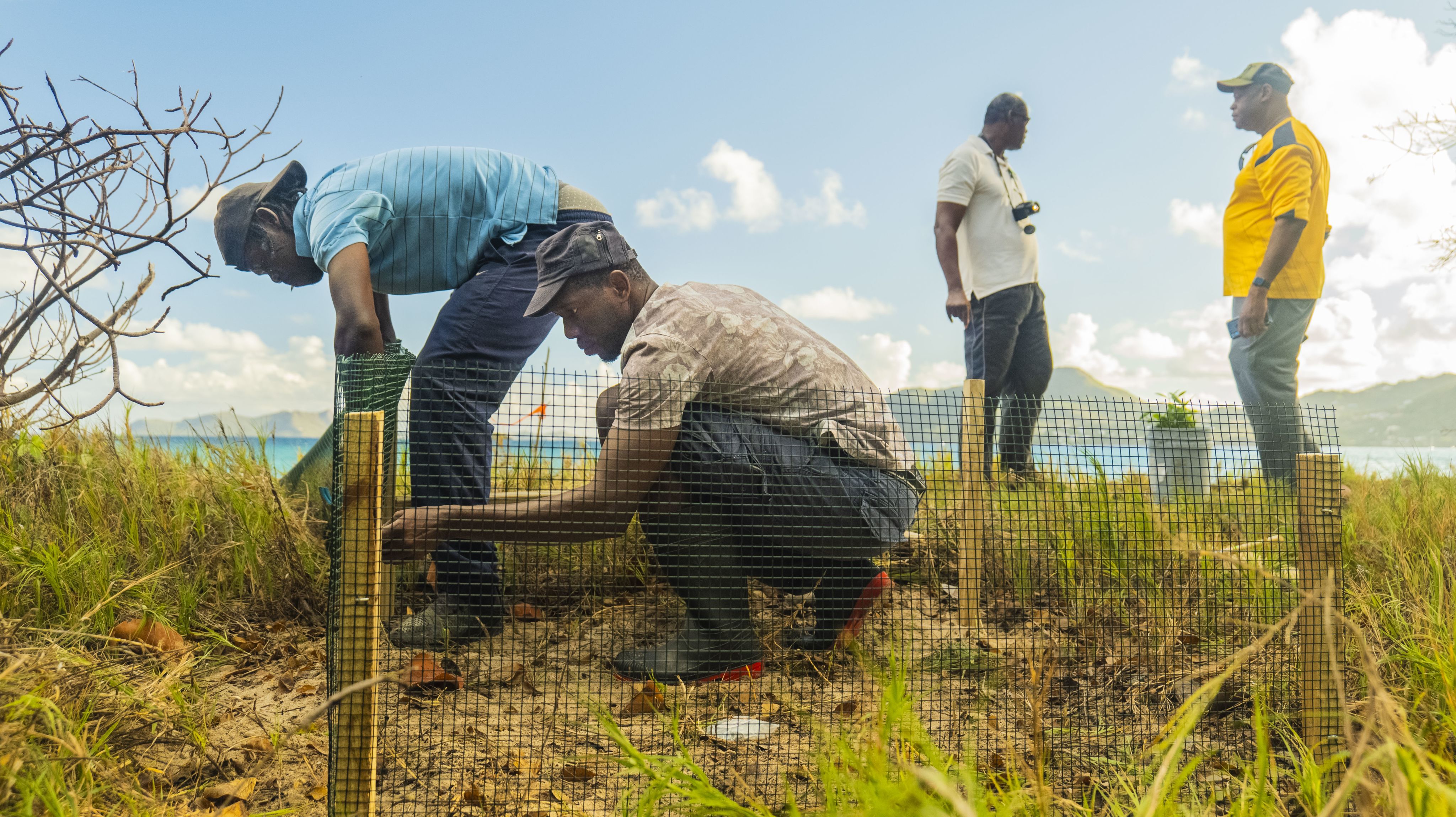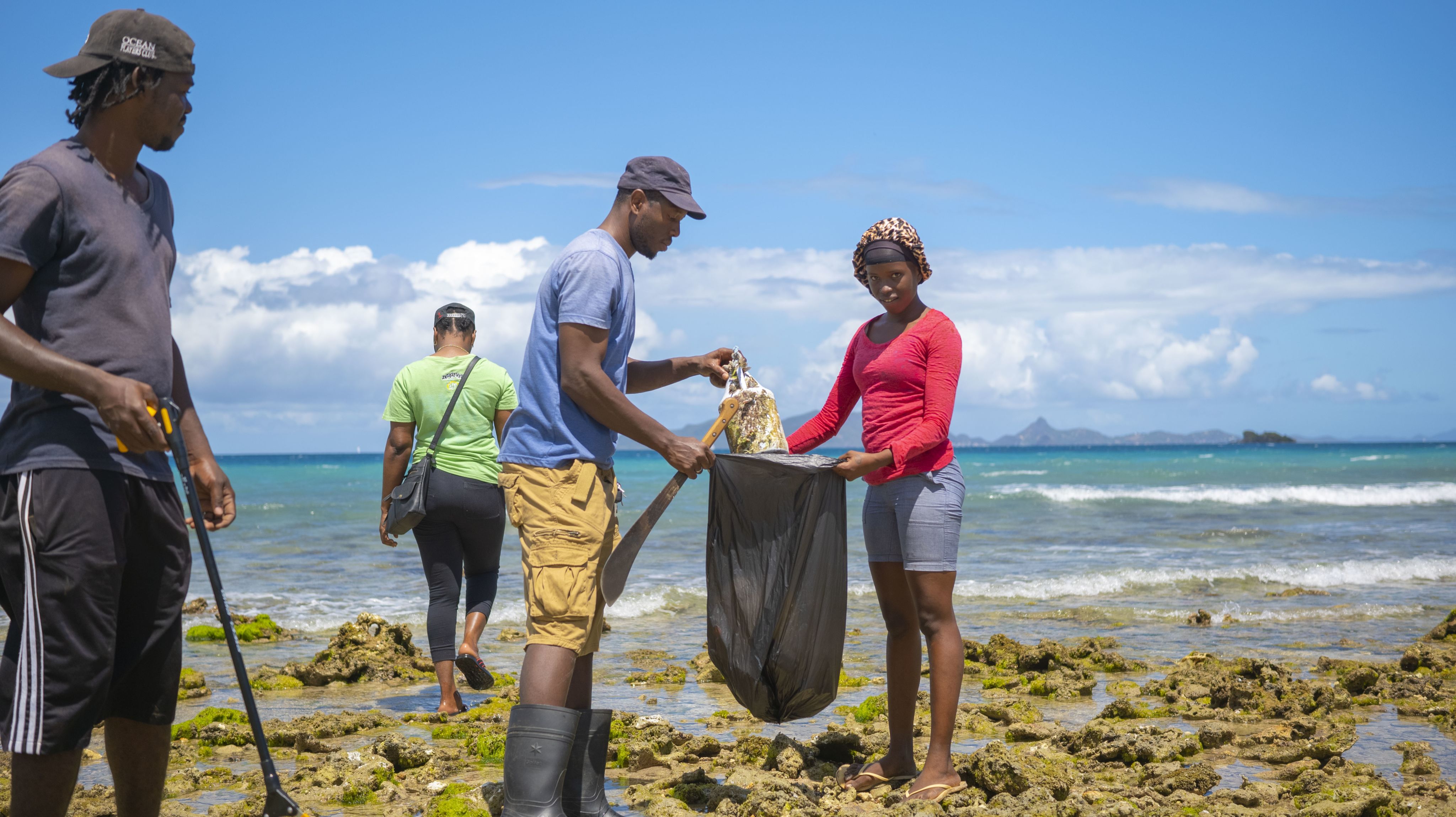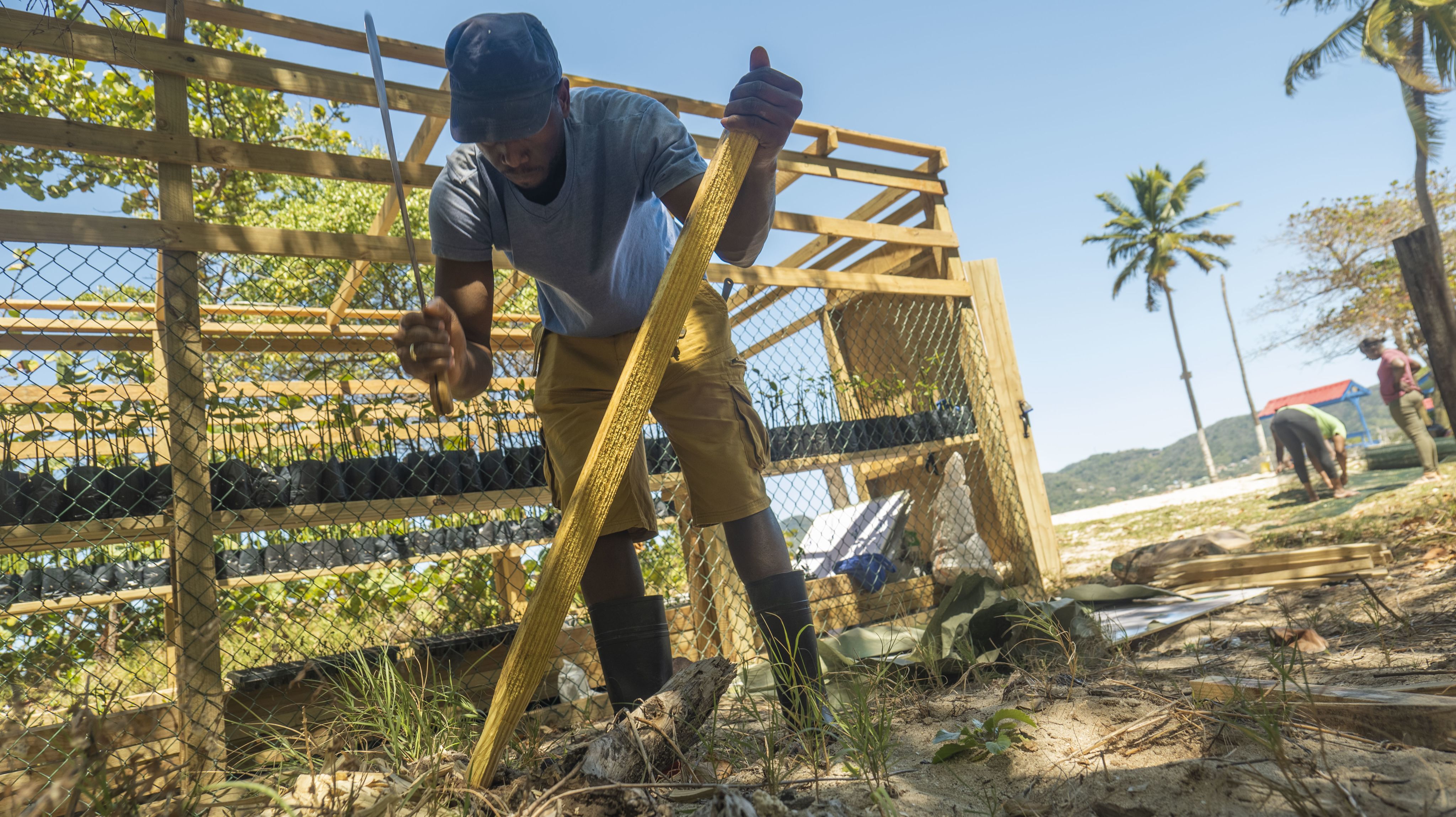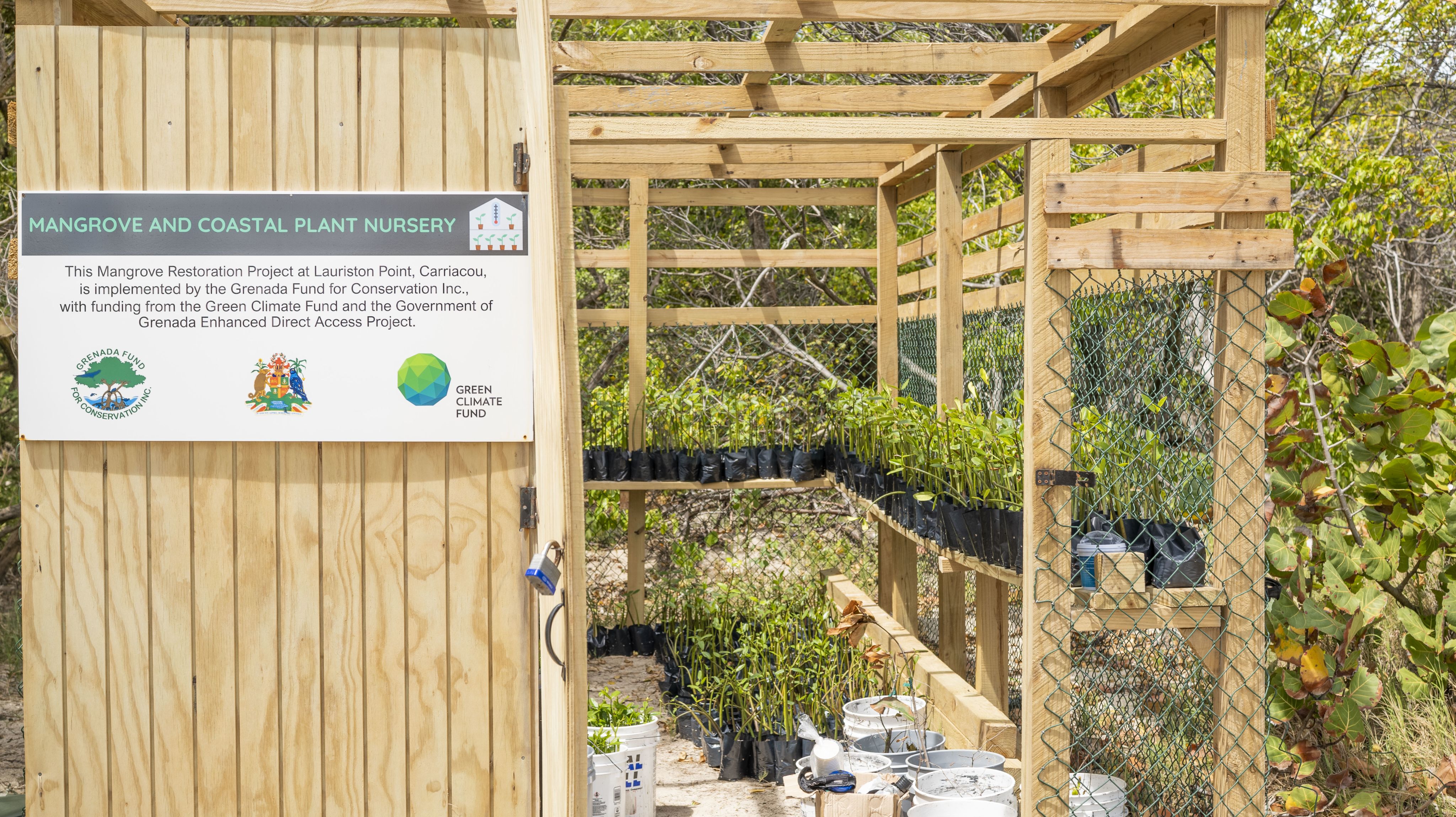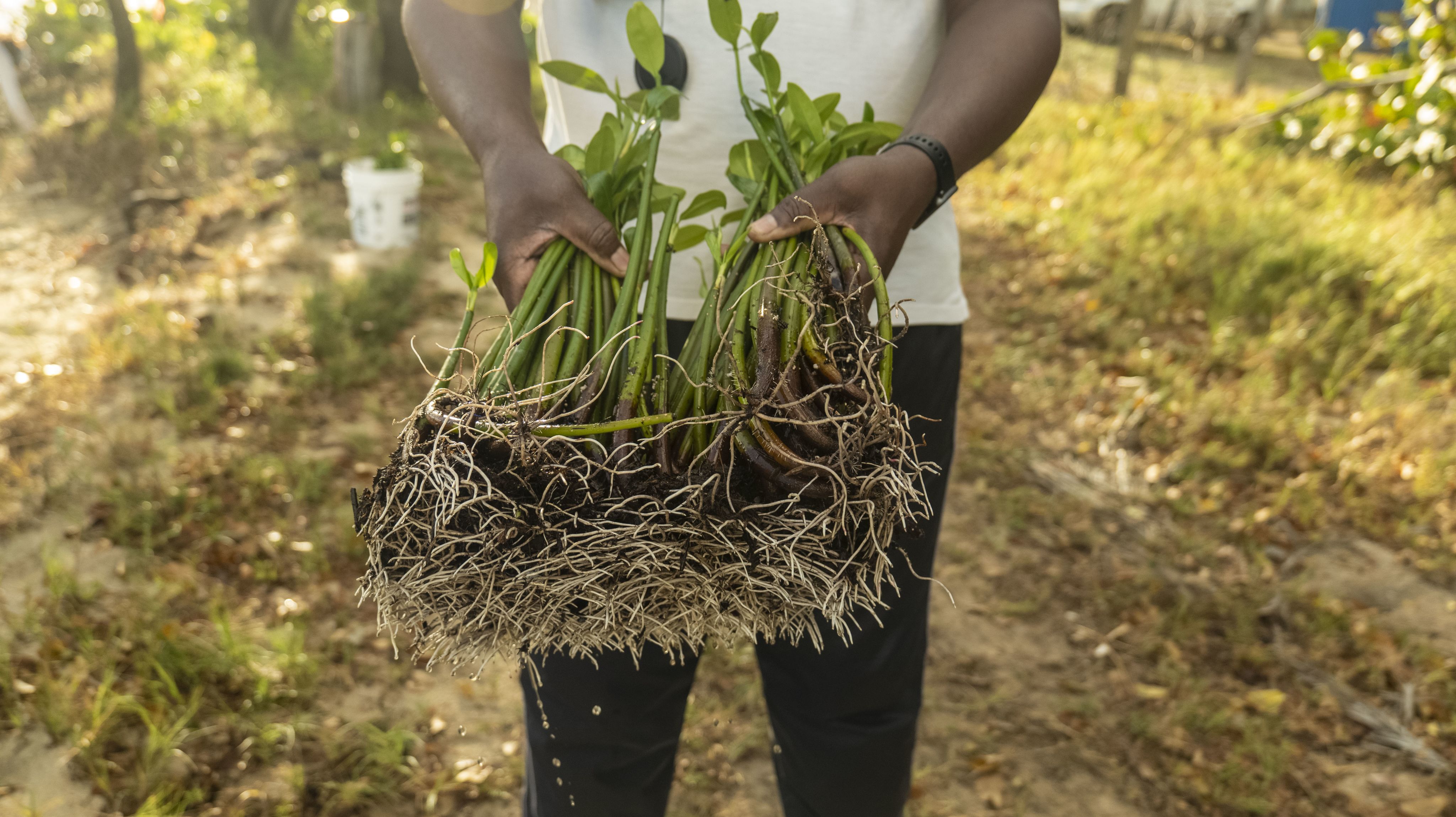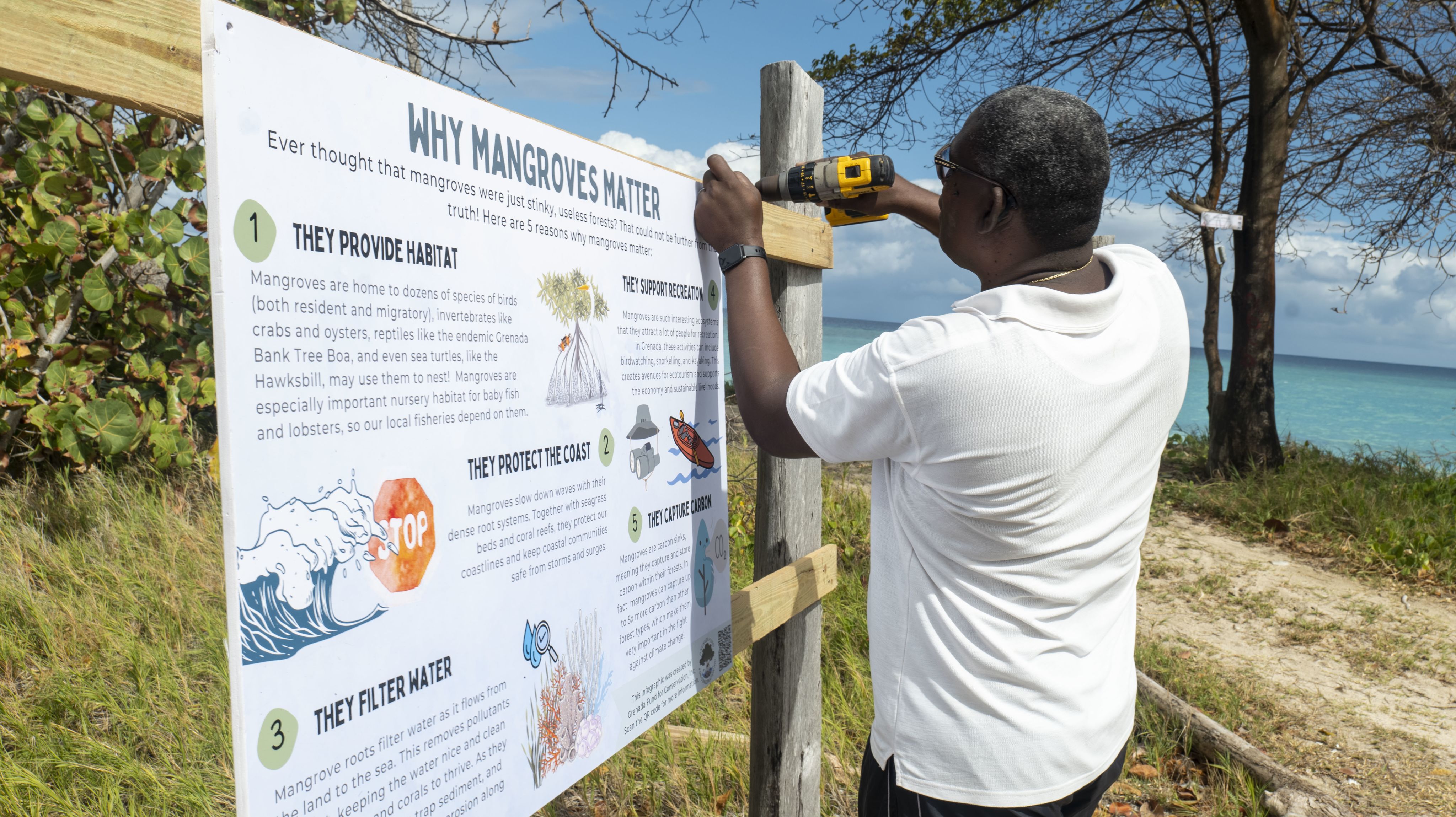 Item 1 of 7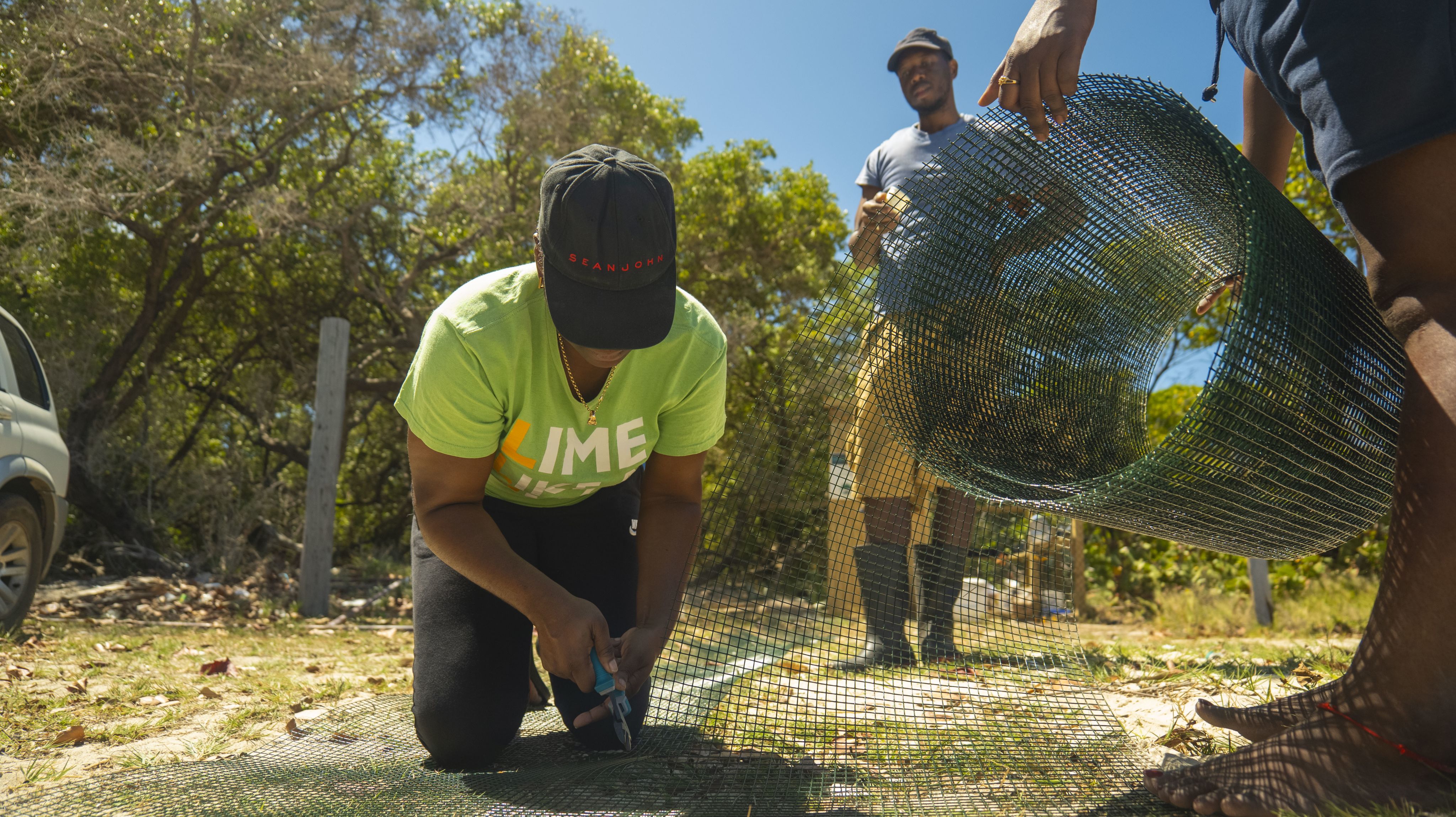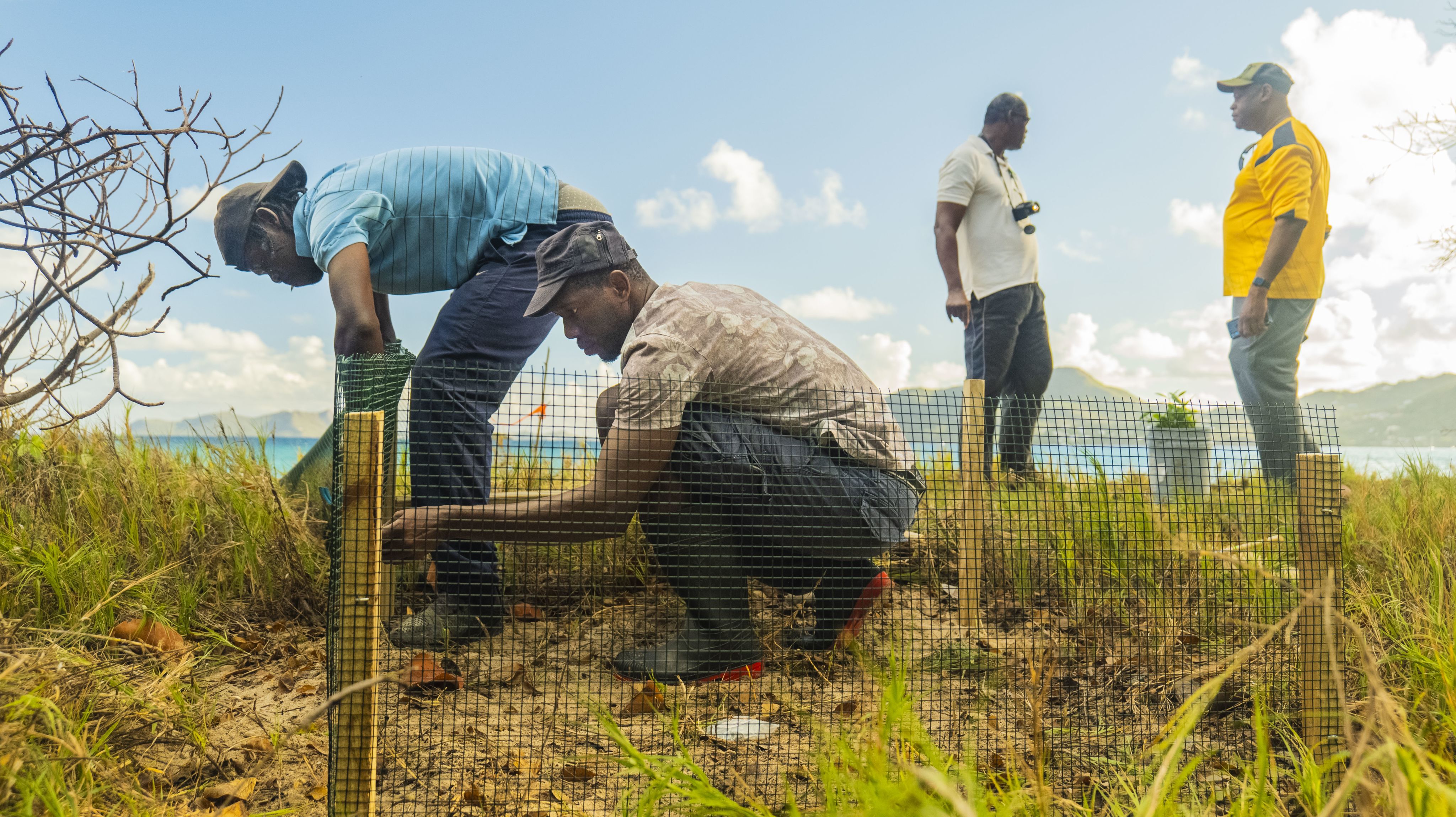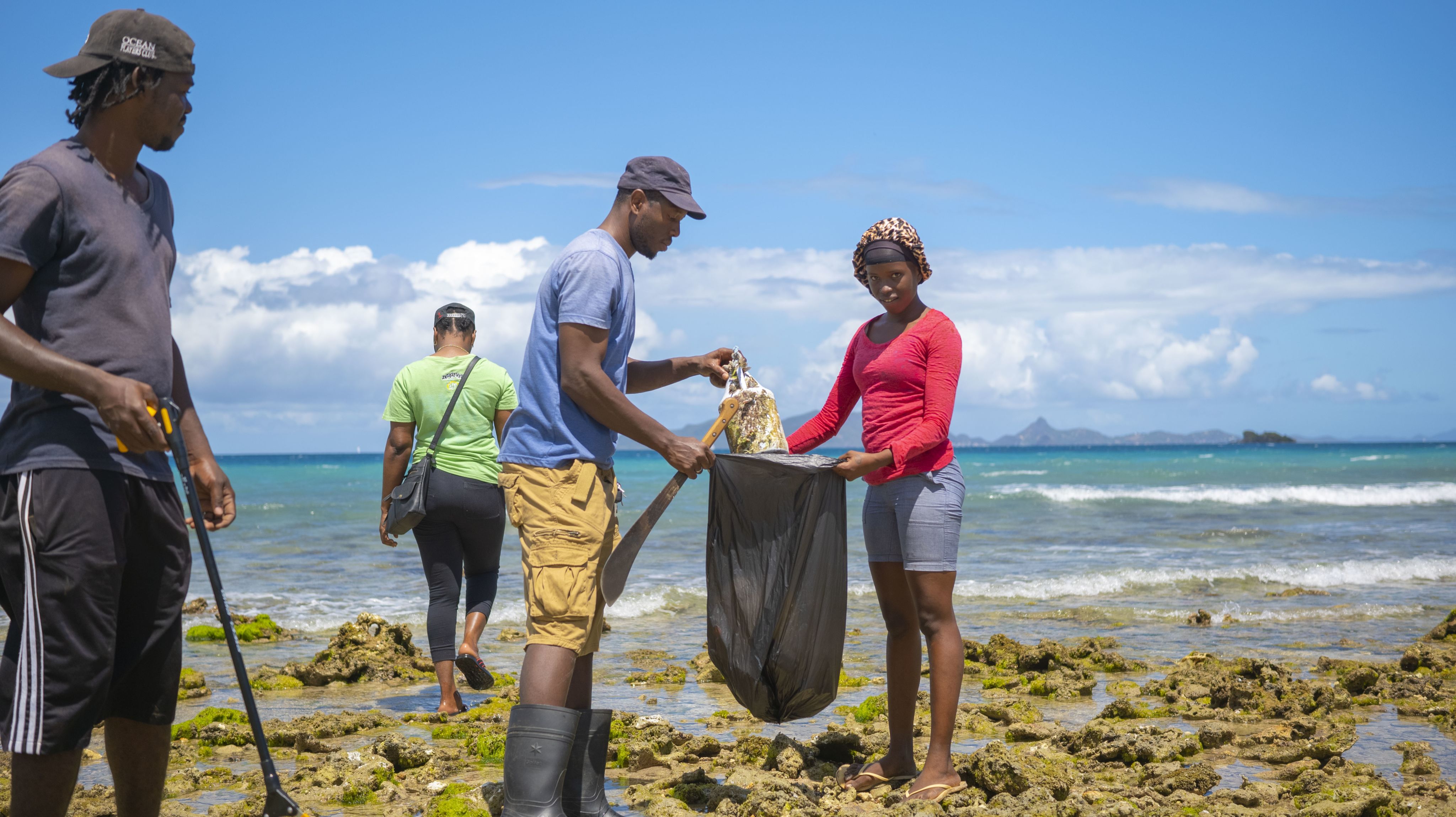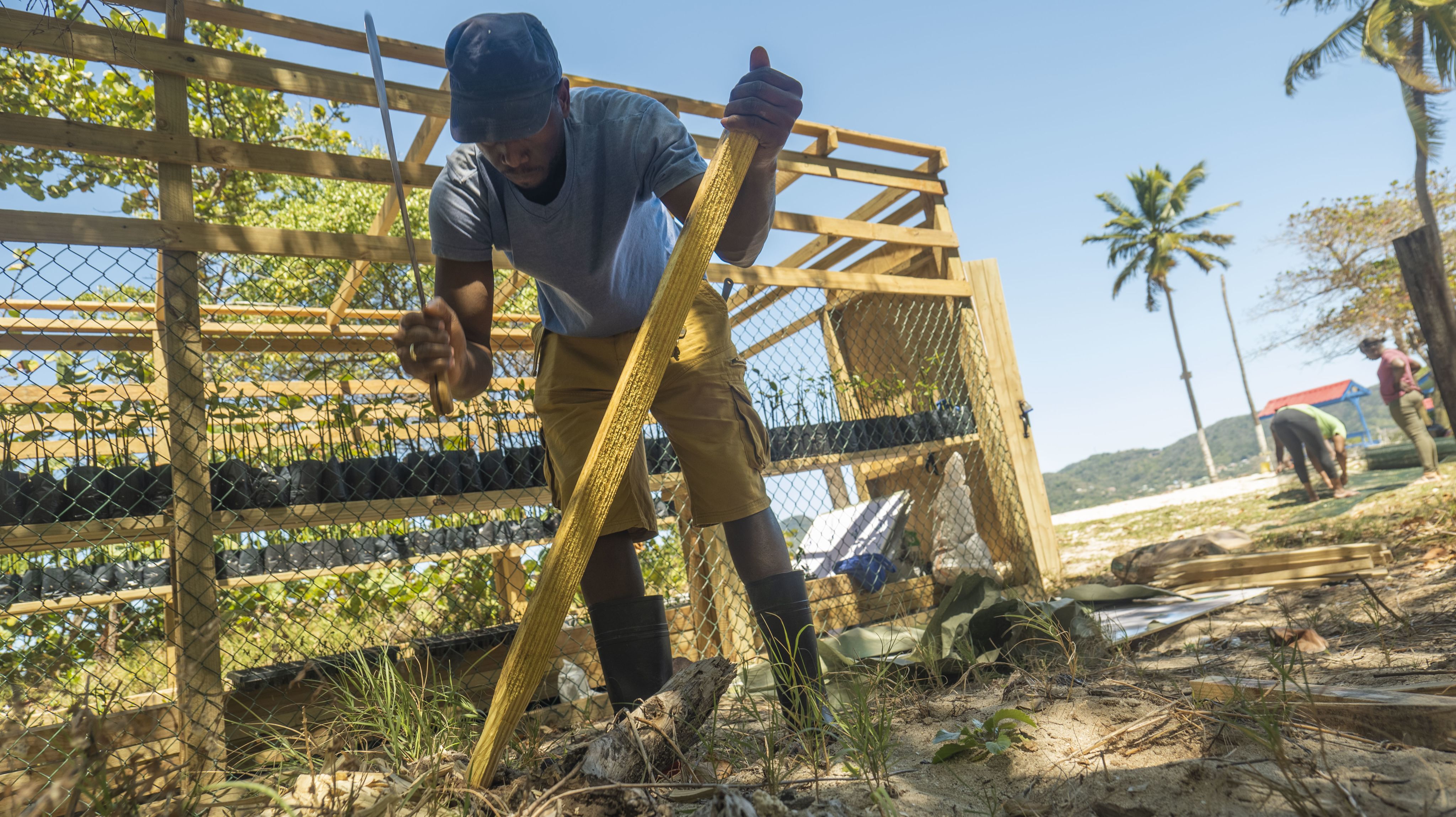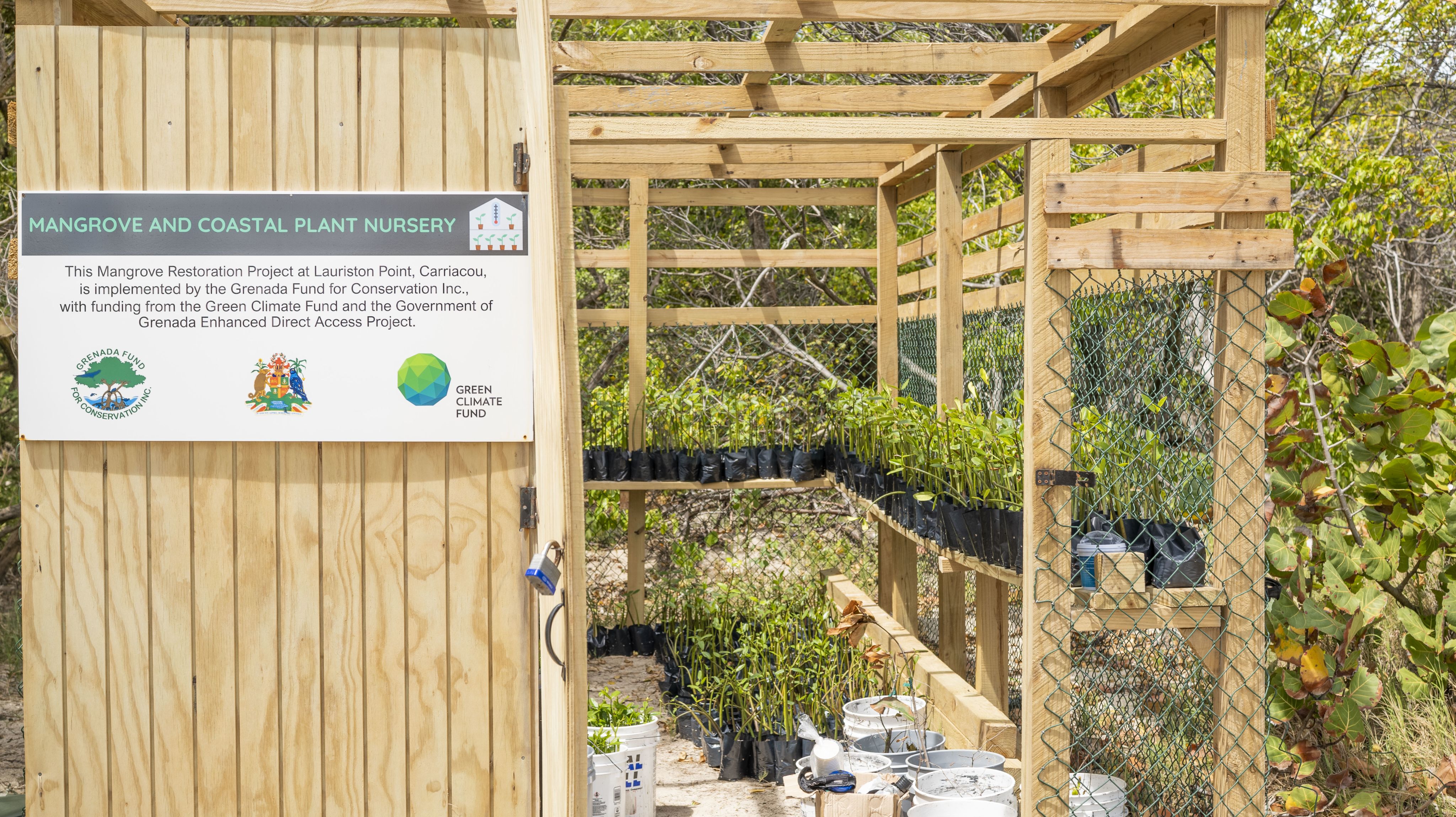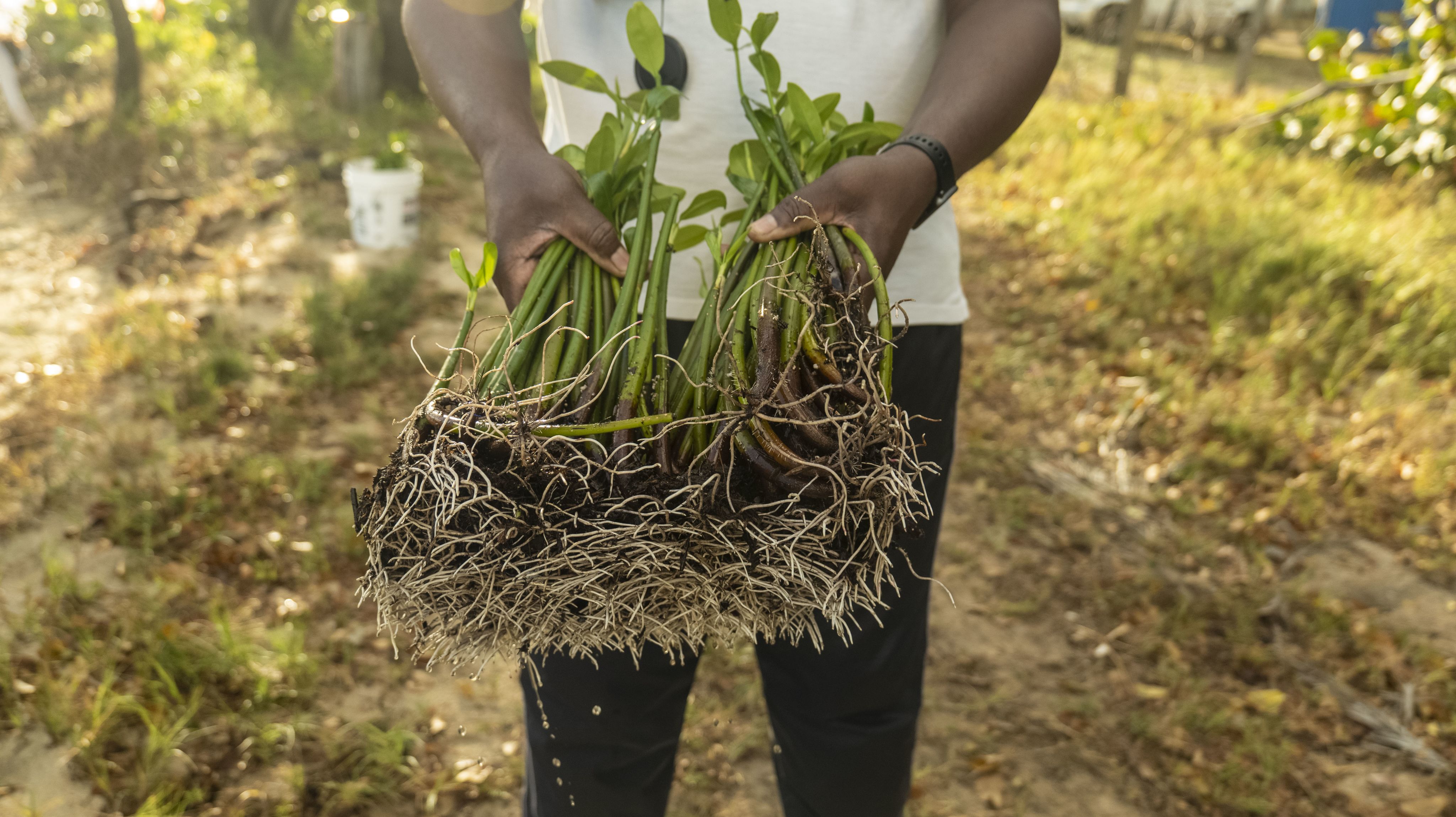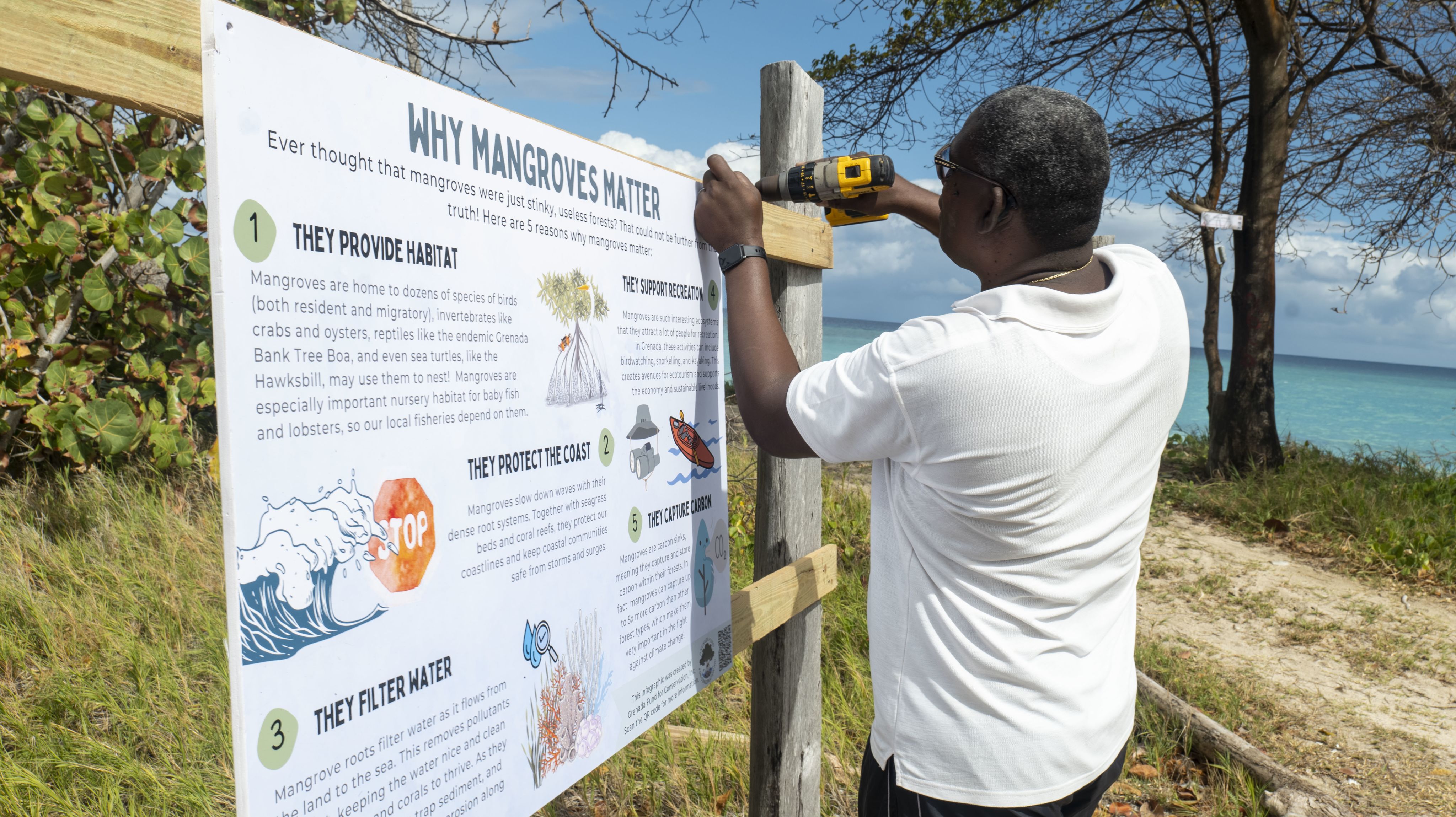 The Grenada Fund for Conservation is working along with local communities, the Ministry of Environment, and the Ministry of Carriacou and Petite Martinique on the Lauriston Restoration and Rehabilitation Project, through which they have established a mangrove nursery to cultivate saplings of red mangroves and a small number of white mangroves.
Working with Environment Division and non-governmental organizations the Kipaji Development Initiative and the Kido Foundation, replanting efforts have aimed to reverse the loss of coastal mangroves in order to stabilize the coastline and protect the rich local biodiversity. The mangroves act as natural buffers to shield the coast against erosion, storm damage, and sea-level rise.
The newly planted saplings will take several years to take firm hold in the sand and soil, so the project team installed fencing and pens to prevent the saplings from being trampled by unsuspecting hikers. Signage marks established trails, and aims to alert and educate trekkers to avoid treading on mangroves.
As the mangroves take root Lauriston locals will continue to work to cultivate and maintain a healthier, more resilient coastline using coastal ecosystems.
The project's significance goes beyond the Lauriston community, aligning with Grenada's program of action on Ecosystem Resilience under the NAP, which sets the goal to "replant and replace the lost mangrove population island-wide" in Carriacou and Petite Martinique. These efforts to restore natural ecosystems to address erosion and deforestation provide lessons that can be replicated across the island, country, and region.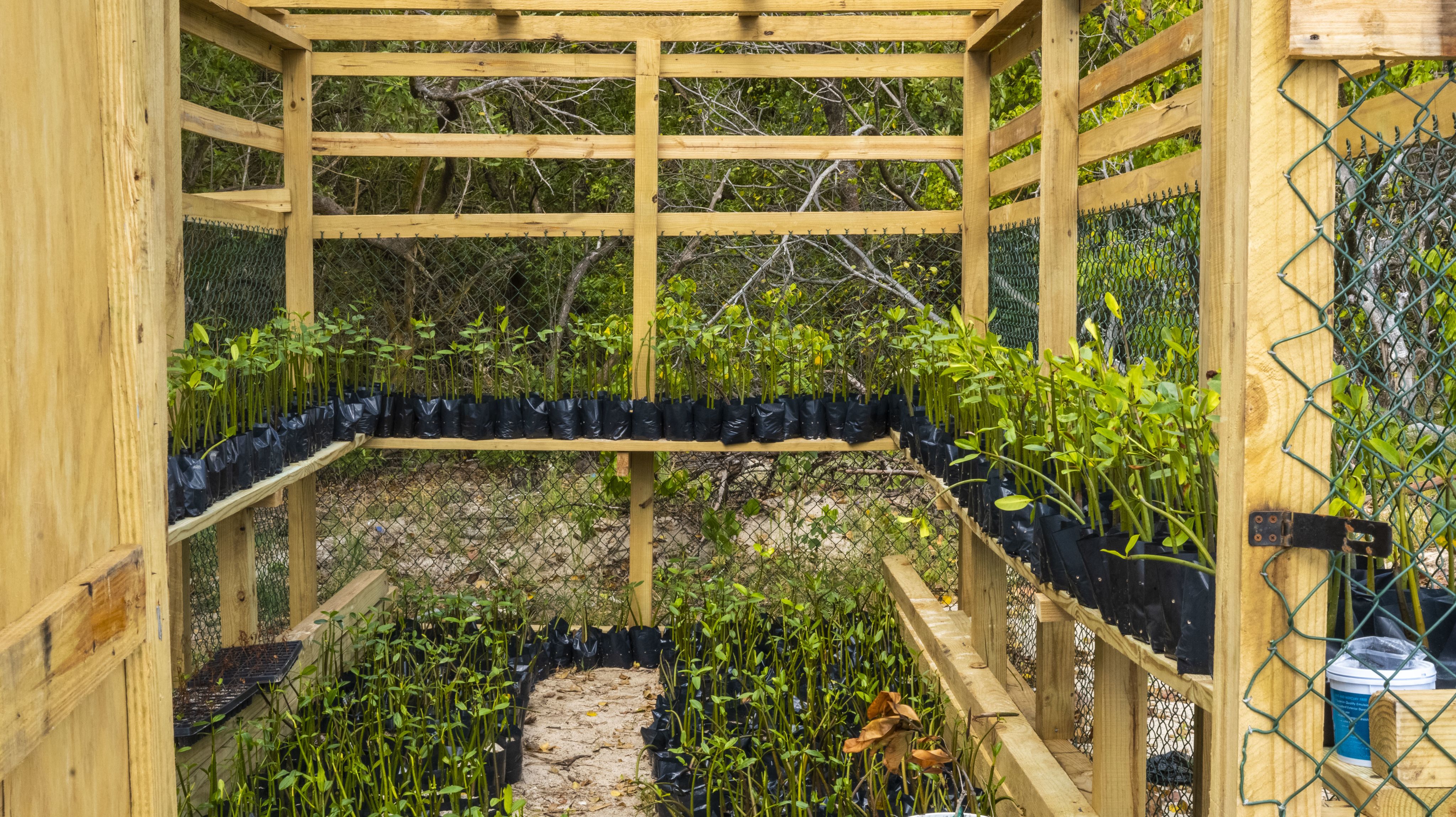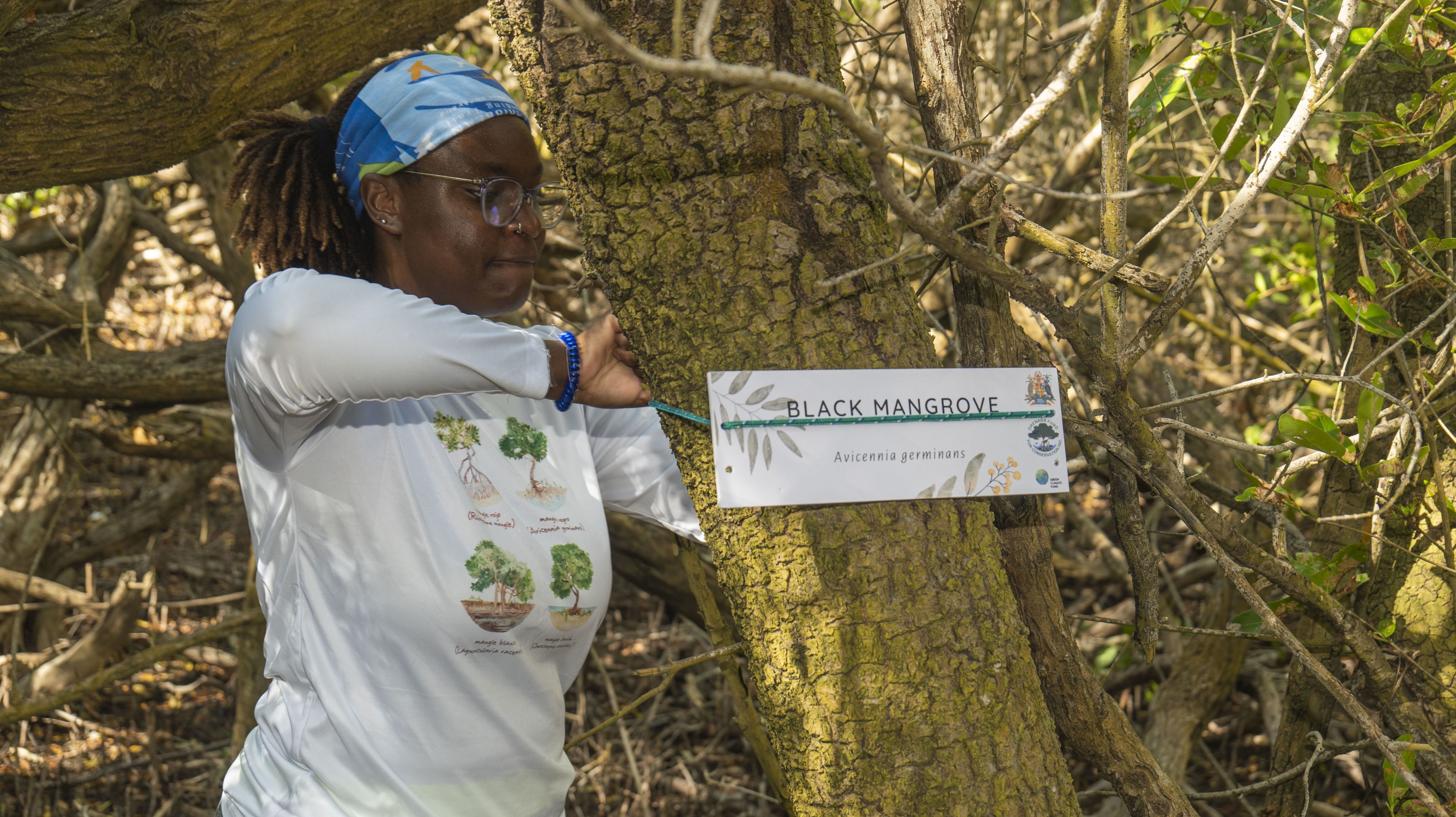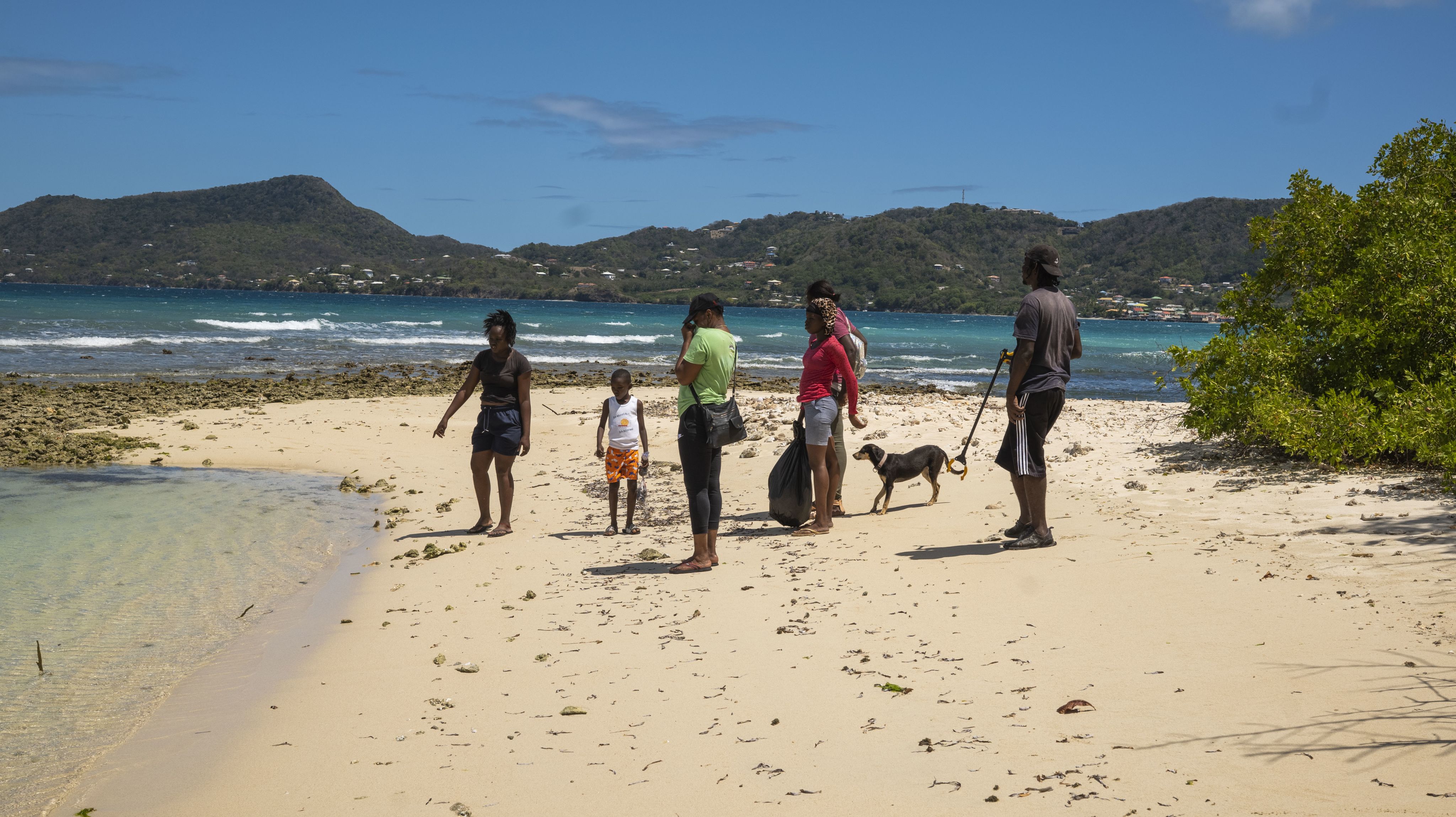 Item 1 of 3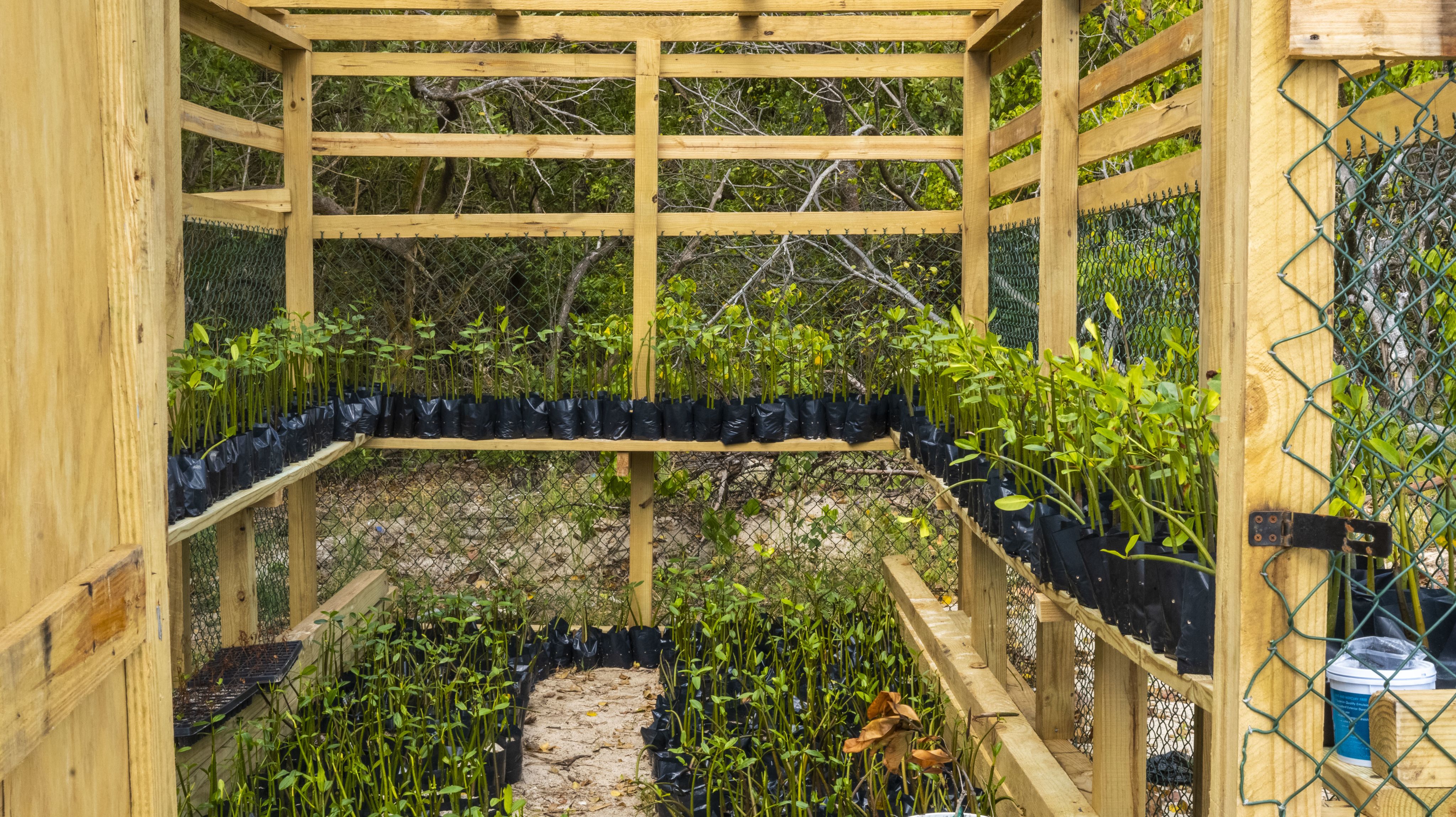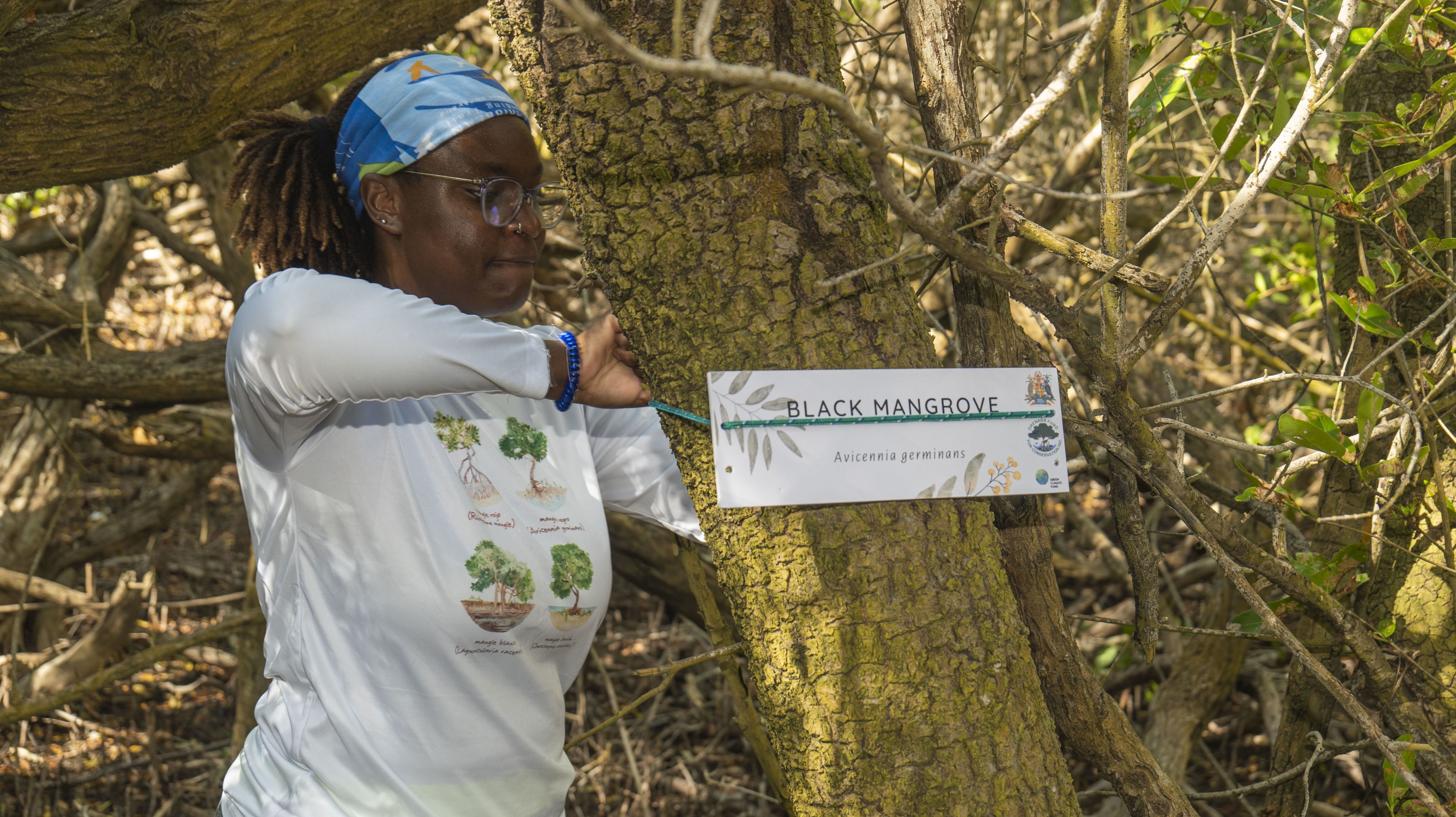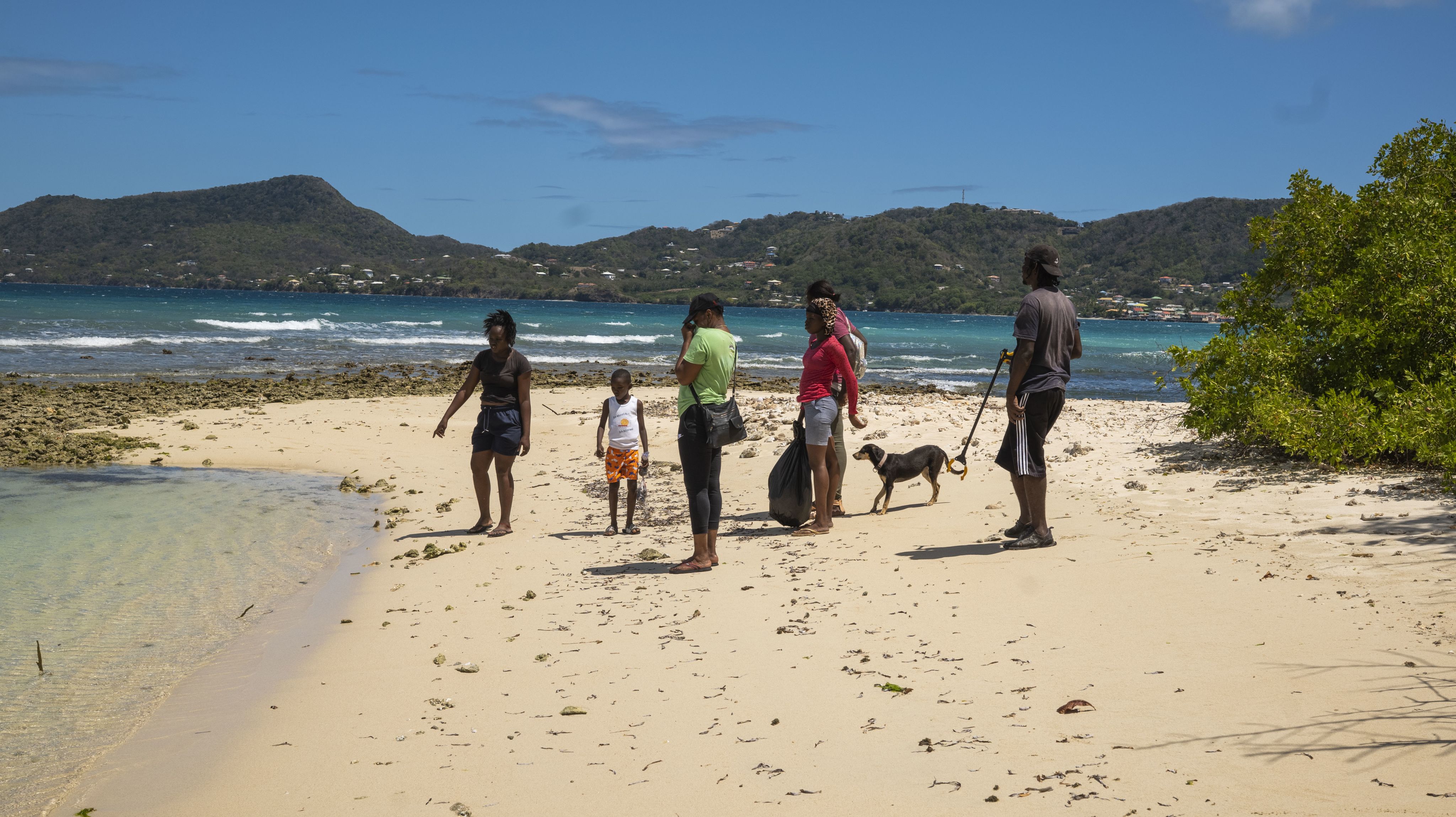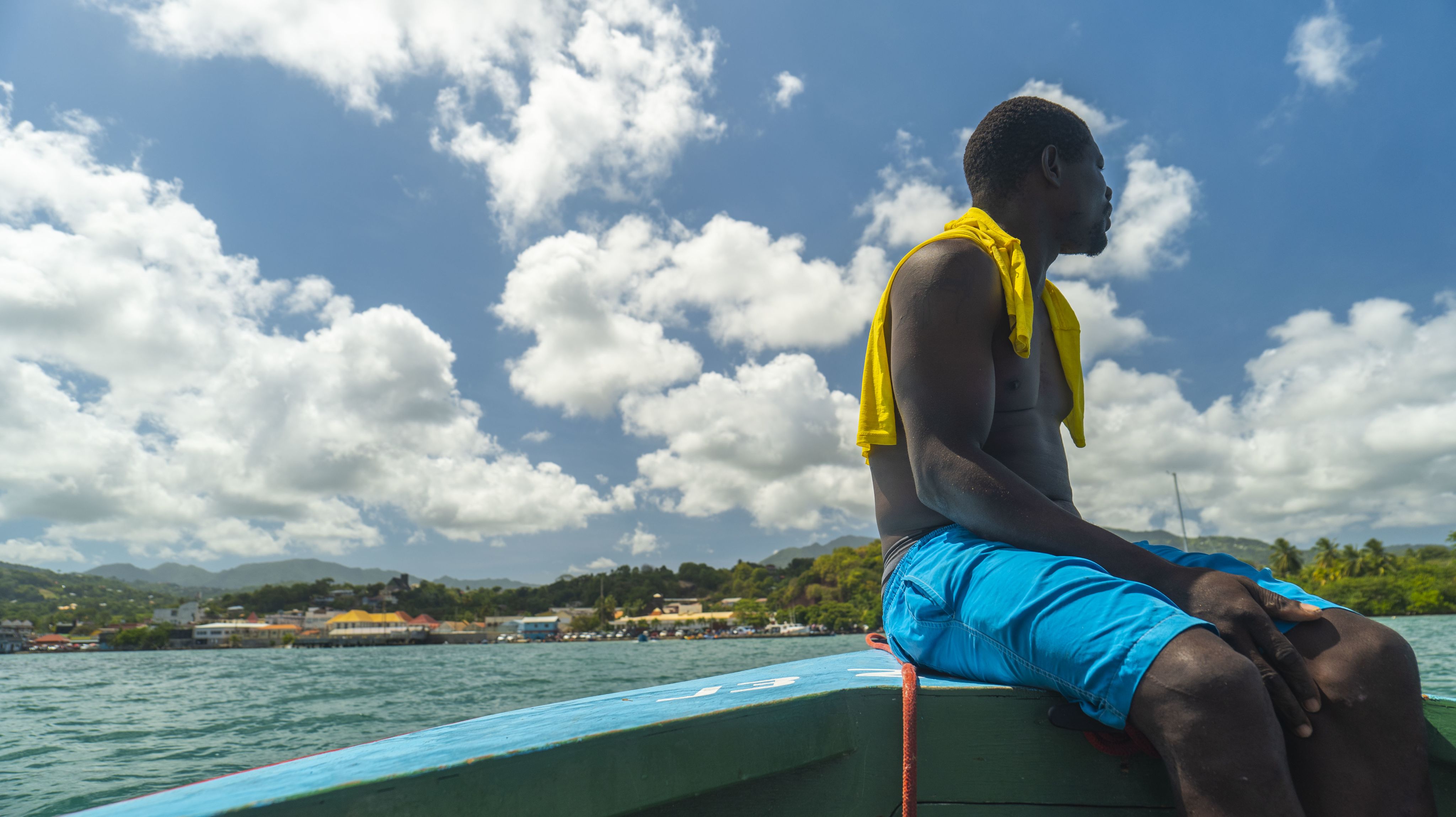 Taking the Long View: Creating a Living Shoreline at Telescope Beach
On the Atlantic side of the island of Grenada is the low-lying, coastal picturesque town of Grenville (also known by its French name La Baye). It is the capital of the largest parish in Grenada and is grappling with the alarming effects of coastline erosion, salt water intrusion, slow onset sea level rise while its coastal and marine ecosystems including mangrove islands, seagrass beds and vibrant coral reefs suffer from degradation and decline.
"We see a lot of erosion. That encouraged me a lot to restore some of our beach. We had a nice beach—and that's gone," says resident Donald Henry.
To address such climate threats, the Windward Islands Research and Education Foundation (WINDREF) is working with The Nature Conservancy (TNC) on the project "Innovative Nature-based Solutions to Enhance Community Resilience in Grenada" funded by the Caribbean Biodiversity Fund (CBF).
This project will use ecosystem-based adaptation approaches—including continuing coral reef restoration and coral outplanting, and mangrove replanting—to provide social, environmental, and economic benefits to local communities who have used this area for many generations. Stabilizing the shoreline will protect coastal roads that bring visitors and connect the community to the town, as well as allow local fishers to transport their catch and sea moss farming to harvest.
Coral reef restoration is a key part of this effort to protect the coast from erosion. The Intergovernmental Panel on Climate Change (IPCC) has warned that unless global carbon emissions are urgently curbed, the world could face a near-total loss of coral reef ecosystems at a spike of 2°C above pre-industrial levels.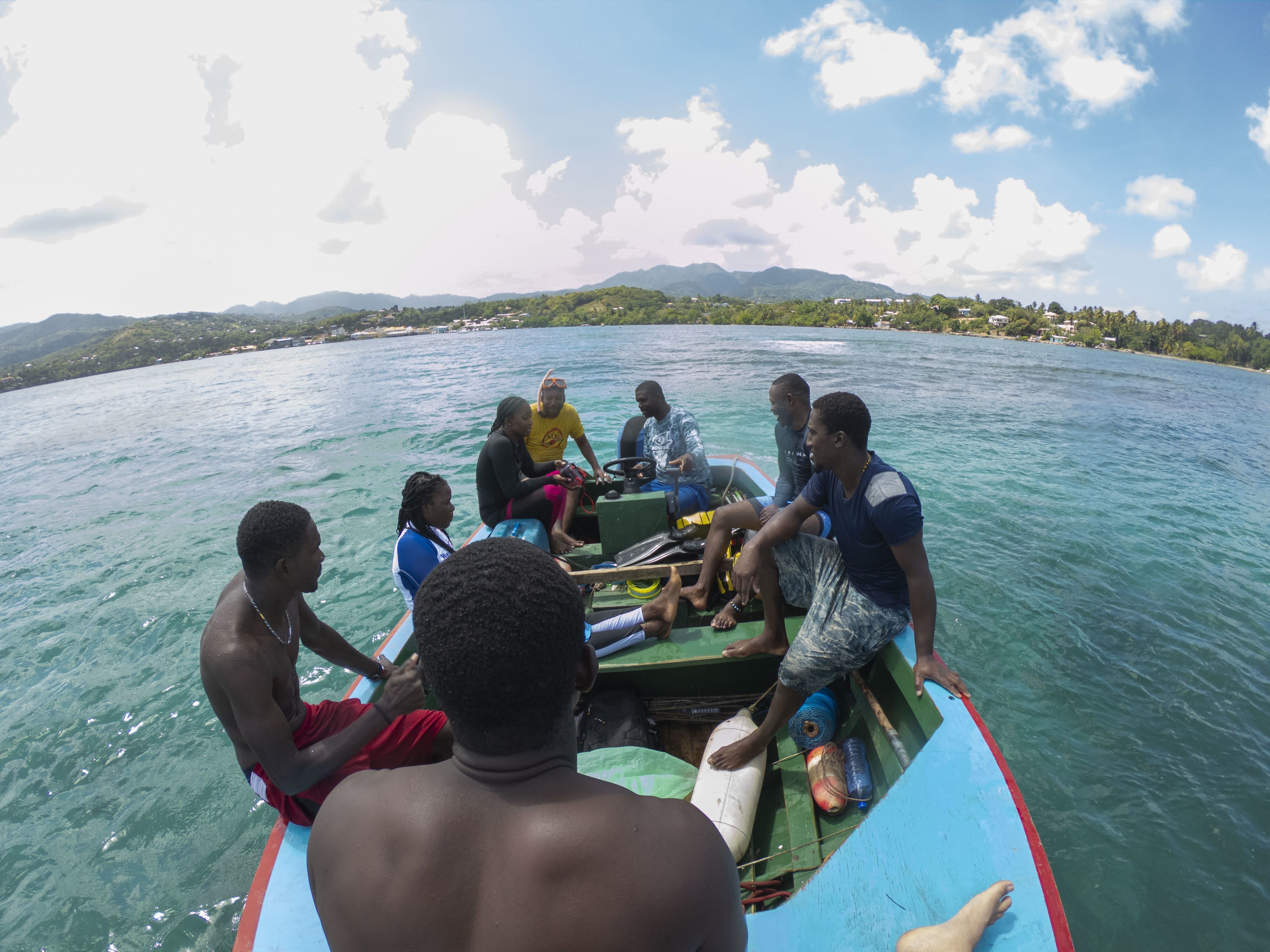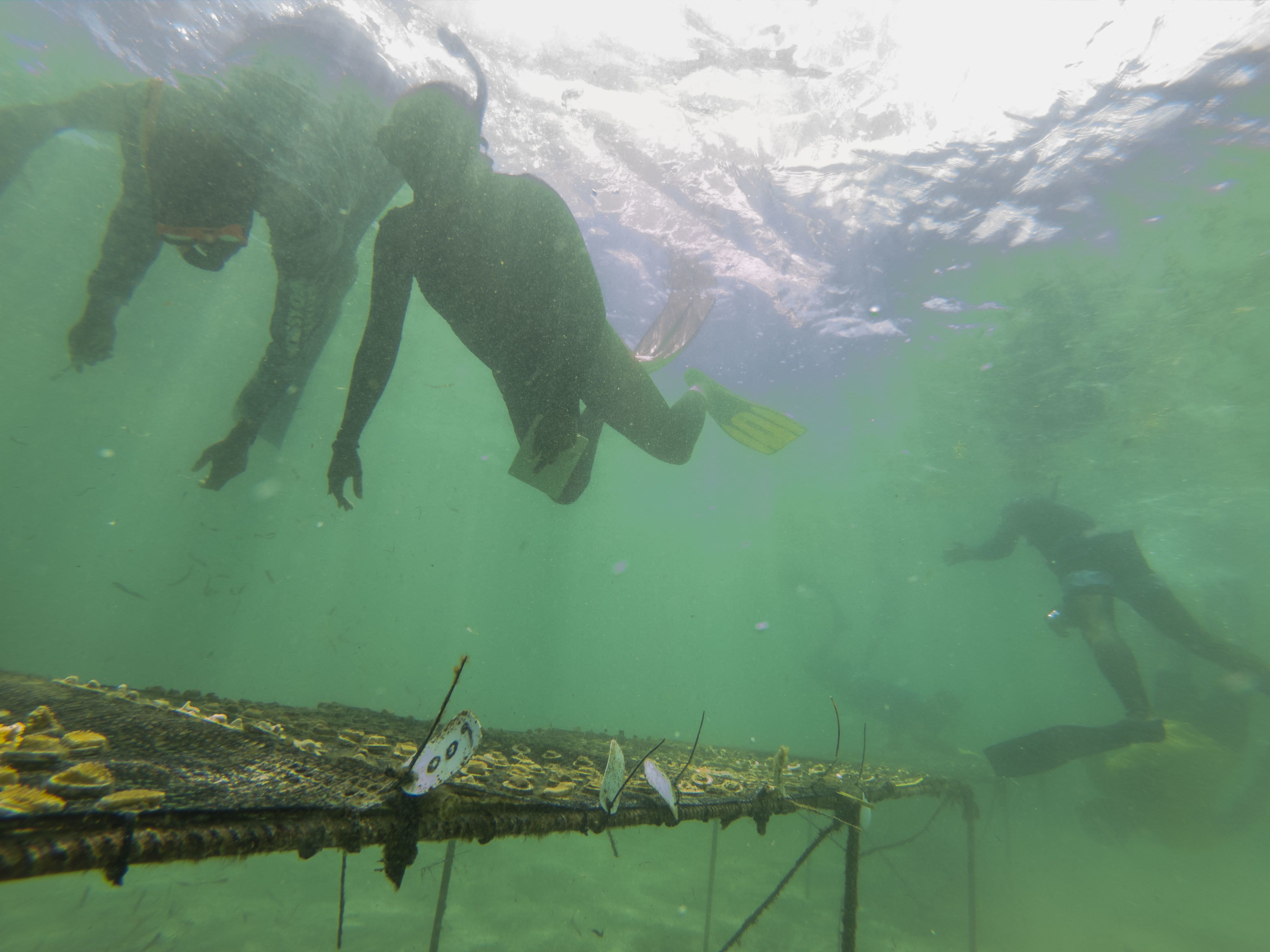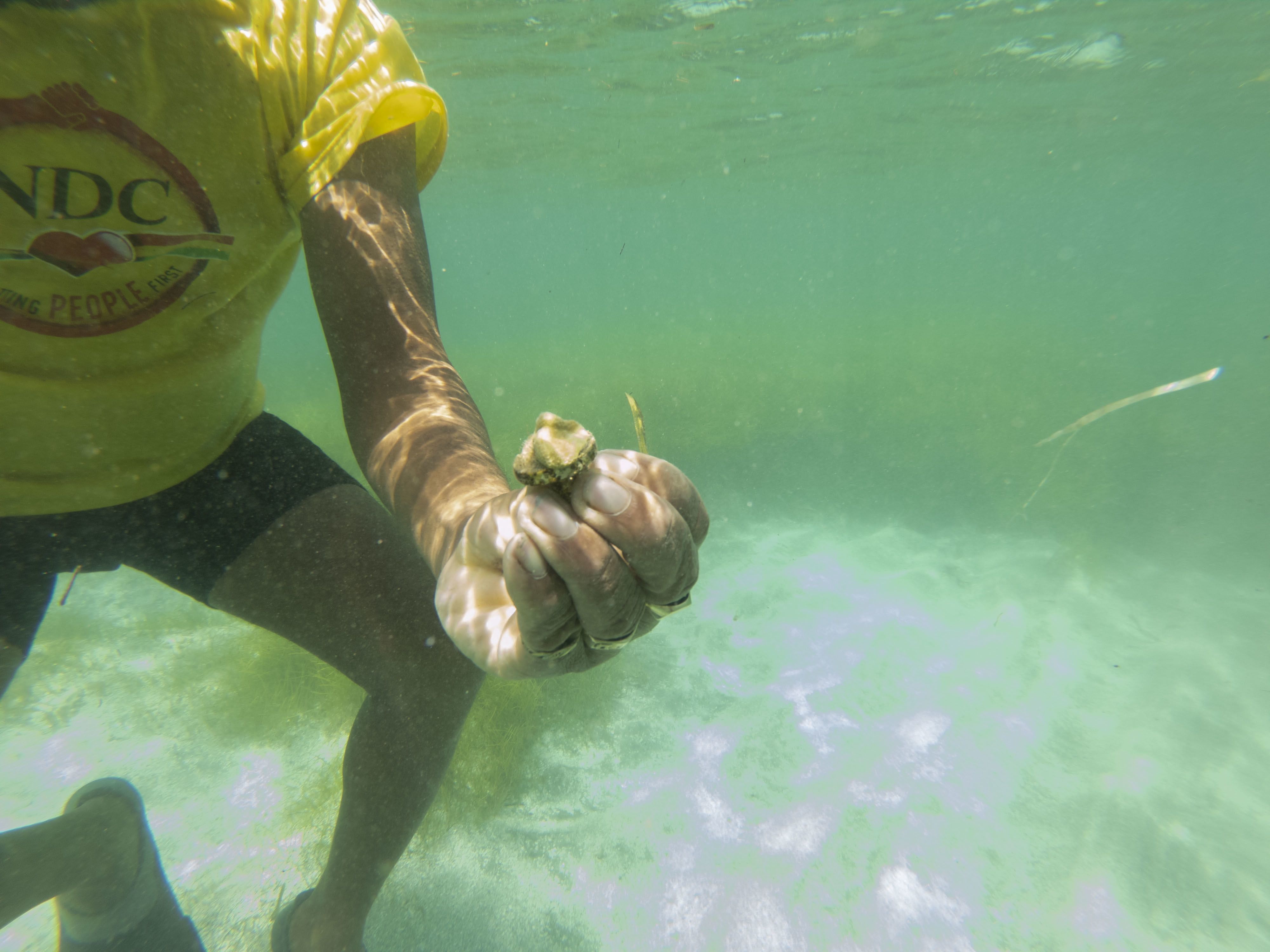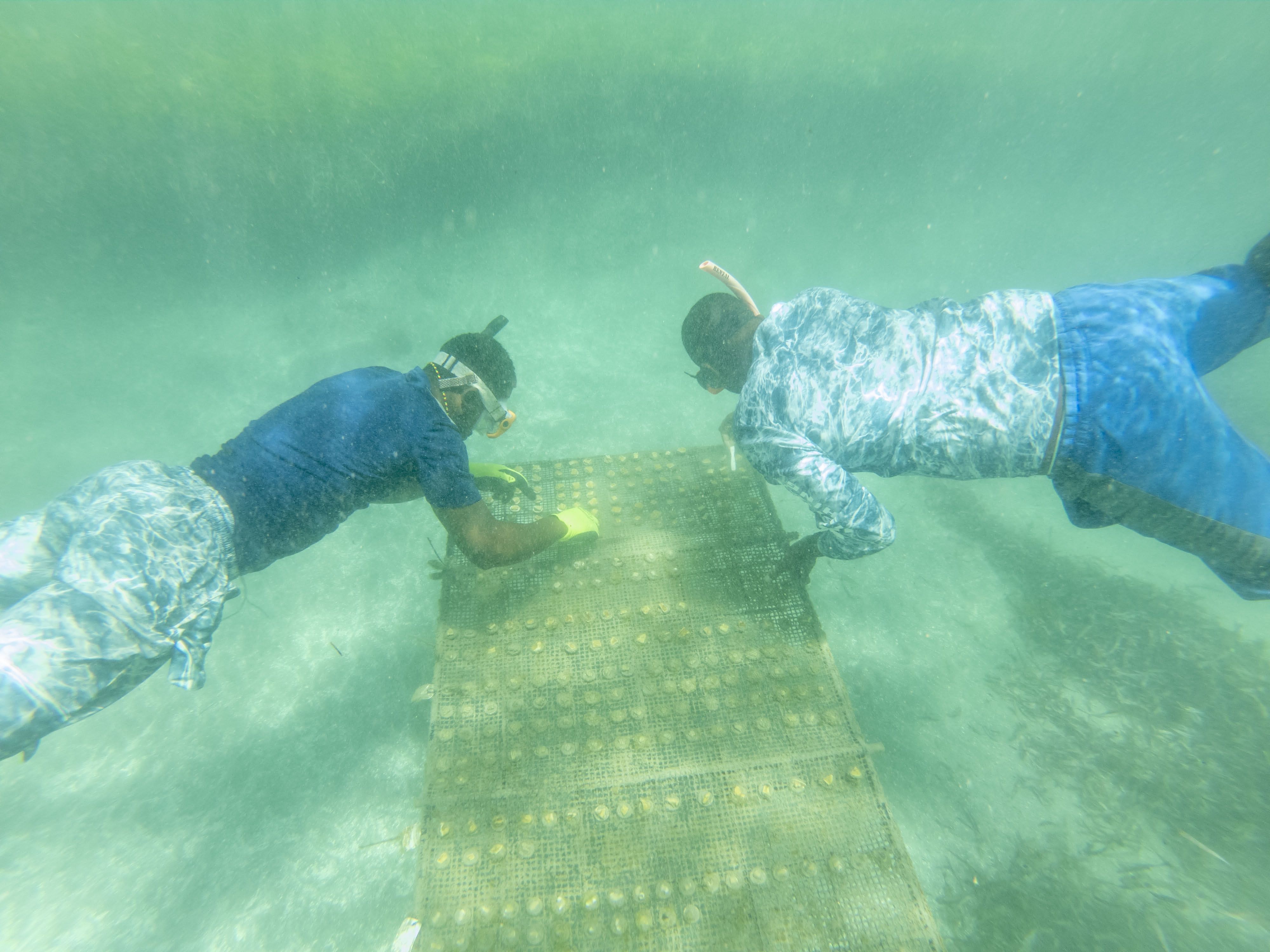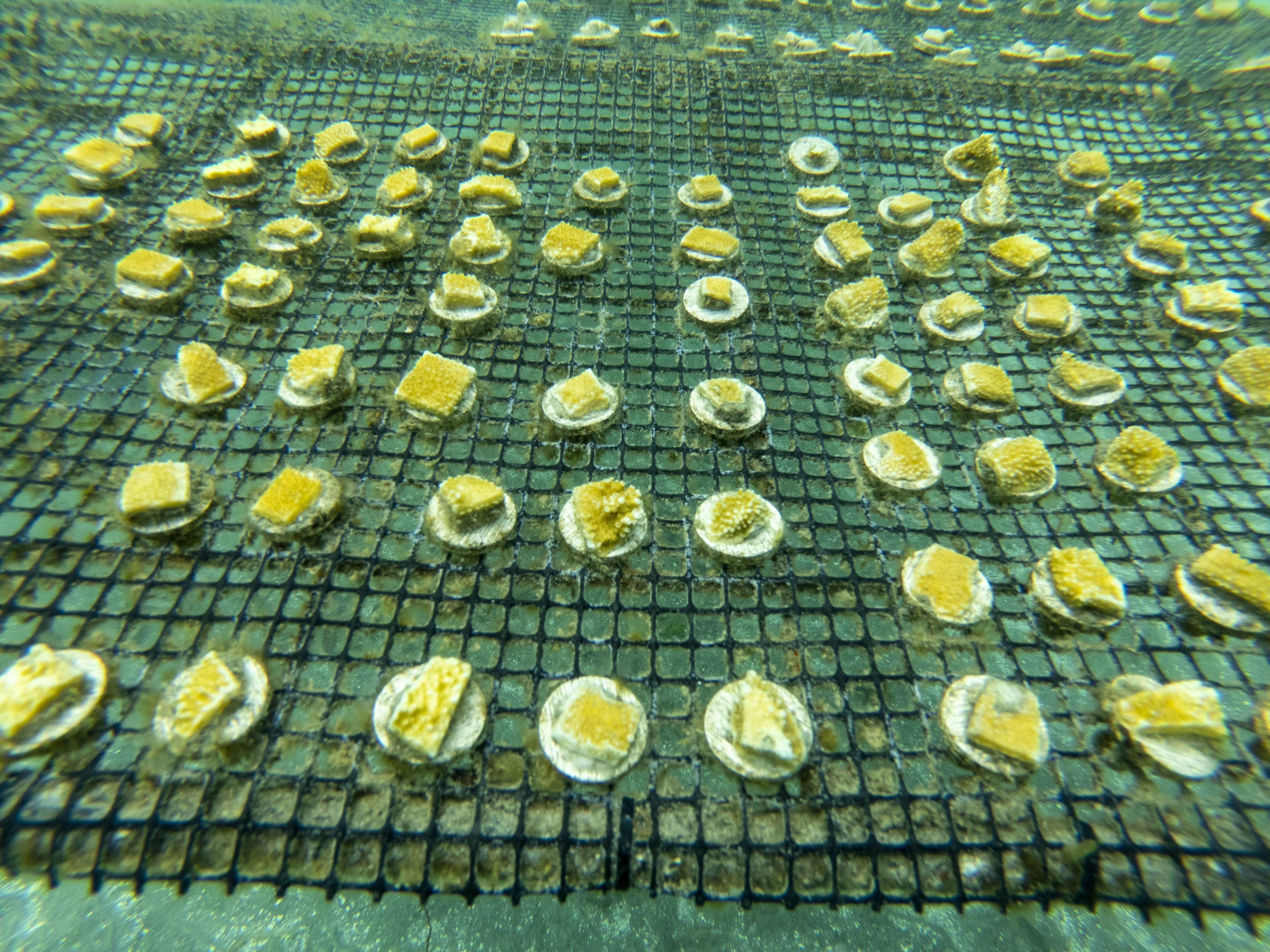 Item 1 of 5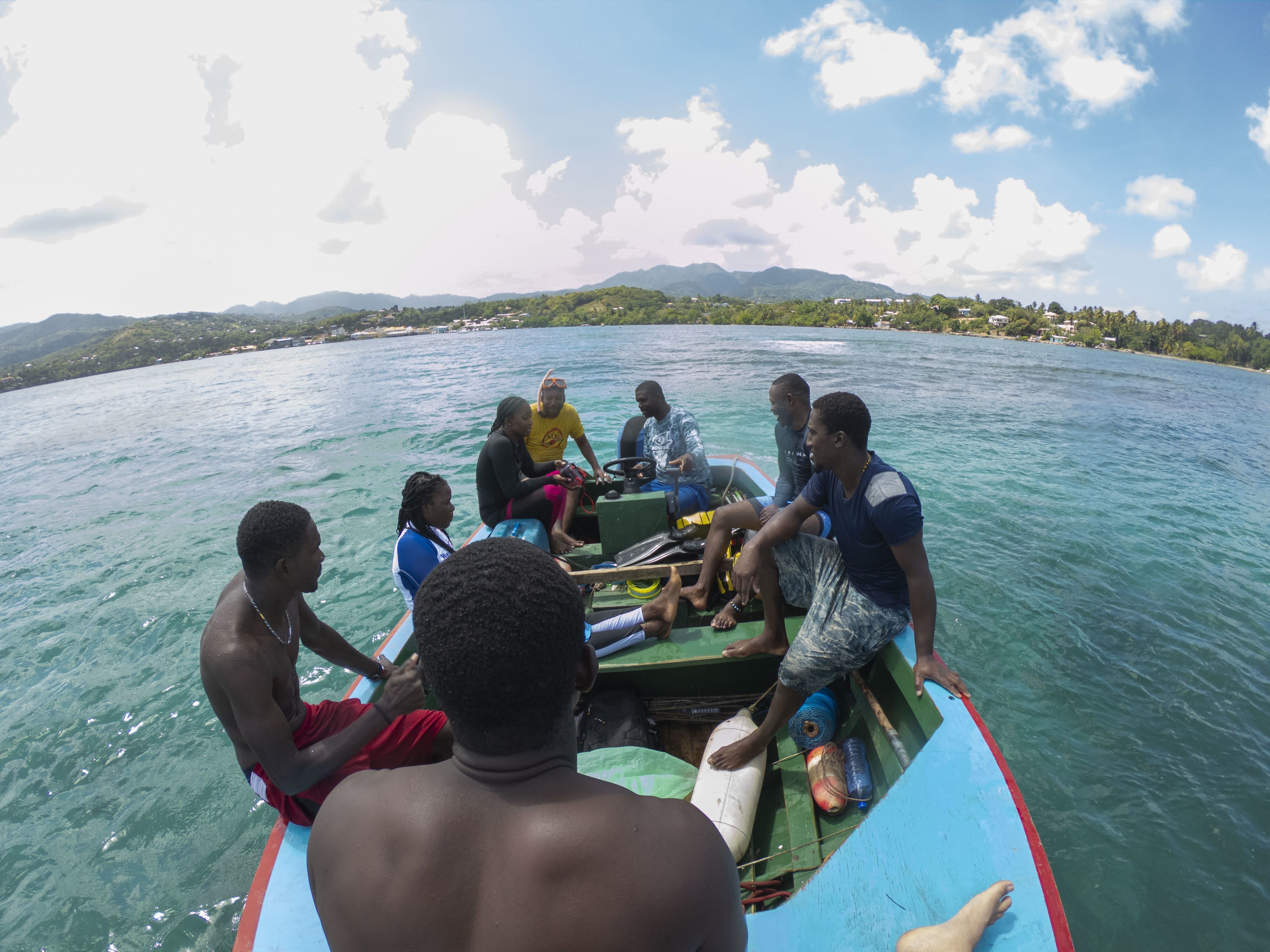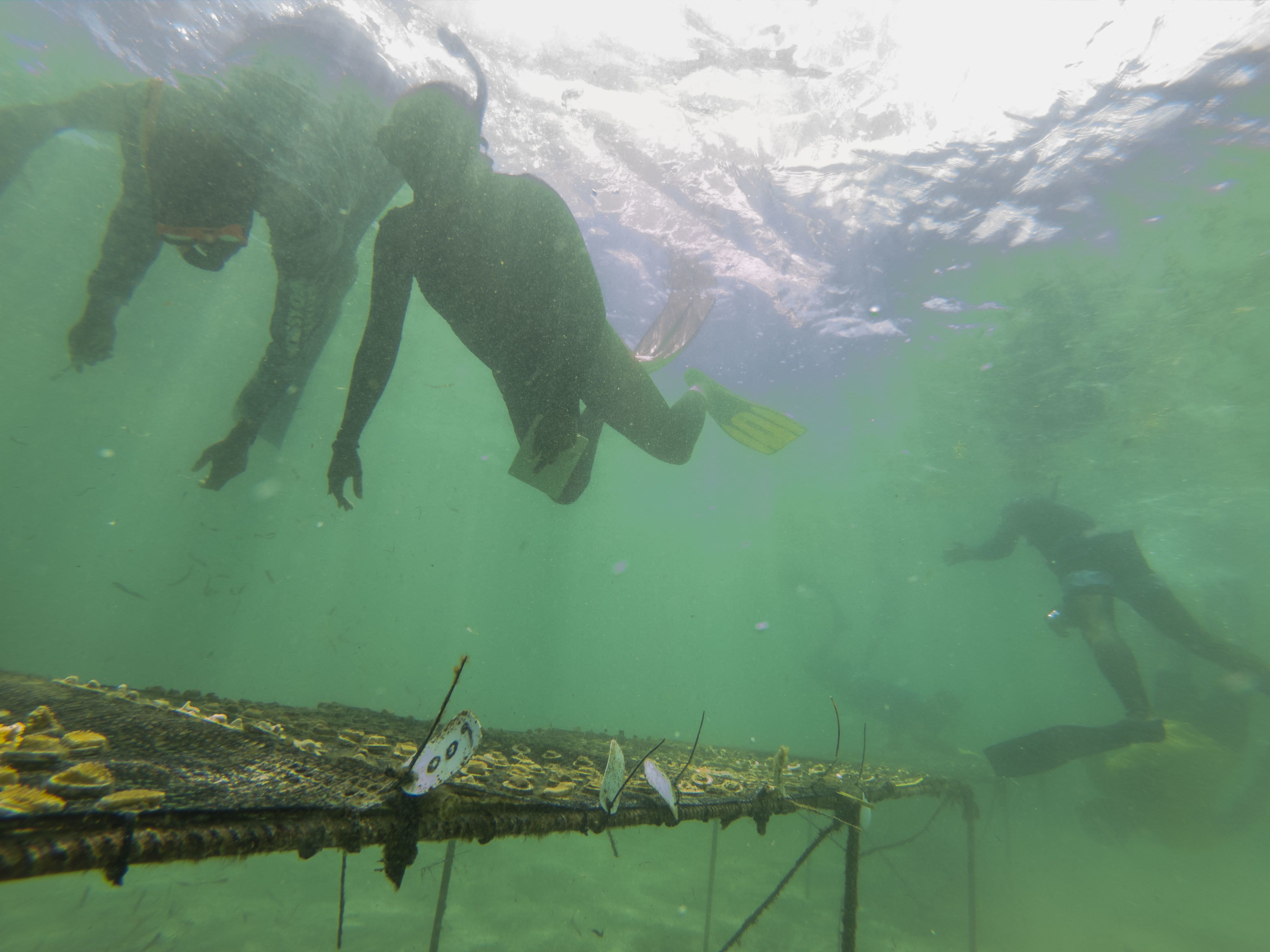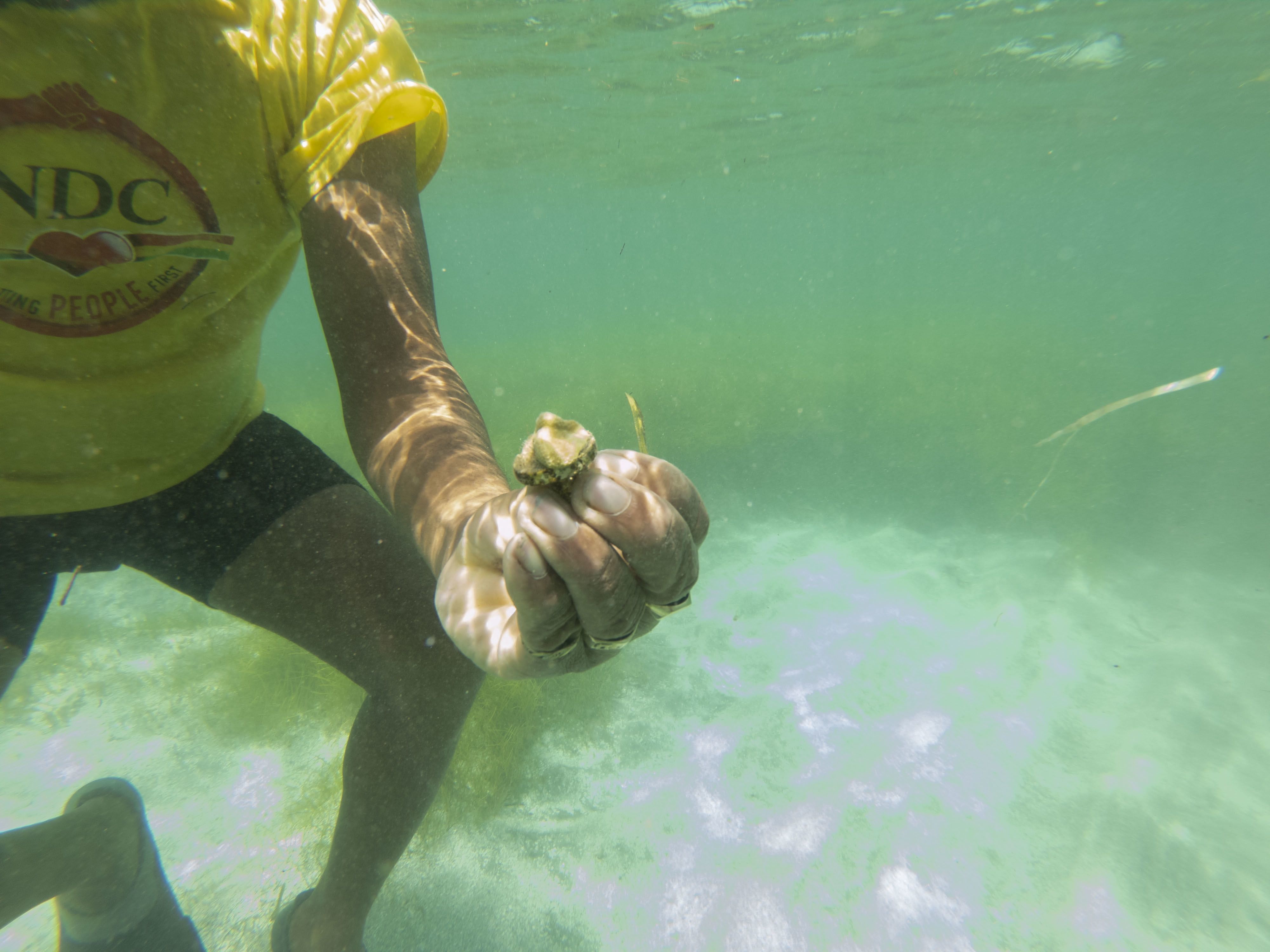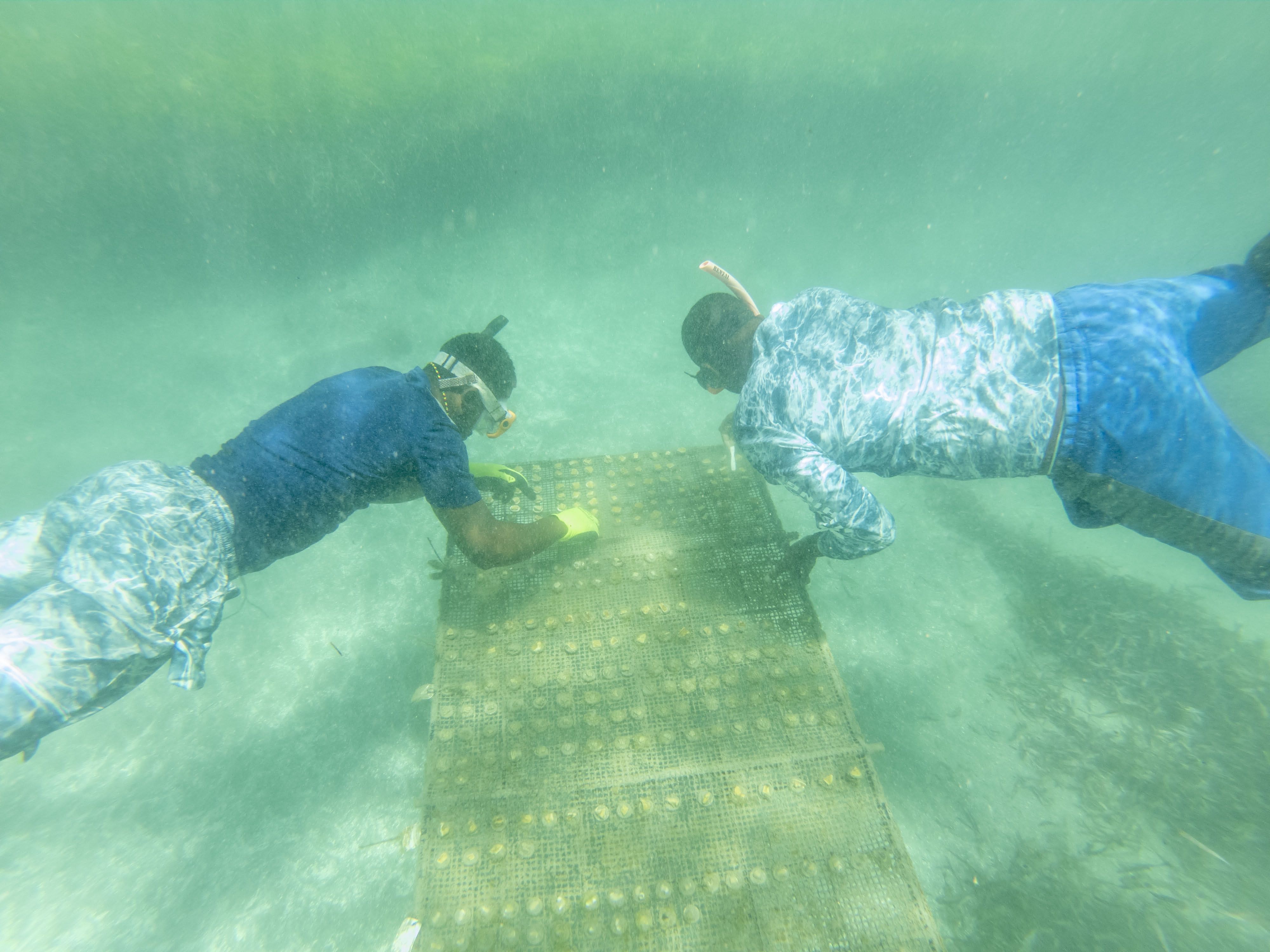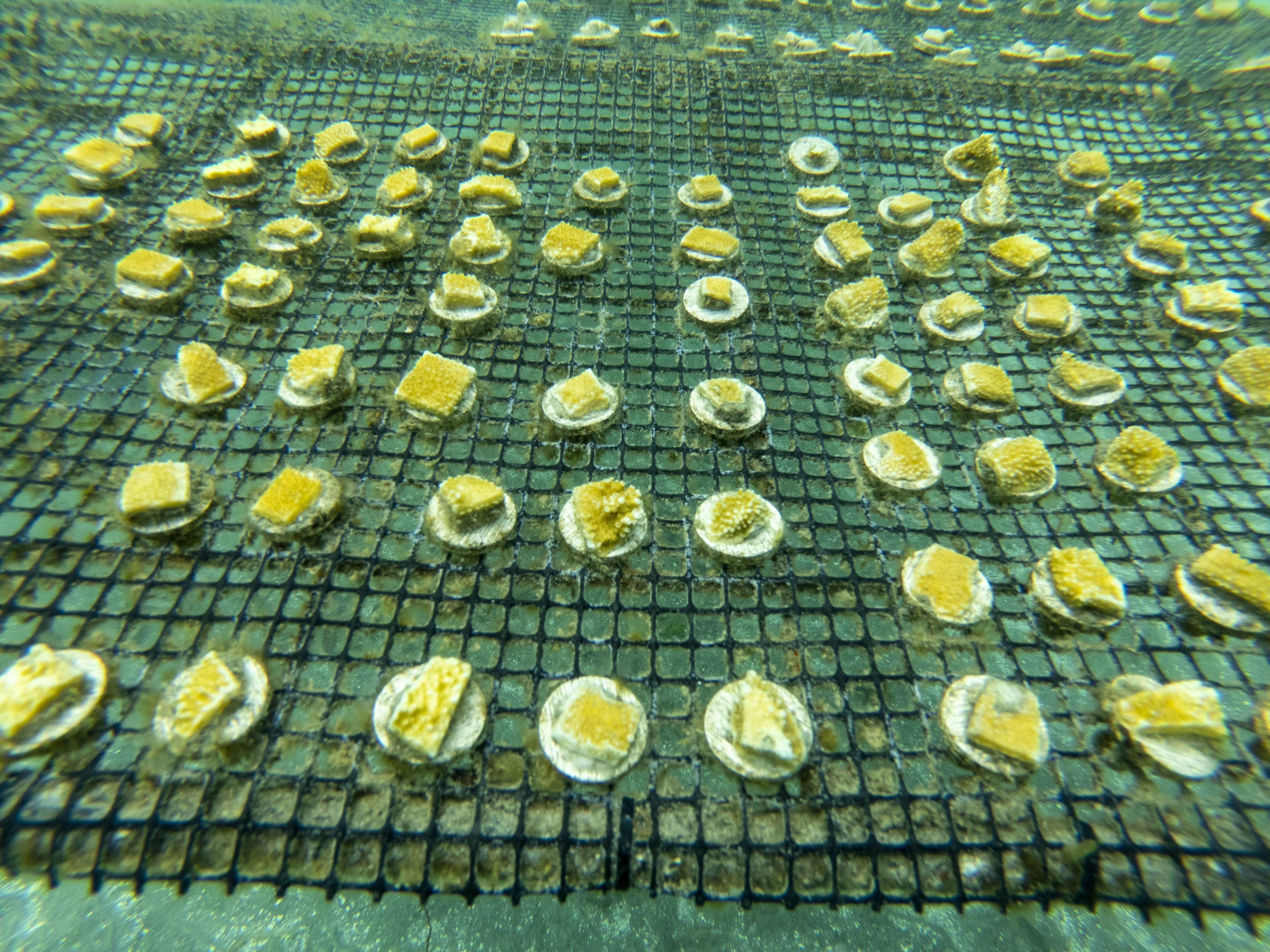 Against daunting odds, a dedicated team of fishers who have trained part time as coral gardeners at Telescope Beach are fighting to safeguard coral ecosystems. This work has been based on scientific studies and modeling, as well as pilot projects that have successfully outplanted corals and tested models for dissipation of wave energy. For example, the At the Water's Edge (AWE) initiative in the communities of Telescope, Grenville, Soubise, and Marquis provided evidence that re-establishing corals will help reduce wave energy and slow coastal erosion.
Coral gardeners, many of whom are local fishers, visit the local "in situ" coral nursery, twice a week to check on the growth of their harvested coral, regularly testing water quality and checking for bacteria. Diseased coral is quarantined and allowed to recover, while healthy corals are outplanted in the Telescope reef once they reach adequate size. The project team also aims to establish a full coral wet lab on land. Like the mangrove restoration in Carriacou, this work is an outstanding example of ecosystem-based adaptation approaches prioritized under the NAP.
Community members are optimistic that restoring the coastal and marine ecosystems and creating a living shoreline will help combat the impacts of climate change observed along the coastline. By addressing erosion using biodiversity, the community hopes to inexpensively protect Grenville town, Telescope Beach and other coastal natural features from erosion made more severe by climate change.
Working Toward a Resilient Future
Grenada's NAP sets out priorities and provides a roadmap to guide how communities across the tri-island state can collaborate to scale up efforts to cope with and respond to climate change.
By working together, local communities across the tri-island state are working together and with government to implement the NAP—accessing resources including funding for adaptation action, undertaking ecosystem-based adaptation action and other novel approaches to address climate impacts, raising local awareness of climate change impacts, piloting actions, strengthening their skills and knowledge, and seeing results.
These important steps toward climate resilience need to be nurtured and protected. While local and national adaptation efforts in Grenada are crucial, they must be accompanied by global action to cut greenhouse gas emissions to prevent the worsening effects of climate change.
"The long-term success of our national adaptation plan process will rely on establishing a robust foundation of international climate finance support. It is vital to ensure communities and vulnerable groups in Grenada can benefit from adequate, predictable, grant-based international climate financing to implement local adaptation action and so build national resilience to climate change."
From the mountain ridges down to the coast—Grenada is taking decisive action to secure a resilient future in a changing climate.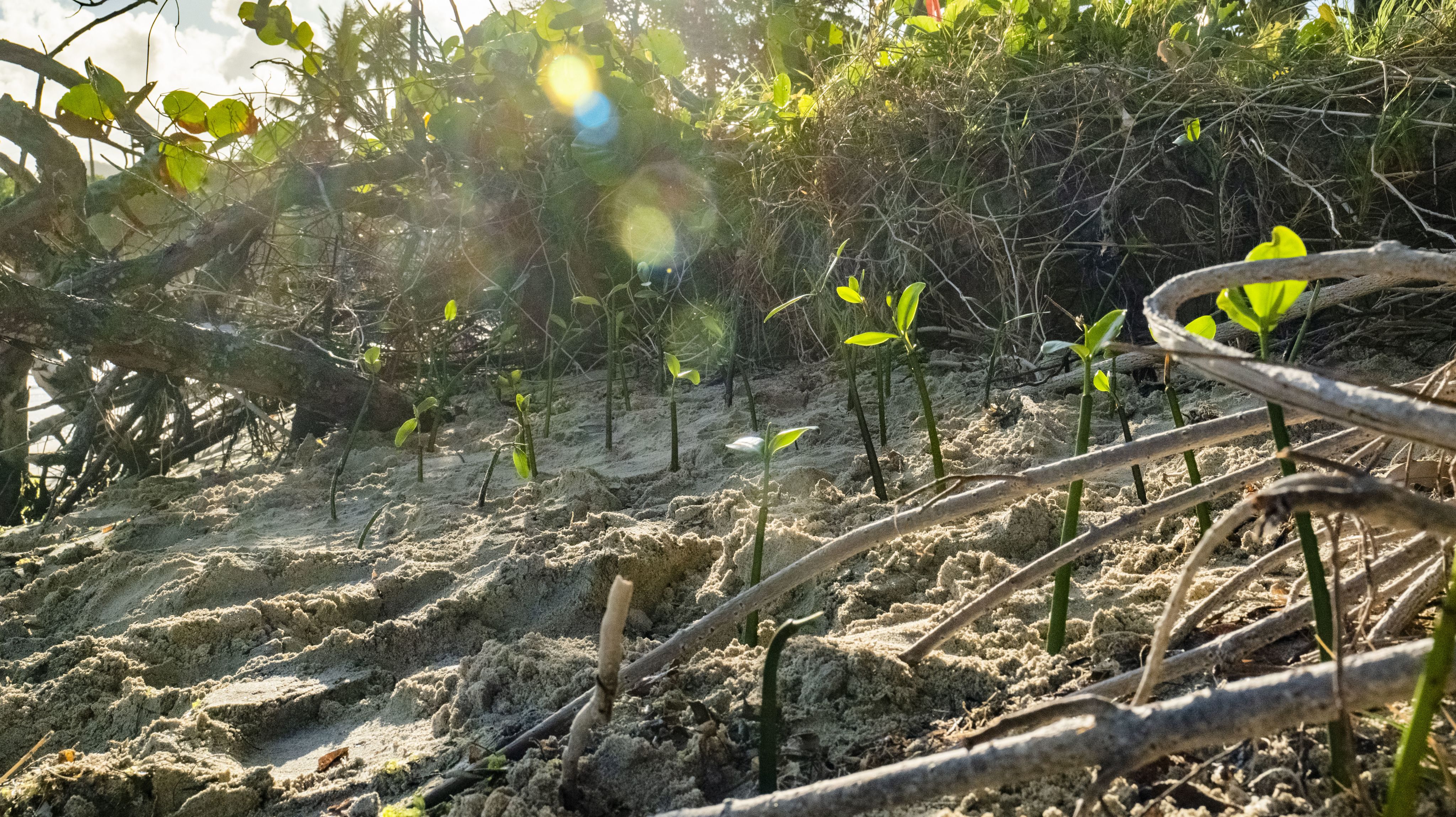 Credits
Photos, videos, and interviews: Samuel Ogilvie
Written by: Samuel Ogilvie, Aria St. Louis, Christian Ledwell
Special thanks to: Permanent Secretary Merina Jessamy, Tahira Carter, Ezra Campbell, Orville Grey, Anika Terton, Catherine Burge, Samantha Alexis, Alvicia Pope, Chadion Quamina, Franklyn Scott, Josh Phillip, Kenisha Stewart, Marklyn Stewart, Shonda Gibbs, Rondel Rogers, Donald Henry, Anica Thomas, Michael Garraway, Kendon James, Ronald Paul, Martin Thomas, Ermine Thomas, Keisha McFarlane, Jeremy Alexis, Tyrone Buckmire, Zoya Buckmire, Carol Forbes, Marion Geiss, Andre Joseph-Witzig, Allen Gilbert, Lendon Bullen, Anthony Charles
© August 2023, International Institute for Sustainable Development
Published by the International Institute for Sustainable Development.
This publication is licensed under a Creative Commons Attribution-NonCommercial-ShareAlike 4.0 International License.