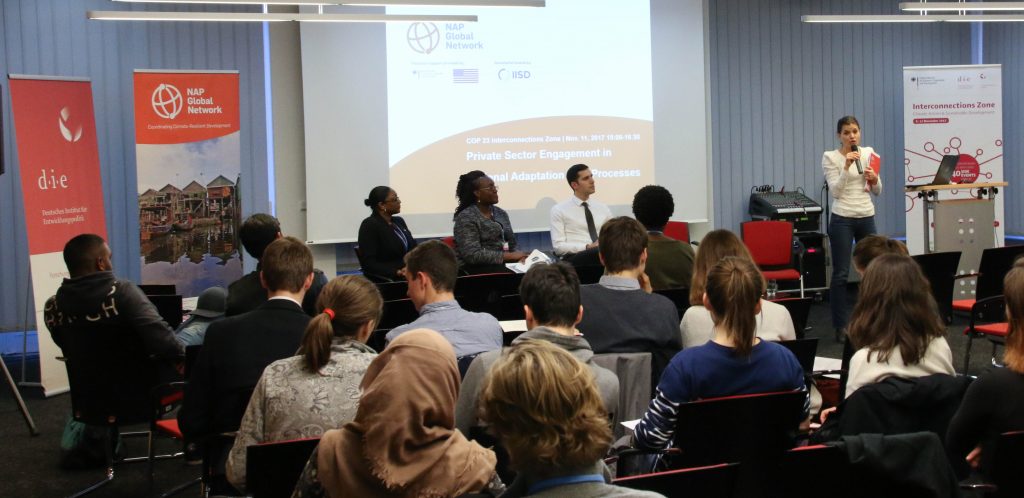 As public sector finance alone will not be enough to finance NAP processes, there is increasing recognition of the need to engage the private sector in financing adaptation.
The NAP Global Network recently held a side event on the role of governments in engaging the private sector to finance NAP processes in the German Development Institute's Interconnections Zone 2017 on the sidelines of COP 23.
Julie Dekens, from the Network Secretariat IISD, introduced the topic, noting that the private sector—that is, both private financiers and private enterprises—is already making investments in climate adaptation, but many of these investments have been "invisible" until recently, as noted in the Network's recent guidance note on financing NAP processes. She highlighted that the public sector has a key role to play in mobilizing and influencing the potential of private enterprises and private financiers to support the implementation of adaptation actions prioritized in the NAP process. To realize this potential, governments need to provide an enabling environment through a combination of non-financial incentives (e.g., awareness raising, decision-support tools) and financial incentives (e.g., tax breaks for companies that implement priority adaptation actions; risk guarantees for securing the demand for new climate-resilient products and services).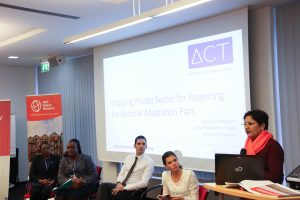 Vidya Soundarajan, India Programme Head for Action on Climate Today, outlined a variety of entry points for the private sector to engage in climate change adaptation, including value chain risk management, climate finance, community-driven business models, product development and deployment, and climate communication. She looked at a case study for implementation involving the Godrej Industries, an Indian manufacturing company, which is engaged in developing a climate-resilient watershed development plan and climate-smart agriculture plan.
David Uzsoki, IISD, discussed public-private partnerships (PPPs) as one potential approach countries can take to building climate-resilient infrastructure. As discussed in depth in this blog, PPPs can potentially support the NAP process by making projects more efficient through private sector involvement; however, risks need to be carefully allocated between public and private partners, and climate risks assessments need to be conducted. Uzsoki also noted that PPPs can be technically, economically, politically and contractually difficult arrangements and so should involve significant consideration before being taken on.
Dr. Pacifica Ogola, Kenya's Climate Change Directorate at the Ministry of Environment and Natural Resources, spoke on Kenya's recent experience in engaging the private sector in its NAP process. Notably, Kenya has established a National Climate Change Council with representatives from the private sector. She noted that next steps will involve the development of a platform for engagement with the private sector to enhance alignment with sectoral and governmental priorities. The ministry will also work with the National Treasury to establish a Public-Private Partnerships Unit.
Kerricia Hobson, Project Manager with Grenada's Ministry of Agriculture, Lands, Forestry, Fisheries & the Environment, noted that climate change impacts are of particular concern for two key sectors of the economy: agriculture and tourism, with the latter contributing to 20 per cent of Grenada's annual GDP. In her presentation, she highlighted that the domestic private sector is already quite aware of the negative impacts of climate change on their business operations. She provided examples of how Grenada has engaged the private sector in climate change adaptation and the NAP process in particular.