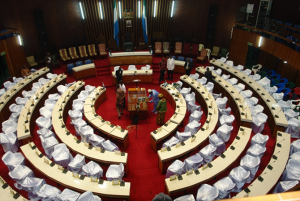 The Environmental Protection Agency of Sierra Leone will host a workshop for parliamentarians on September 27 in order to build support for a coordinated approach to the country's National Adaptation Planning (NAP) process across sectors and levels of government. Taking place at the Parliament of Sierra Leone in Freetown, the workshop aims to build political synergies and momentum for the NAP process at the highest political levels to ensure the country's approach to adaptation planning remains collaborative and complementary, and that it builds on the solid foundation of adaptation work that came before it.
Sierra Leone's NAP Framework, developed with the support from the NAP Global Network's U.S. In-Country Support Program, will ground discussions among the parliamentarians during the workshop. The document, released earlier this year, lays out the government's vision, approach and guiding principles for the NAP process.
The NAP Framework also sets out the institutional arrangements that will guide the formulation and coordination of efforts to implement the NAP and thus steer this important national process over the long term. In addition, it proposes some initial efforts to progress the NAP process.
This workshop will take place through the NAP Global Network's U.S. In-Country Support Program for Sierra Leone implemented by the International Institute for Sustainable Development (IISD) and financed by the U.S. Government.