On Sunday, June 25, Saint Lucia's Department of Sustainable Development collaborated with the NAP Global Network U.S. In-Country Support Program to host the workshop, Understanding Climate Change Adaptation in the Saint Lucia Context, for journalists and media workers.
The aim was to foster enhanced awareness and build the conversation about taking action on climate change issues on the island. Participants also heard about the science behind climate change; insight into how the Government of Saint Lucia is planning for climate change impacts through its National Adaptation Plan process and other efforts; updates on the status of international climate change negotiations; and tools, tips and advice on covering climate change from fellow journalists.
Media workers representing print, broadcast and online media were engaged in discussions on strategies for telling stories about climate change adaptation; how the climate change message can best be integrated into journalists' work; and how the Government of Saint Lucia can best support journalists in order to more effectively communicate on climate change nationally and influence climate change action.
An agenda for this event is available here and presentations are available below.
"Camera On You": NAP Global Network Peer Exchange Award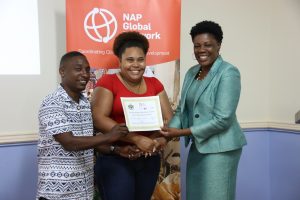 A major highlight of the day's session was a "Camera On You" segment, where members of the media were allotted five minutes to present a story on climate change adaptation for the opportunity to win a NAP Global Network Peer Exchange Award to attend an upcoming climate change media training workshop in Georgetown, Guyana in July 2017. Janelle Norville of Choice TV was selected as the winner by a four-member judging panel.
You can watch a presentation from independent journalist Janeka Simon from this session below:
Víctor Santillán, Media and Communications Officer for Peru's Ministry of the Environment, attended this workshop through the NAP Global Network's Peer Exchange Award program to share lessons about communicating climate change in Peru (which he describes in this blog post) and to learn from Saint Lucia's approach.
Presentations
Climate Change and its Impacts: Emerging Science | Susanna Scott 
Susanna Scott works as the Climate Change Coordinator under the Disaster Vulnerability Reduction Project. She also provides support to the climate change team of Saint Lucia's Department of Sustainable Development and leads on matters relating to the Intergovernmental Panel on Climate Change (IPCC). To date, she has contributed to the country's efforts in securing the temperature goal of 1.5°C above pre-industrial levels within the Paris Agreement and helped secure IPCC Special Reports on issues relating to both the 1.5°C goal and oceans and the cryosphere.
Understanding Climate Change Adaptation in the Saint Lucia Context | Dawn Pierre-Nathoniel
Dawn Pierre-Nathoniel currently works with the Department of Sustainable Development and has some 20 years of knowledge and experience working in project management, policy development and environmental education in areas such as fisheries, coastal and marine resource management, biodiversity, protected areas and climate change. She is the Thematic Coordinator for the UNFCCC Alliance of Small Island States (AOSIS) on Loss and Damage and also represents Small Island Developing States on the Executive Committee of the Warsaw International Mechanism for Loss and Damage (WIM ExCom).
Climate Science, Politics & Diplomacy from A to T: Where Are We Now? | Crispin d'Auvergne
Crispin d'Auvergne is Climate Change and Disaster Risk Management (DRM) Coordinator at the Organisation of Eastern Caribbean States (OECS) Commission. He previously served as Chief Sustainable Development & Environment Officer with the Government of Saint Lucia and worked in a number of areas, including fisheries, natural resource management, climate change, energy and oceans management. He represents Small Island Developing States on the UNFCCC Paris Committee on Capacity Building.