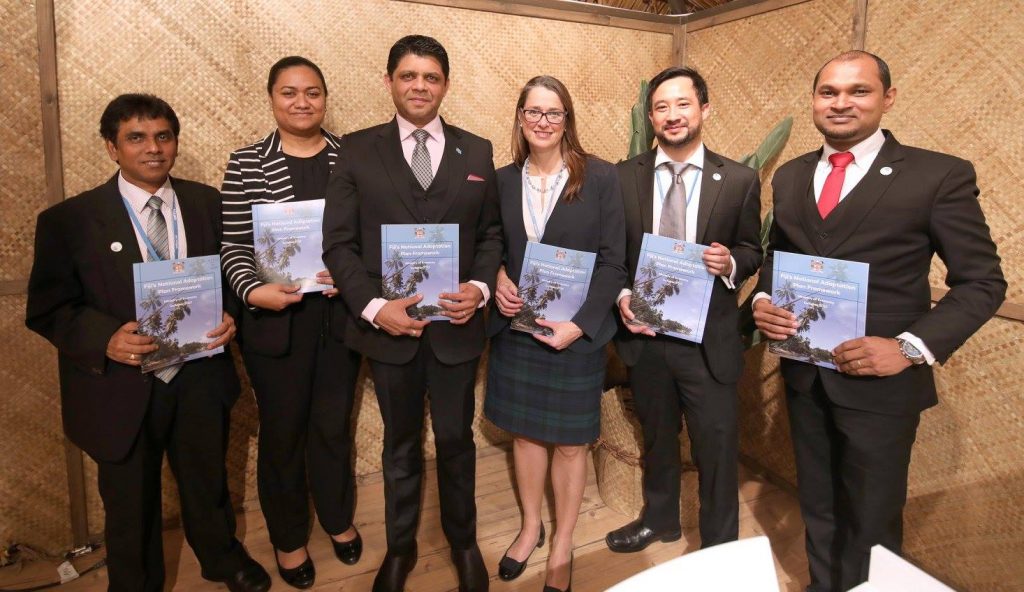 The Government of Fiji launched the framework for their National Adaptation Plan (NAP) at a side event to COP 23 in the Fiji Pavilion on Friday, November 17.
Fiji's NAP framework—which addresses institutional arrangements, the approaches and principles which underpin how the NAP process will unfold, and initial steps—was produced with support from the NAP Global Network, with funding from the Government of Canada.
The event was opened by Aiyaz Sayed-Khaiyum, the  Attorney-General and Minister for Economy, Public Enterprises, Civil Service & Communications and Catherine Stewart, Canada's Chief Negotiator for Climate Change, who spoke on the urgency of developing and implementing Fiji's NAP process to prepare the country for climate change impacts.
Ravind Kumar, Director of Fiji's Meteorological Services, presented on the importance of climate services in the NAP process.
Dr. Adrian Fenton provided an overview presentation on the approach to the NAP process that Fiji has taken, which in particular attempts to leverage the private sector and  integrate climate risk into national development planning, policies and programs. Through the NAP process, Fiji is seeking to establish country-specific solutions for medium- and long-term adaptation planning in an iterative, on-going process.
Read Fiji's NAP Framework from November 2017.
For more information on Fiji's NAP process, read the poster the Fijian Government prepared as part of our COP 23 poster series on NAP processes.