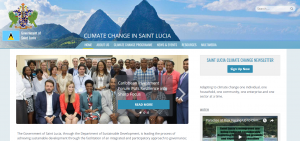 The Government of Saint Lucia officially launched its climate change website to the public this fall.
Developed in collaboration with Saint Lucia's Department of Sustainable Development and with support from the United States In-Country NAP Support Program, the website is a hub for climate change-related resources, news and events for the Caribbean island state.
"We are very proud to have the website up and running, as it is a useful and much needed source of information for students, teachers, researchers, consultants, journalists and others, consistent with the department's role in coordinating, facilitating, mobilizing and enabling action to build climate resilience and address climate change," said Dawn Pierre-Nathoniel, Deputy Chief Sustainable Development and Environment Officer, Department of Sustainable Development, Saint Lucia.
The website features articles for and from Saint Lucia's The Voice newspaper, including a series of opinion pieces published ahead of COP 23 that describe key climate change issues in Saint Lucia and beyond. These articles cover a range of topics, from the complexities of climate finance to imagining a world without roasted sardines and how this relates to climate change and overfishing.
The website also features engaging multimedia and public service announcements produced by the Government of Saint Lucia on the topic of climate change, including videos of environmental pledges and commitments from popular local celebrities like Ezra D'Funmachine and Scady.P.
Along with these resources, the hub provides key information regarding Saint Lucia's climate change program and outlines how the government is tackling the problem of climate change at the regional, national and international levels.
As part of the United States In-Country NAP Support Program, the NAP Global Network and the Government of Saint Lucia are collaborating to raise awareness of the NAP process, build climate resilience and strengthen domestic capacities for developing sectoral strategies.