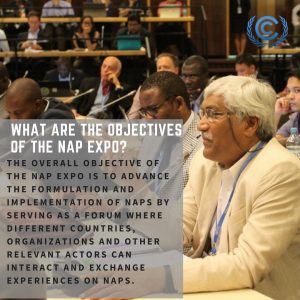 NAP Expo 2018 is taking place this week from April 4-6 in Sharm El-Sheikh, Egypt.
The NAP Expo is an outreach event organized by the Least Developed Countries Expert Group (LEG) under the UNFCCC, in collaboration with various bodies and organizations, to promote exchange of experiences and foster partnerships between a wide range of actors and stakeholders on how to advance National Adaptation Plans (NAPs).
The NAP Global Network Secretariat is attending to engage in the discussions, and will be making presentations as part of the following parallel sessions. The full NAP Expo schedule is available here.
Friday, April 6 | 9:00-10:30 | Ballroom 2
This session will focus on how strategic communications can support the process to formulate and implement NAPs. The interactive session will look at examples of communications strategies related to climate change adaptation, as well as approaches to identifying target audiences, developing key messages, and selecting appropriate communications channels.
The session will feature an overview presentation from the NAP Global Network, country case studies from Jamaica and Uruguay, and a group activity facilitated by FAO/NAP-Ag, the Global Climate Change Alliance+, the Network, and members of the LEG.
Read our overview sNAPshot brief on strategic communications for NAP processes.
---
Friday, April 6 | 11:00-12:30 | Ballroom 1
This session will present a framework for gender-responsive process to formulate and implement NAPs. Through a panel discussion and participatory exercise, participants will explore challenges and opportunities in integrating gender considerations in the process to formulate and implement NAPs, and look to identify enabling factors for integrating gender in formulating and implementing NAPs. 
The panel discussion will feature:
Cecilia Jones, FAO/NAP-Ag Uruguay
Julie Teng, UNDP
Rajan Thapa, Clean Energy Nepal/ Southern Voices
Angie Dazé, NAP Global Network
Read our new report on gender-responsive NAP processes that analyzes progress on integrating gender considerations in NAP processes.  It is based on a review of completed NAP documents available on NAP Central at the end of January 2018, as well as collected through interactions with country NAP teams.
---
The Network will also be speaking as part of the panel as part of the Design Lab: NAP-SDG Linkages at 11:00 am – 12:30 pm in the Regency Room. This session will discuss how NAPs can be formulated and implemented to achieve coherence and maximize synergy with relevant aspects of these other frameworks such as the Agenda 2030/Sustainable Development Goals, the Sendai Framework for Disaster Risk Reduction, and others.