At COP 24 in Katowice, the Fijian Government is launching its first-ever National Adaptation Plan (NAP). With support from the NAP Global Network, the Fijian Government created this NAP document to set out its medium- and long-term ambitions for building Fiji's resilience to climate change. The NAP provides a clear vision for adaptation and identifies priorities to be addressed in partnership with academic institutions, development partners, and private sector entities over the next five years, and beyond.
Clare Church from the NAP Global Network Secretariat spoke with Dr. Adrian Fenton, who has been serving as an embedded advisor to the Fijian Government supporting the Ministry of Economy to develop Fiji's NAP process. Some answers may have been shortened for clarification and brevity.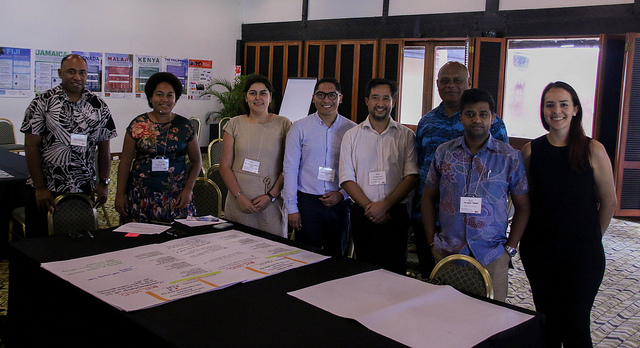 What are some of the climate change-related challenges that are unique to Small Island Developing States (SIDS)?
Adrian Fenton: Adaptation options are constrained in many SIDS due to their small, at times distributed, territories and limited natural resources—especially access to arable land and potable water. For instance, whereas other countries may be able to relocate economic activities and populations further inland, this option is problematic for SIDS like Fiji. The land away from the coastal zones is often mountainous and therefore not suitable for agriculture, and it is more costly to relocate infrastructure. Often, relocation options are limited to other coastal locations, therefore allowing for continued exposure to flood risk and sea-level rise.
SIDS and the communities living within them also tend to be dependent on sectors that are reliant on coastal resources, like tourism and fisheries—meaning that there is little scope for economic diversification as a means of managing climate risks. And while, in theory, adaptation options like sea walls and land elevation are possible, given the capital and capacity constraints on many small islands, these options are often beyond their adaptation horizon (the range of adaptation options that are practically feasible given available resources). This is why mitigation efforts and international climate finance are so important at the global level.
While recognizing the need for mitigation efforts, Fiji has also made major strides in its adaptation efforts this past year. What stage is Fiji currently at in its NAP process?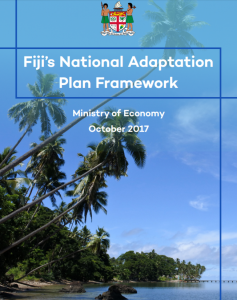 AF: The NAP Framework was submitted last October, and the official NAP document has been recently approved by the National Cabinet. It will be launched at COP 24.
What would you say are the key features of Fiji's approach to the NAP process?
AF: The NAP process in Fiji builds upon existing development planning processes and associated planning documents and strategies and includes a wide array of different stakeholders. The NAP document identifies 160 climate adaptation measures for the next five years and beyond. These measures were identified through a multi-criteria analysis process and validated through a national consultation workshop attended by government representatives, international development partners, civil society, academia and the private sector.
Aside from measures identified in five priority sectors, the government also identified measures to address "systematic priorities." These are measures identified as essential to addressing adaptation barriers such as insufficient climate awareness and climate information services. It recognizes that vulnerability is not only caused by the impacts of climate change but also due to structural barriers that inhibit adaptation by government, households, communities and businesses from occurring.
This past year, Fiji undertook a policy stocktake analysis in advance of finalizing its NAP document. What difference did this analysis make in Fiji's NAP process?
AF: The policy stocktake analysis was a vital stage of the NAP process. It contrasted known vulnerabilities to climate change hazards and adaptation barriers against current actions within existing planning documents. Doing so enabled assessment of the extent to which existing activities would be sufficient to address climate change, or whether additional actions would be required, so that these could be included in the NAP process.
The policy stocktake was needed to understand the development planning landscape, as well as to address any duplications or inconsistencies in policy documents. Without this step, a NAP process would likely have duplicated actions within other planning documents or, even worse, contradict them.
What impact will a NAP have that plants trees when another plan cuts them down?
Policy coherence is vital for national adaptation planning, and a comprehensive policy stocktake analysis is the only way to achieve this.
It is also vital for monitoring and evaluation efforts. The Fiji policy stocktake process has resulted in a database that records all measures within the NAP as well as their linkages to other development planning processes. This simplifies reporting processes, which are problematic in SIDS due to resource shortages.
How can the NAP process facilitate private sector investment in climate adaptation?
AF: A robust and comprehensive NAP can convince businesses and private investors that there is a stable market in which to invest. Adaptation planning should not tell private sector entities what to do—it should provide them with the necessary resources they need to identify, screen, reduce, and manage environmental and climate risks.
Based on your experience of Fiji's NAP process so far, what are the most important lessons you would like to share with people working on the NAP process in other countries?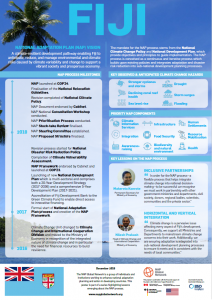 AF: If a participatory multi-criteria analysis for prioritizing climate adaptation actions can be done effectively, then the selection process for adaptation measures is both simple and valuable for all participants involved.
The multi-criteria analysis used by Fiji was facilitated greatly by its NAP Framework, which recognized and formalized the values and principles of adaptation stakeholders and their right to input into the process of developing the NAP.
As a tool, multi-criteria analysis is useful because it is intuitive and can involve a wide variety of stakeholders and considerations—for instance, economic and environmental considerations or monetary and non-monetary considerations. It also tends to force participants to make explicit their values (especially if it is structured effectively). This has benefits for transparency since it will become clear why decisions have been made, even to those not participating.
However, an effective prioritization process requires a formal set of criteria and a decision-making system with which all participants are happy. It also requires the selection of participants that ensures that each criterion will be adequately addressed. This makes stakeholder mapping and strategically seeking out participants vital for a successful multi-criteria analysis that incorporates the scope of stakeholder interests.
---
Any opinions stated in this blog post are those of the author and do not necessarily reflect the policies or opinions of the NAP Global Network, its funders or Network participants.
Find more resources on Fiji's NAP process here.