ADDIS ABABA, January 23, 2019 — The government of Ethiopia hosted its first National Adaptation Plan (NAP) assembly today, bringing together key government actors and development partners in dialogue on the transition to implementation of the country's NAP.
Supported by the NAP Global Network, Ethiopia's recently completed NAP provides an overarching framework for the country's response to the impacts of climate change, complementing other elements of its climate change policy suite.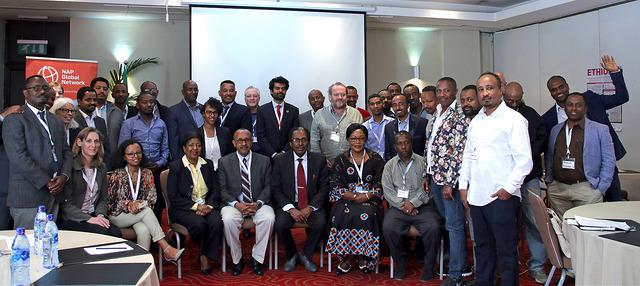 "NAP Assembly [is] an excellent opportunity to disclose our strategic initiatives, create synergies and transform our strategy and implementation of our NAP into actions through partnership and collaboration with development partners to build a more economically vibrant, socially inclusive and environmentally sustainable country," said Professor Fekadu Beyene, Commissioner for Ethiopia's Environment, Forest and Climate Change Commission. "I view this meeting as a classic example of the collaborative efforts needed from stakeholders in assisting the efforts of our government to realize its ambition of reaching middle- income status before 2025."
As a next step, government actors and other stakeholders will develop a roadmap for implementing Ethiopia's NAP.
"In moving towards the implementation phase of the NAP process, Ethiopia has demonstrated commitment to participation and consideration of gender issues, putting forth these important guiding principles that are enshrined in the United Nations Framework Convention on Climate Change," said Angie Dazé, Associate with the NAP Global Network. "We are pleased to have been able to support them in these efforts."
For more information or media inquires, please contact:
Tesfaye Gashaw
Director of Communications and Public Relations, Environment, Forest & Climate Change Commission, Ethiopia
fish2952@gmail.com
Ziona Eyob
Media and Communications Officer, NAP Global Network
zeyob@iisd.ca
---
About the NAP Global Network
The NAP Global Network was created in 2014 to support developing countries in advancing their NAP processes, and help accelerate adaptation efforts around the world. To achieve this, the Network facilitates sustained South-South peer learning and exchange, supports national-level action on NAP development and implementation, and enhances bilateral support for adaptation and climate-sensitive sectors through donor coordination. The Network's members include participants from more than 110 countries involved in developing and implementing National Adaptation Plans, as well as 11 bilateral donors. Financial support for the Network has been provided by Austria, Canada, Germany and the United States. The Secretariat is hosted by the International Institute for Sustainable Development (IISD). For more information, visit www.napglobalnetwork.org.