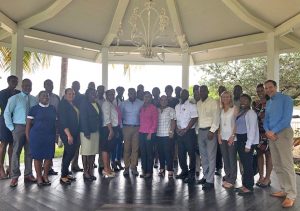 The government of Grenada is hosting a workshop this week on Monitoring and Evaluation (M&E) of climate change adaptation in order to develop a framework for Grenada's National Adaptation Plan (NAP) Process.
Supported by the NAP Global Network, in collaboration with the Integrated Climate Change Adaptation Strategies in Grenada (ICCAS) project, this two-part workshop serves as an opportunity to sensitize key stakeholders to what the M&E aspects of the Grenada NAP would entail to encourage its adoption in the early stages of the adaptation planning process. 
Running over two-and-a-half days, this workshop will focus on capacity building in order to introduce NAP stakeholders to M&E concepts and techniques that will be helpful in designing and operationalizing the NAP M&E system. It will also include a consultation session to present the findings of the technical analysis undertaken by the NAP Global Network, discuss the design and operationalization of the NAP M&E system in Grenada, and inform the next steps and identified key considerations for a resource-efficient and functional monitoring process for Grenada, including budget requirements to ensure sustainability.
The workshop aims to ensure that government representatives in Grenada have a strong foundation in the key topics needed to design, implement and use the results of M&E systems; identify key challenges, best practices and emerging opportunities related to adaptation  M&E in the NAP process; and collect feedback and discuss the design and operationalization of the NAP M&E system for Grenada.
The workshop is taking place from July 24 to 26 in St. George, Grenada