The National Adaptation Plan (NAP) Global Network has launched an open call for countries to request technical assistance to develop their first adaptation communication (AdCom).
With funding made available by the United Kingdom's Foreign, Commonwealth and Development Office (FCDO), short-term technical assistance will be available to all official development assistance (ODA) eligible countries via the NAP Global Network's Country Support Hub.
"We are excited to provide this support to country partners, helping them shine a light on their adaptation priorities, efforts, and needs," said Anne Hammill, Director of the NAP Global Network Secretariat. "For countries choosing to develop an AdCom this year, we hope they can leverage the progress they've made on national adaptation planning and that developing an AdCom might help identify gaps in adaptation action, financing, and support."
AdComs are voluntary, flexible, country-driven reporting instruments under the Paris Agreement with multiple purposes, which include increasing the visibility and profile of adaptation and balancing it with mitigation;[1] strengthening adaptation action and support for developing countries; providing input to the global stocktake (GST) of progress toward the Paris Agreement's goals; and enhancing learning and an understanding of adaptation needs and actions.
The first GST of progress toward the targets under the Paris Agreement will take place in 2023 and be informed by a series of synthesis reports, including a report on adaptation. For a country's AdCom to be included in the synthesis report, it will need to be submitted to the United Nations Framework Convention on Climate Change (UNFCCC) Secretariat by the end of December 2021—the end of January 2022 at the very latest.
"Though voluntary, developing an AdCom in 2021 may be a strategic opportunity for countries to distill, synthesize, and report their progress on adaptation to the UNFCCC, as well as articulate their future needs and priorities," said Hammill.
Support for finalizing and communicating NAPs to the UNFCCC
In addition to AdCom support, the NAP Global Network is also accepting technical assistance requests for support related to finalizing and submitting NAPs that have not yet been communicated to the UNFCCC.
Submission of a NAP to the UNFCCC allows for greater international visibility and helps shape an up-to-date understanding of the global progress on NAPs.
Support requests could include activities such as organizing a launch event, providing publication support (copy-editing, design, translation), developing promotional materials (brochures, briefs or Frequently Asked Questions for different actors, a video), or engaging a local consultant for technical work needed to complete the NAP document.
How to Access Support
Countries interested in accessing support are invited to contact us at info@napglobalnetwork.org to discuss questions.
Requests can be formally submitted by completing a Country Support Hub Request Form.
Once a request is approved, the NAP Global Network assists with engaging a short-term contractor to lead the delivery of the work. We prioritize local, national, and regional organizations and/or consultants for delivering this technical support.
The NAP Global Network Secretariat will also provide technical backstopping, joint problem-solving, quality assurance of contractor's deliverables, and support with knowledge management to share lessons with peers around the world.
About the NAP Global Network
The NAP Global Network was created in 2014 to support developing countries in advancing their NAP processes and help accelerate adaptation efforts around the world. To achieve this, the Network facilitates sustained South–South peer learning and exchange, supports national-level action, and enhances bilateral support for adaptation and climate-sensitive sectors through donor coordination. The Network's members include individual participants from more than 150 countries involved in developing and implementing National Adaptation Plans. Financial support for the Network has been provided by Austria, Canada, Germany, the United Kingdom, and the United States.
---
[1] Adaptation Committee. (March 11, 2021). Draft supplementary guidance for voluntary use by Parties in communicating information in accordance with the possible elements of an adaptation communication. https://unfccc.int/sites/default/files/resource/ac19_6b_adcomms.pdf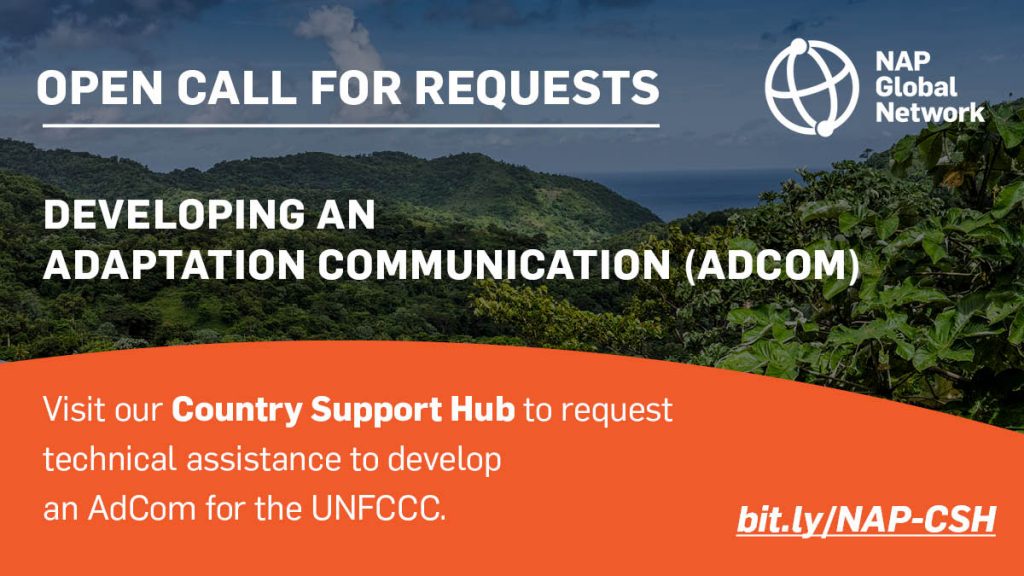 ---
Appel ouvert à la soumission de demandes : Assistance technique pour le développement des communications relative à l'adaptation (AdComs) et autres services
Le Réseau mondial de PNA accepte les demandes d'assistance technique à court terme venant des pays en développement
Le Réseau mondial de Plan national d'adaptation (PNA) a lancé un appel ouvert aux pays qui leur permettra de demander une assistance technique pour la préparation de leur première communication relative à l'adaptation (AdCom).
Avec le financement mis à disposition par le Bureau des Affaires étrangères, du Commonwealth et du développement du Royaume-Uni (FCDO), une assistance technique à court terme sera offerte à tous les pays admissibles à l'aide publique au développement (APD) par le biais du Centre de soutien aux pays du Réseau mondial de PNA.
« Nous sommes anxieux de fournir ce soutien aux pays partenaires, car il les aidera à mettre en lumière leurs priorités, leurs efforts et leurs besoins en matière d'adaptation », a déclaré Anne Hammill, directrice du Réseau mondial de PNA. « Pour les pays optant en faveur du développement d'un AdCom cette année, nous espérons qu'ils pourront tirer parti des progrès qu'ils auront réalisés en matière de planification nationale de l'adaptation et que le développement d'un AdCom pourra les aider à identifier leurs lacunes dans les actions d'adaptation, le financement et le soutien. »
Les AdComs sont des instruments de rapport volontaires, flexibles et axés sur les pays en vertu de l'Accord de Paris qui visent à plusieurs fins, notamment à : accroître la visibilité et le profil de l'adaptation et l'équilibrer[1] avec l'atténuation ; renforcer l'action d'adaptation et le soutien à celle-ci dans les pays en développement ; fournir une contribution au bilan mondial des progrès accomplis dans la réalisation des objectifs de l'Accord de Paris ; et améliorer l'apprentissage et la compréhension des besoins et des actions en matière d'adaptation.
Le premier bilan mondial des progrès accomplis dans la réalisation des objectifs de l'Accord de Paris se déroulera en 2023 et sera documenté par une série de rapports de synthèse, y compris un rapport sur l'adaptation. Pour que l'AdCom d'un pays soit inclus dans le rapport de synthèse, il devra être soumis au secrétariat de la Convention-cadre des Nations Unies sur les changements climatiques (CCNUCC) d'ici à la fin de décembre 2021 – à la fin de janvier 2022 au plus tard.
« Bien que volontaire, le développement d'un AdCom en 2021 pourra constituer une occasion stratégique pour les pays d'extraire, de synthétiser et de rendre compte de leurs progrès en matière d'adaptation à la CCNUCC, ainsi que d'articuler leurs besoins et priorités futurs », a déclaré Mme Hammill.
Soutien à la finalisation et à la communication des PNA à la CCNUCC
Outre le soutien de l'AdCom, le Réseau mondial de PNA acceptera également les demandes d'assistance technique en matière de finalisation et de soumission des PNA qui n'ont pas encore été communiqués à la CCNUCC.
La soumission d'un PNA à la CCNUCC donne une plus grande visibilité internationale et contribue à façonner une compréhension à jour des progrès globaux accomplis en matière de PNA.
Les demandes de soutien pourront inclure des activités telles que l'organisation d'une rencontre de lancement, un soutien aux publications (révision de texte, conception, traduction), le développement de matériel promotionnel (brochures, mémoires ou « Foire aux questions » pour les différents acteurs, vidéos) ou l'engagement d'un consultant local pour les travaux techniques nécessaires à la finalisation du document de PNA.
Comment avoir accès au soutien
Les pays intéressés à bénéficier d'un soutien sont invités à se mettre en rapport avec nous à l'adresse info@napglobalnetwork.org pour discuter des questions qui y ont trait.
Les demandes peuvent être officiellement soumises en remplissant un formulaire de demande de soutien à adresser au Centre de soutien aux pays concerné.
Une fois qu'une demande aura été approuvée, le Réseau mondial de PNA aidera au recrutement d'un prestataire pour diriger les travaux y relatifs à travers un contrat à court terme. Nous accorderons la priorité aux organisations et/ou aux consultants locaux, nationaux et régionaux pour la fourniture de ce soutien technique.
Le Secrétariat du Réseau mondial de PNA fournira également un soutien technique, une résolution conjointe des problèmes qui se présenteront éventuellement, une assurance qualité des services livrés par le contractant, et un soutien à la gestion des connaissances pour permettre le partage des enseignements tirés avec les pairs du monde entier.
À propos du Réseau mondial de PNA
Le Réseau mondial de PNA a été créé en 2014 pour aider les pays en développement à faire progresser leurs processus de PNA et à accélérer les efforts d'adaptation dans le monde entier. Pour y parvenir, le Réseau facilite l'apprentissage et l'échange soutenus par les pairs Sud-Sud, soutient l'action au niveau national et renforce le soutien bilatéral aux secteurs sensibles à l'adaptation et au climat par le biais de la coordination des donateurs. Les membres du Réseau comprennent des participants individuels venant de plus de 150 pays impliqués dans l'élaboration et la mise en œuvre des plans nationaux d'adaptation. Un soutien financier au Réseau a été fourni par l'Autriche, le Canada, l'Allemagne, le Royaume-Uni et les États-Unis.
---
[1] Comité d'adaptation (11 mars 2021). Projet d'orientation supplémentaire pour une utilisation volontaire par les Parties dans leur communication d'informations conformes aux éventuels éléments d'une communication relative à l'adaptation. https://unfccc.int/sites/default/files/resource/ac19_6b_adcomms.pdf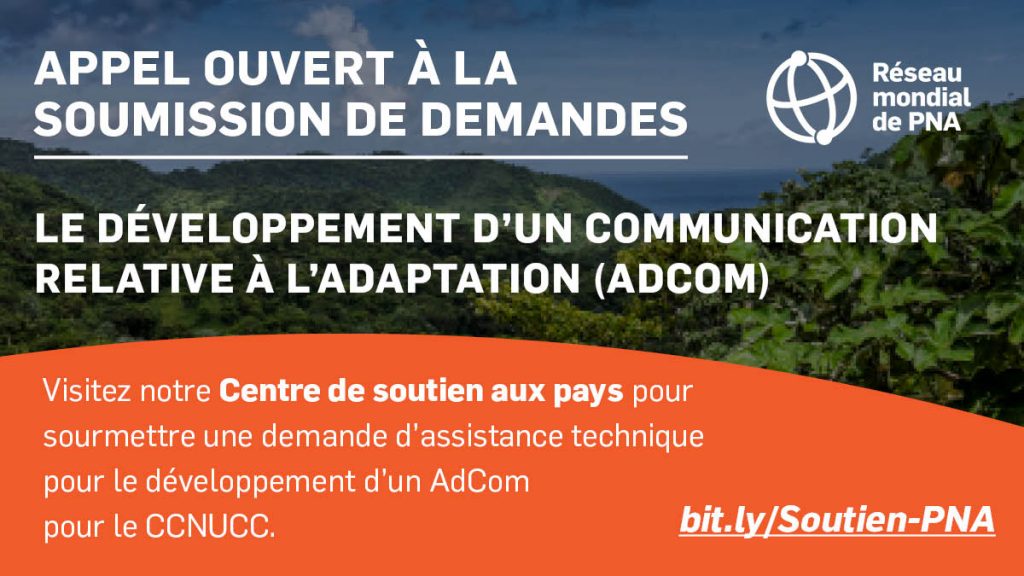 ---
Convocatoria abierta de solicitudes: Apoyo técnico para elaborar comunicaciones sobre la adaptación (AdComs), entre otras cosas
La Red Global del PNAD acepta solicitudes de apoyo técnico a corto plazo presentadas por los países en desarrollo
La Red Global del Plan Nacional de Adaptación (PNAD) lanzó una convocatoria abierta dirigida a los países que necesitan apoyo técnico para elaborar su primera comunicación sobre la adaptación (AdCom).
Gracias a los fondos facilitados por el Ministerio de Desarrollo, Asuntos Exteriores y de la Commonwealth (FCDO) del Reino Unido, todos los países que reúnan las condiciones para recibir asistencia oficial para el desarrollo (AOD) podrán obtener apoyo técnico a corto plazo a través del Centro de Apoyo a Países de la Red Global del PNAD.
"Estamos entusiasmados de prestar este apoyo a los países asociados con el propósito de ayudarlos a precisar sus prioridades, esfuerzos y necesidades de adaptación", manifestó Anne Hammill, directora de la Red Global del PNAD. "En el caso de los países que decidieron elaborar una AdCom este año, esperamos que puedan aprovechar el progreso que hayan conseguido con los planes nacionales de adaptación, y que esta AdCom les permita identificar las brechas en el apoyo, la financiación y las medidas de adaptación".
Conforme al Acuerdo de París, las AdComs son instrumentos de información voluntarios, flexibles e impulsados por los países que tienen múltiples propósitos, a saber: aumentar la visibilidad y el perfil de adaptación, y lograr un equilibrio con la mitigación[1], reforzar el apoyo y las medidas de adaptación para los países en desarrollo, hacer aportes al balance global de progreso hacia la consecución de los objetivos del Acuerdo de París y mejorar el aprendizaje y la comprensión de las necesidades y las medidas de adaptación.
El primer balance mundial de progreso hacia el logro de las metas establecidas en el Acuerdo de París se llevará a cabo en 2023 y se basará en una serie de informes de síntesis, incluido un informe sobre la adaptación. A fin de que la AdCom de un país se incluya en el informe de síntesis, deberá enviarse a la secretaría de la Convención Marco de las Naciones Unidas sobre el Cambio Climático (CMNUCC) a fin de diciembre de 2021 o, a más tardar, en los últimos días de enero de 2022.
"Si bien no es obligatorio, elaborar una AdCom en 2021 puede representar una oportunidad estratégica para que los países transmitan, sinteticen e informen los progresos que hayan logrado en materia de adaptación a la CMNUCC, así como articulen sus necesidades y prioridades futuras", expresó Hammill.
Apoyo para finalizar y comunicar los PNAD a la CMNUCC
Además del apoyo técnico para elaborar la AdCom, la Red Global del PNAD también acepta solicitudes de apoyo técnico para finalizar y enviar los PNAD que aún no se hayan comunicado a la CMNUCC.
El envío de un PNAD a la CMNUCC otorga una mayor visibilidad internacional y ayuda a forjar un entendimiento actualizado del progreso alcanzado a nivel mundial con los PNAD.
Las solicitudes de apoyo pueden abarcar actividades como las siguientes: organizar un evento de lanzamiento, brindar ayuda con las publicaciones (edición, diseño, traducción), preparar material promocional (folletos, informes o preguntas frecuentes para los distintos actores, un video) o contratar a un asesor local con el fin de realizar el trabajo técnico necesario para completar el documento del PNAD.
Cómo acceder al apoyo
Se invita a los países interesados en recibir apoyo a escribirnos a info@napglobalnetwork.org para comunicarnos cualquier consulta y poder conversar al respecto.
Las solicitudes pueden enviarse formalmente mediante el formulario de solicitud del Centro de Apoyo a Países.
Una vez que se aprueba la solicitud, la Red Global del PNAD se encarga de contratar a un asesor temporal para dirigir la ejecución del trabajo. Priorizamos a los asesores u organizaciones locales, regionales y nacionales para prestar este apoyo técnico.
La Secretaría de la Red Global del PNAD también proporcionará apoyo técnico, solución conjunta de problemas y control de calidad de los resultados del asesor, así como ayuda en la gestión del conocimiento y aprendizaje, así como para compartir lecciones aprendidas con colegas y profesionales de manera global.
Acerca de la Red Global del PNAD
La Red Global del PNAD se creó en 2014 con el objetivo de ayudar a los países en desarrollo a impulsar sus procesos PNAD y contribuir a agilizar los esfuerzos de adaptación en todo el mundo. Para lograrlo, la Red facilita un constante intercambio y aprendizaje Sur-Sur entre pares, apoya la acción a nivel nacional y fortalece el apoyo bilateral a los sectores relacionados con la adaptación y vulnerables al clima a través de la coordinación de donantes. La Red está integrada por participantes de más de 150 países involucrados en el proceso de formulación e implementación de los Planes Nacionales de Adaptación. Alemania, Austria, Canadá, el Reino Unido y los Estados Unidos prestaron el apoyo financiero a la Red.
---
[1] Comité de Adaptación. (11 de marzo de 2021). "Proyecto de orientaciones complementarias para uso voluntario de las Partes al comunicar información de acuerdo con los posibles elementos de una comunicación sobre la adaptación" (en inglés) <https://unfccc.int/sites/default/files/resource/ac19_6b_adcomms.pdf>.