Central African Republic's (CAR's) 2022 National Adaptation Plan (NAP) sets out the challenge that the country is both "in a post-conflict situation and in political transition, which results in a considerable level of socio-economic vulnerability." The increasingly harmful impacts of climate change have been exacerbating this vulnerability and threatening the fragile peace attained in 2016 after 3 years of civil war.
The NAP process has created a window of opportunity to consolidate CAR's efforts to build peace and unite its population while ensuring livelihoods and sustainable development. On February 15, 2023, governments ministers and officials, representatives from international institutions, the private sector, youth, women, and religious organizations gathered at a High-level Dialogue on Climate Change Adaptation and Peacebuilding in the Central African Republic event to discuss how to best align climate change adaptation and peacebuilding planning for the country. Co-organized by the NAP Global Network, the event was held under the theme Moving Towards Our Adaptation to Pave the Way for CAR's 2050 Vision.
In his opening remarks, the Minister of Environment and Sustainable Development, Honorable Thierry Kamach, underscored that the effects of climate change have aggravated the country's internal displacement issues, where displaced people comprise one third of CAR's population. "Each year, there are several climatic victims in the form of internally displaced persons due to flooding, atmospheric pollution, food insecurity following crop failures, and difficulties in accessing water due to the water stress observed in certain regions," he said.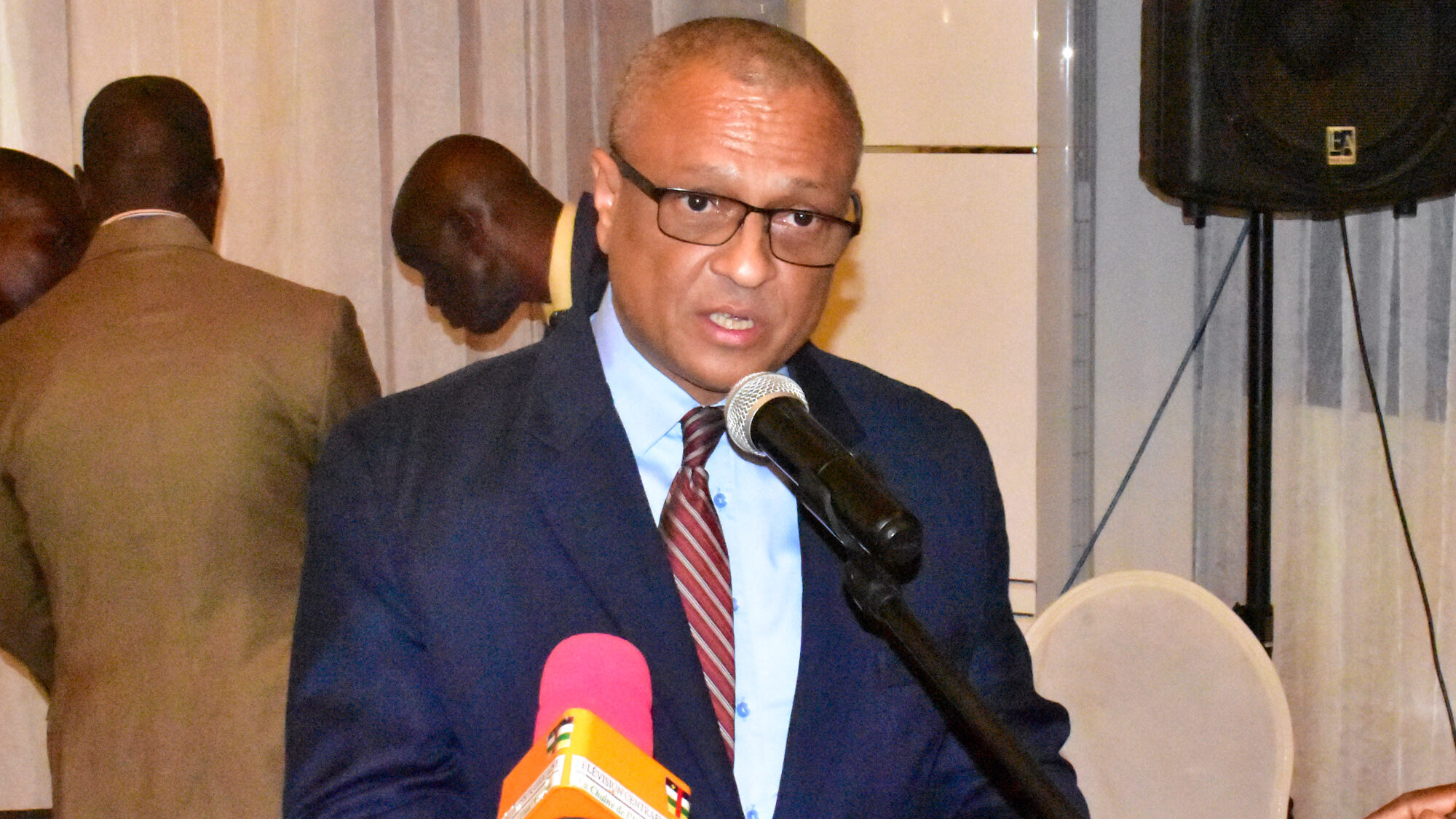 The Minister noted the urgency of investing in the implementation of adaptation actions to protect the country's current and future population. "It is time to push partners to understand that investing in adaptation is a way to gain social cohesion and build peace," he remarked. Kamach went on to say that "CAR now faces the challenge of adapting to climate change, which requires significant financial and human resources, concerted and collective action, and effective tools and equipment to enable both climate victims and people affected by armed conflict to build their resilience," he said.
The Minister of Defense and Army Reconstruction, Honourable Claude Rameaux Bireau, highlighted that if the country can integrate climate change adaptation into the work of all social and productive sectors, "by 2030, CAR will be part of a dynamic of sustained, equitable, and sustainable socio-economic development." He also echoed the Minister of Environment and Sustainable Development by noting that "there is indeed an urgent need for the government to scale up initiatives, funding, and partnerships to accelerate adaptation to climate change."
Sustainable Solution to Conflicts
CAR's NAP document sets out six priority sectors for adaptation: agriculture, water and sanitation, health, energy, forestry, and housing. According to Mariam Amoudou Sidi, the gender and climate change focal point for CAR's NAP team and manager of Studies on Climate Change Adaptation for the National Climate Coordination team at the Ministry of Environment and Sustainable Development, addressing climate vulnerability in these priority sectors will help the government and population address CAR's other socio-economic obstacles, which include "social constraints, extreme poverty, violence, political instability, population displacement and health limitations, as well as limited natural resource management and agricultural capacity to adapt to natural hazards." Adapting the policies and practices of key sectors to withstand climate risks will bring socio-economic benefits.
Amoudou Sidi highlighted the importance of the High-Level Dialogue to ensure a participatory approach to the NAP process and spread the word about the urgency of adapting to climate change. "Having all the actors around the table is crucial, and the dialogue allowed key messages to be communicated, especially the advocacy presentation by the Minister of Environment, which really sounded the alarm," she said.
Finally, she explained why adaptation action can support sustainable peacebuilding: "Because we know that conflicts are essentially rooted in the intolerable living conditions of the population, which result from the unequal and inequitable distribution of the resources that exist in our country—inequality that is further exacerbated by climate change."
For Alec Crawford, Director, Nature for Resilience at the International Institute for Sustainable Development, CAR's NAP team is pioneering a strategy for what is possible with a NAP process when peacebuilding is integrated into adaptation planning.
"Conflict and climate risks often have similar causes, which may be mutually reinforcing. Not only can peacebuilding inform how adaptation can be implemented, but adaptation can also inform how both peacebuilding and development are applied nationally. We are proud to be able to support this trailblazing effort by CAR's NAP team and Amoudou Sidi, and hope this serves as a beacon of what is possible for other fragile states developing or implementing their NAP processes," he said.
Communications Products
The NAP Global Network has also supported CAR's government in developing a set of communication products aiming to raise awareness of the NAP process among the population, including booklets, posters, banners, videos, radio spots, and signs showing various key messages about climate change and adaptation. Some of these products were introduced to Bangui's population during a rally on February 14, 2023. Communication products were also shown during the closing of the High-Level Dialogue event.
This event was organized through assistance from the NAP Global Network's Country Support Hub with financial assistance from the United Kingdom's Foreign, Commonwealth and Development Office.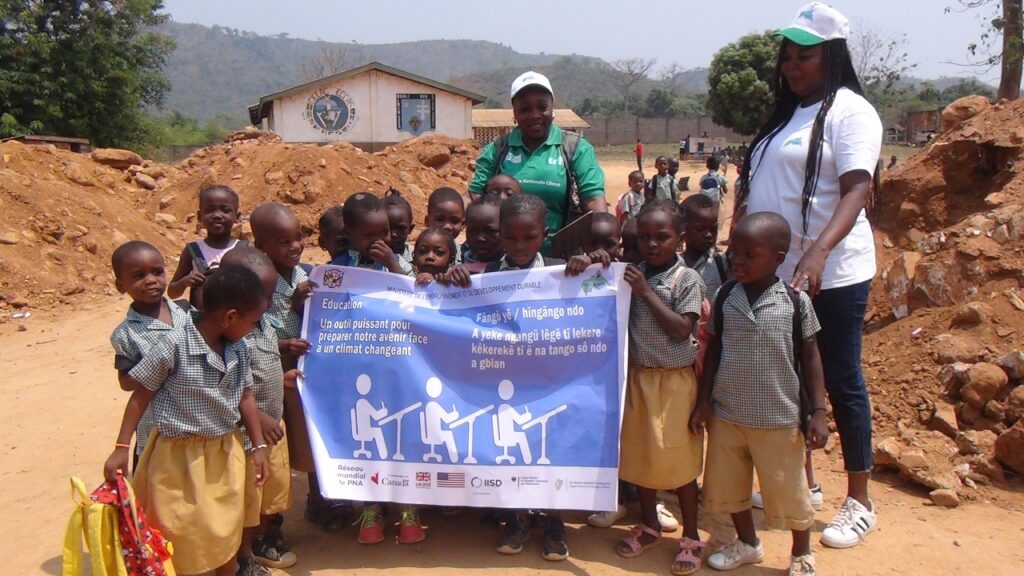 Related Content