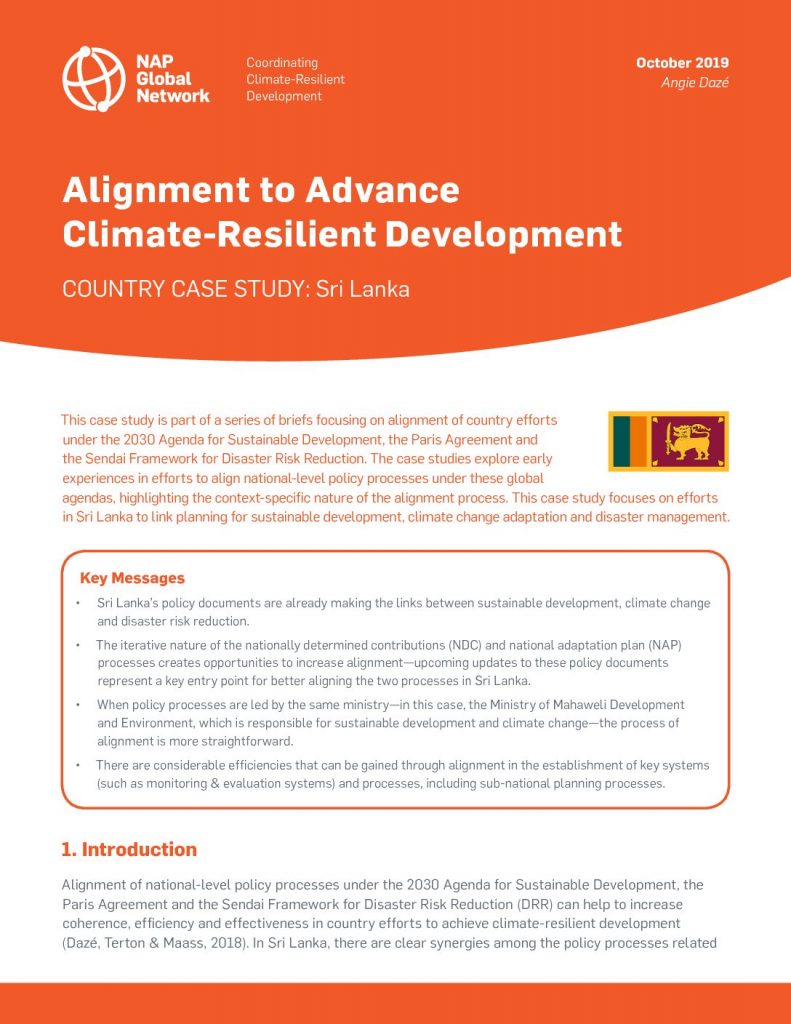 COUNTRY CASE STUDY: Sri Lanka
This case study is part of a series of briefs focusing on alignment of country efforts under the 2030 Agenda for Sustainable Development, the Paris Agreement and the Sendai Framework for Disaster Risk Reduction. The case studies explore early experiences in efforts to align national-level policy processes under these global agendas, highlighting the context-specific nature of the alignment process. This case study focuses on efforts in Sri Lanka to link planning for sustainable development, climate change adaptation and disaster management.
Key Messages
Sri Lanka's policy documents are already making the links between sustainable development, climate change and disaster risk reduction.
The iterative nature of the nationally determined contribution (NDC) and national adaptation plan (NAP) processes creates opportunities to increase alignment—upcoming updates to these policy documents represent a key entry point for better aligning the two processes in Sri Lanka.
When policy processes are led by the same ministry—in this case, the Ministry of Mahaweli Development and Environment, which is responsible for sustainable development and climate change—the process of alignment is more straightforward.
There are considerable efficiencies that can be gained through alignment in the establishment of key systems (such as monitoring & evaluation systems) and processes, including sub-national planning processes.
Read more
Publisher: International Institute for Sustainable Development (IISD)