Text based on discussions during a webinar with participation of Jason Spensley.
Spensley manages the Green Climate Fund's Project Preparation Facility and Adaptation Planning support programme.
Finding the funding to develop and implement National Adaptation Plans (NAP) and other adaptation planning processes is no small task.
In a webinar last month, we explored one potential source of funding: the international public sector. This includes bilateral providers, multilateral development banks, and multilateral climate funds, like the Green Climate Fund (GCF).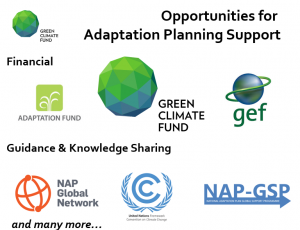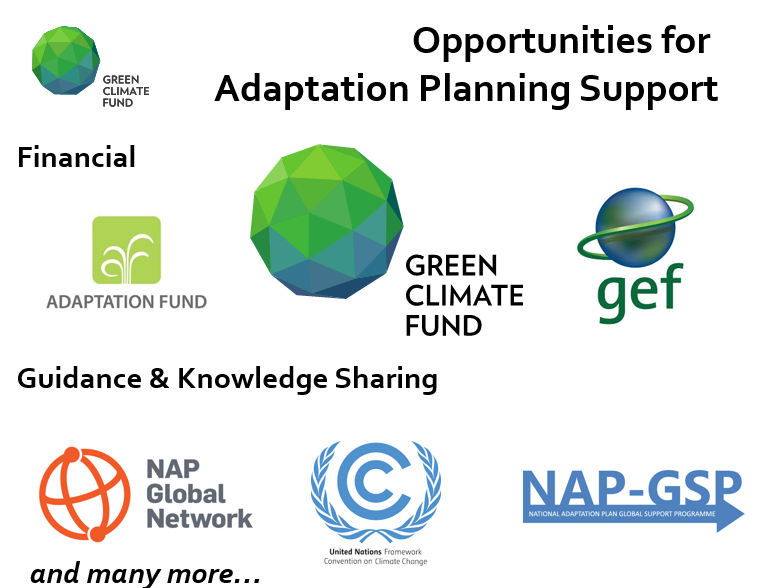 The GCF provides financial support to countries for the formulation of NAPs and other adaptation planning processes. Through its Readiness Programme, GCF offers developing countries a one-time grant of up to USD 3 million to support country-driven adaptation activities. This support window is a golden opportunity, to only not invest in adaptation planning, but also as a step towards catalyzing larger scale investments from domestic and international, private and public funding sources, including but not only GCF.
To date, the Fund has received 47 proposals, 12 of which have been endorsed or approved, with another 20 being prepared for resubmission after receiving GCF Secretariat feedback support. The GCF strategic plan envisions disbursing an increasing amount of funds in 2018. But the GCF Board has been clear this can only happen if the Fund receives strong, high-quality proposals.
After reviewing proposals received to date, learning can be distilled and used. The following review criteria based on identified good practices are used by the GCF Secretariat for reviewing proposals submitted by countries' National Designated Authorities (NDAs).
1 | Clarify your focus
Should the focus be national, sectoral, or local? Often, focusing the plan within a local geographic area or to address a specific climate impact can produce more precise, implementation-ready planning. It's also important that any local or sector specific planning is done within a national vision.
2 | Use specific impacts and vulnerabilities in your design
What are the specific climate impacts? What are your country specific vulnerabilities? Resist the urge to use international guidance as a template, and make sure your proposal is directly specific to the country's unique impacts and vulnerabilities.
3 | Build private sector ownership
Plan to work with—and cultivate ownership by—the private sector in adaptation planning. Use these resources to make the case for understanding and investing in resilient profit, and create strategies to cultivate investment in climate resilient enterprises.
4 | Design an adaptation investment vision
Where is future investment in adaptation action going to come from? The GCF? Other international public financing sources? The private sector? Or a combination of these and other sources? Identify ways to continually fund adaption action with the help of GCF adaptation planning support.
5 | Articulate your "Theory of Change"
Present a clear vision of how each output and their activities will achieve your desired result or change. Be sure to link to GCF country programmes, other adaptation planning efforts, and project proposals.
6 | Build on what's there, regardless of who did it
Avoid the temptation to duplicate similar assessments done by others. Maybe someone else in country has already worked on guidance notes or conducted similar studies. Build on what's been accomplished already, and use the Readiness Funding to take another step forward.
7 | Address gender
How will social dimensions—including differences based on gender—be integrated into the proposed activities? Ensure that the defined priorities will capture these differences, and address any gender-based inequalities, in working toward a gender-responsive adaptation planning process.
8 | Fully engage relevant stakeholders
How will civil society and sub-national governments engage and advance adaptation planning in a way that ensures their buy-in for investment and implementation? Who specifically are the key stakeholders in the proposed activities? Don't forget to incorporate their engagement in the application to show how it will reinforce links between national and sub-national actors.
9 | Alignment with other funds
The Global Environment Facility (GEF) and the Adaptation Fund are also key sources of international public financing, and there are others. The NAP Global Network, as well as the UNFCCC and the NAP Global Support Programme offer technical guidance and knowledge sharing opportunities. Be sure to avoid overlap and maximize synergies of support for adaptation planning activities among these and others.
10 | Maximize use of GCF Adaptation Planning fund over time
Remember that National Designated Authorities have the option to put forth multiple proposals, over time, with different partners. Consider using a phased approach if and when it suits adaptation planning needs as relevant to the specific country context.
When it comes to climate change, unfortunately, we don't often get a lot of golden opportunities.
This one-time grant support from GCF offers a significant boost for adaptation planning globally, which is why it's so important that this support be used and applications articulate this use wisely.
Read Jason Spensely's presentation from the webinar.
---
Any opinions stated in this blog post are those of the author and do not necessarily reflect the policies or opinions of the NAP Global Network, its funders or Network participants.
Read more about our work on financing the NAP process.  
Interested in joining the Network as a participant? Sign up here.