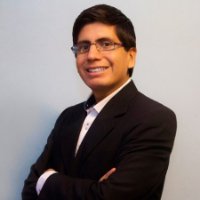 Can you imagine a country with that provides sustainable and resilient services, health services appropriate to climate variability, education that connects us with the environment, agricultural infrastructure that efficiently uses rainfall, resilient cities using clean energy, and citizens and villages prepared for extreme climate events? The country you are imagining is the country that Peruvians are building around one main idea: being a climate-responsible country.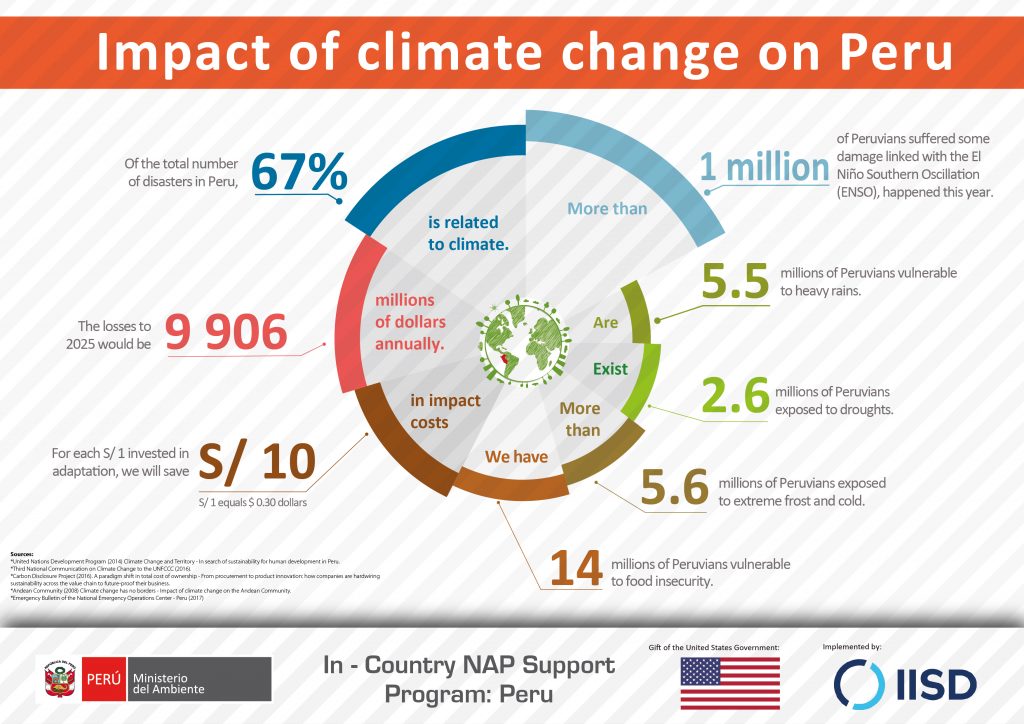 In February, March and April of this year, the effects of the El Niño-Southern Oscillation (ENSO) showed that Peru is a country with infrastructure that is vulnerable to extreme climate events. The climate event resulted in: 114 deaths; 185,873 people who lost their homes; 1,081,893 people who suffered some damage linked to floods or water damage; 242,433 damaged homes; 2,150 schools lost; 549 destroyed bridges; 6,477 kilometres of roads lost; 60,400 hectares of crops and 45,333 water canals destroyed [1]. The numbers do not lie: in Peru, events related to climate phenomena trigger 67 per cent of the disasters recorded in the national territory, according to the United Nations Development Programme (UNDP). For this reason, now is the moment to invest in the country's reconstruction. It is also the time to change the country's approach to efficient investment, by reducing or avoiding future costs for rehabilitation, reconstruction and repair.
We dream of a new country after we have been hit hard by our lack of proper preparation and resilience-building. What must we do to transform our development? How do we reach the Peru we imagine?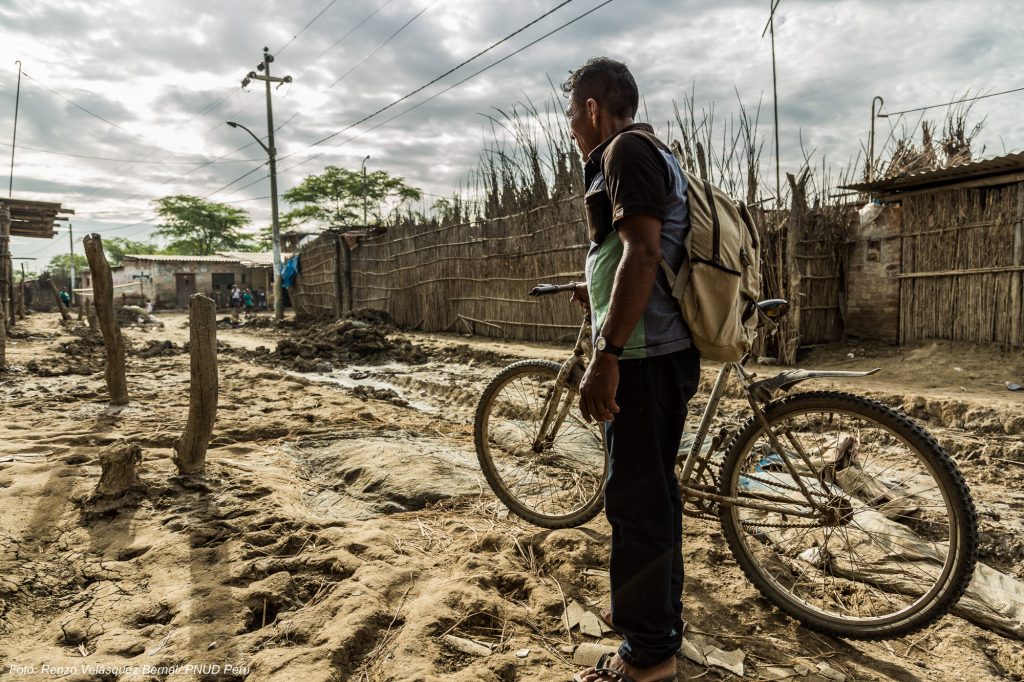 Our dream depends on the implementation of concrete actions to adapt to climate change, reduce greenhouse gas emissions (GHG) and preserve/increase our carbon stocks. To reach these targets, Peru is preparing the implementation of its Nationally Determined Contributions (NDC) for adaptation and mitigation to climate change, to promote a climate-resilient and low-carbon future.
Climate change is here and we cannot deny its impacts: experts say that 5.5 million Peruvians are exposed to very heavy rainfall; 2.6 million to periods of drought; and 5.6 million to extremely cold periods [2]. In economic terms, one study reveals that in Peru the estimated loss due to the consequences of climate change will be USD 30 billion per year to 2025—4.5 per cent of the combined GDP of Bolivia, Colombia, Ecuador and Peru.
In this scenario, adaptation is a priority: for each PEN 1 (Peruvian currency, nueves soles, which is equivalent to USD 0.30) invested in preparing for climate change, we will save PEN 10 (USD 3.05) in prevented disaster impacts [3]. Good planning and efficient use of resources will minimize negative impacts and allow society and the private sector to seize opportunities.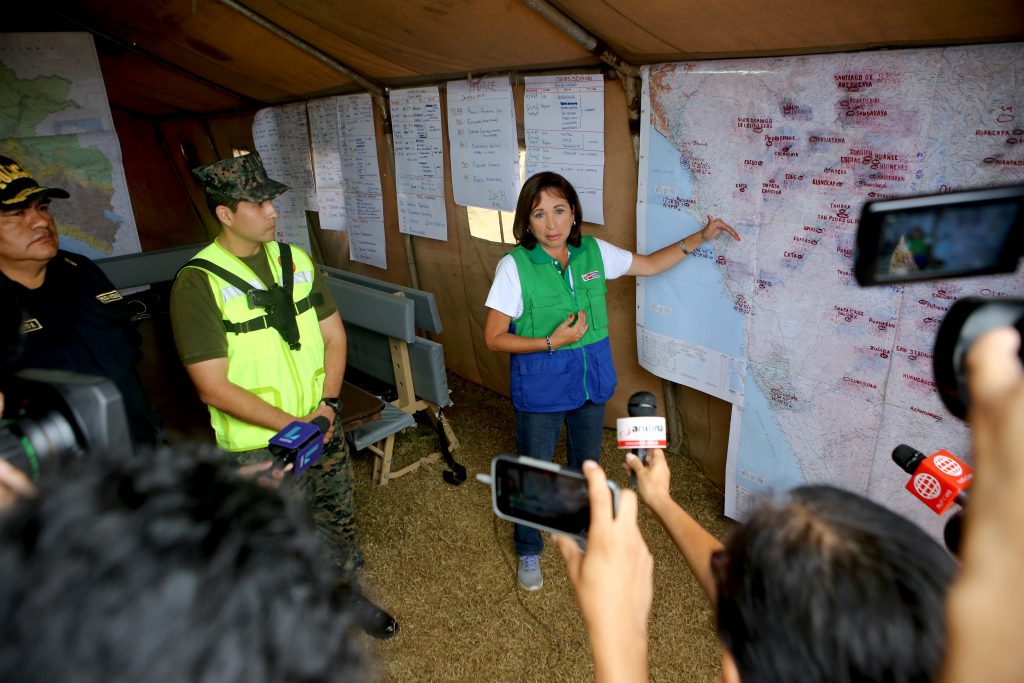 In that context, the National Adaptation Plan (NAP), under the NDC, marks a historic milestone in the management of climate change in Peru, presenting opportunities for diversification and competitiveness production, and making us more able to fulfil international commitments like the implementation of the Paris Agreement.
In the same spirit, through the NAP, our NDC adaptation component proposes to prepare us for the effects of climate change in five priority areas: water, agriculture, fisheries and aquaculture, forests and health. It is about transcending our own limitations and showing that all actors can and must work together to solve this economic, social and even moral challenges created by climate change. We can achieve a modern, sustainable and climate-resilient Peru for present and future generations; we can achieve the country that we imagine.
Assuming our specific responsibility facing climate change is the first step. Taking on this responsibility means employing good agricultural planting and water harvesting practices, using sustainable transport, investing in infrastructure with climate risk criteria, promoting responsible consumption and sustainability public policies, investing in companies committed to reducing GHGs, and also being informed and sharing information. Today we dream of a new country, to recover and grow as one climate action task force.
References and Further Reading
[1] National Emergency Operations Center. (2017). Emergency Bulletin. Retrieved from https://www.mindef.gob.pe/informacion/documentos/BOLETIN%20INFORMATIVO%20N%20145.pdf.pdf
[2] United Nations Development Programme. (2014). Climate change and territory: Looking for sustainability for human development in Peru. (Lima-Peru). Retrieved from https://goo.gl/kpnPRF
[3] Peru's Third National Communication on Climate Change. (2016). United Nations Framework Convention on Climate Change. Retrieved from http://unfccc.int/essential_background/library/items/3599.php?rec=j&priref=7846#beg 
---
Any opinions stated in this blog post are those of the author and do not necessarily reflect the policies or opinions of the NAP Global Network, its funders or Network participants.
Interested in joining the Network as a participant? Find out more.