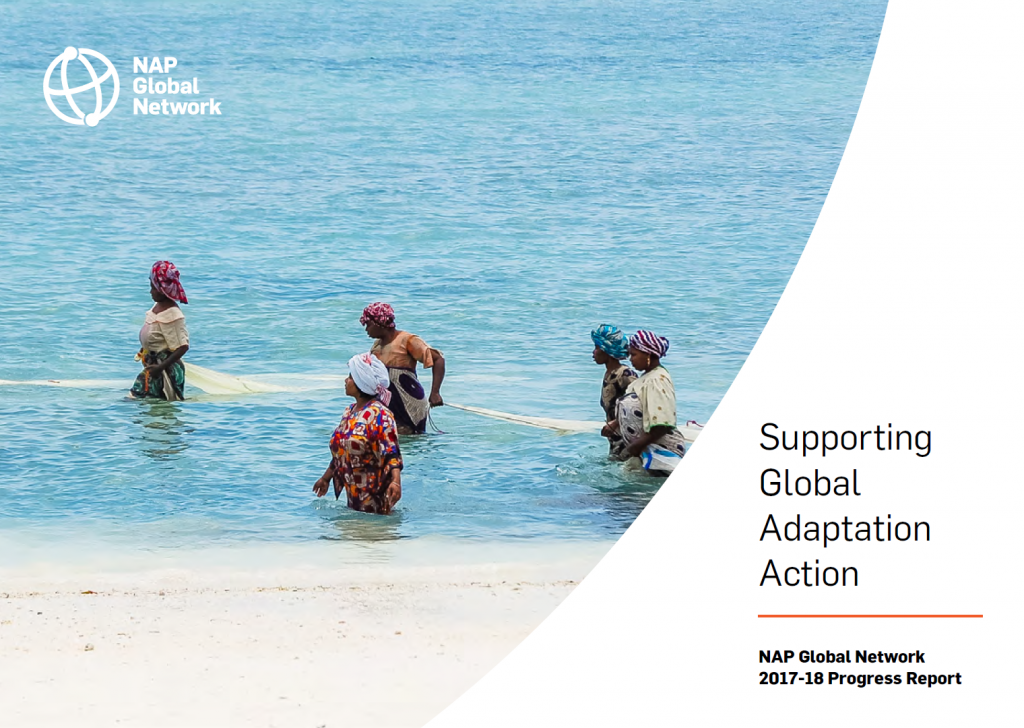 The climate is changing. Impacts are being felt, and adjustments today and in the future are necessary.
More and more countries are defining and addressing their medium- and long-term climate adaptation priorities through National Adaptation Plan (NAP) processes.
The NAP Global Network was created to support developing countries in advancing their NAP processes, and help accelerate adaptation efforts around the world.
In the Network's new progress report, we look back at what we have achieved together from November 2017 to November 2018, as well as providing an update on the Network's overall progress.
Download the full report from our Resources section, or read our Director's message below.
---
Director's message

The global momentum to act on climate change is growing. The historic Paris Agreement in 2015 offered a new international framework for action, and since then we've seen a steady stream of governments, communities and businesses announcing bold commitments for making it a success. At the same time, the urgency and scale of the climate challenge has never been starker. The recent IPCC special report on 1.5°C laid bare the transformations needed to limit global warming and those that would result from a failure to do so. With the world already 1°C warmer than pre-industrial levels, impacts are already being felt, with more to come. The imperative to adapt is clear.
Countries are rising to the occasion, including by establishing the foundations for adaptation action through their National Adaptation Plan (NAP) processes. The importance of these processes cannot be overstated. They drive coordination, set policy priorities, mobilize resources, allocate support, and track progress in countries' efforts to achieve their adaptation goals. And since the Paris Agreement requires all Parties to engage in adaptation planning and implementation, NAP processes are also essential to making it a success.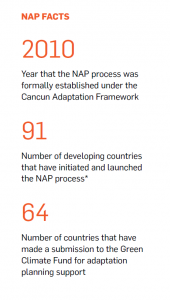 The NAP Global Network is proud to be part of this success story. In our fourth year of activity, we saw the global momentum described above reflected in our activities. We are offering support in more countries, on more topics and through more channels than ever before.
We have delivered technical support to over 30 countries. The number of requests for short-term technical support via our Country Support Hub tripled this past year. And we celebrated some important milestones in our longer-term country support programs, with several countries launching adaptation plans and strategies, ready for implementation.
We also facilitated more peer exchanges than ever before. In February, we held our largest-ever Targeted Topics Forum in Fiji—home to the COP 23 Presidency— where 21 countries came together and shared stories of progress and troubleshooting advice on a range of issues related to adaptation planning and action. While these interactions are fruitful in themselves, it's the follow-up actions they inspire that speak to the power of peer learning. Representatives from the government of Jamaica went home and built in-house capacity on gender-responsive adaptation planning, while representatives from Brazil forged ahead with a communications strategy around one of the country's most important adaptation strategies—climate-smart agriculture. Both countries will have better NAP processes and more sustainable adaptation outcomes as a result.
Our engagement with bilateral donors to help them better coordinate support for NAP processes progressed in different countries and regions. At our Donor Symposium in Barbados, 19 donors active in the Caribbean came together to hear government representatives from Saint Lucia and Saint Vincent and the Grenadines present their adaptation priorities, which were included in their newly-launched NAP documents. This meeting was an important step in advancing a dialogue of cooperation between countries and development partners around adaptation action that reflects the goals and ambitions of each, and we look forward to supporting more such interactions.
Finally, the Network continued to offer some of the most trusted and up-to-date resources on the NAP process. This past year, we took a deeper dive into key themes like gender; advancing new thinking on links between NAPs and Nationally Determined Contributions (NDCs), the Sustainable Development Goals (SDGs) and the Sendai Framework for Disaster Risk Reduction; developing guidance on how to prepare NAP Frameworks based on work in Fiji, Ghana and Sierra Leone; sharing lessons with a global community of NAP specialists through publications, blogs and webinars; and tracking broader progress and trends so we have a sense of how we're doing and what's important in adaptation planning.
At the core of all this work is our firm belief that if we want to see successful adaptation at scale, then robust NAP processes must be in place. Through close partnership with developing country adaptation practitioners and bilateral development partners over the past four years, the Network has become a key player in making this happen. This past year we saw unprecedented progress in NAP processes. While there is still more work to be done, we should take a moment to celebrate how far we have come and what we have learned.
So I want to thank all of the participants who continue to make this Network possible, and I look forward to continuing our work with you in the coming year.
---
Read the full report: Supporting Global Adaptation Action: NAP Global Network 2017-18 Progress Report
* United Nations Framework Convention on Climate Change (UNFCCC) Secretariat. (November 2018). Progress in the process to formulate and implement national adaptation plans. Retrieved from https://unfccc.int/sites/default/files/resource/sbi2018inf13.pdf