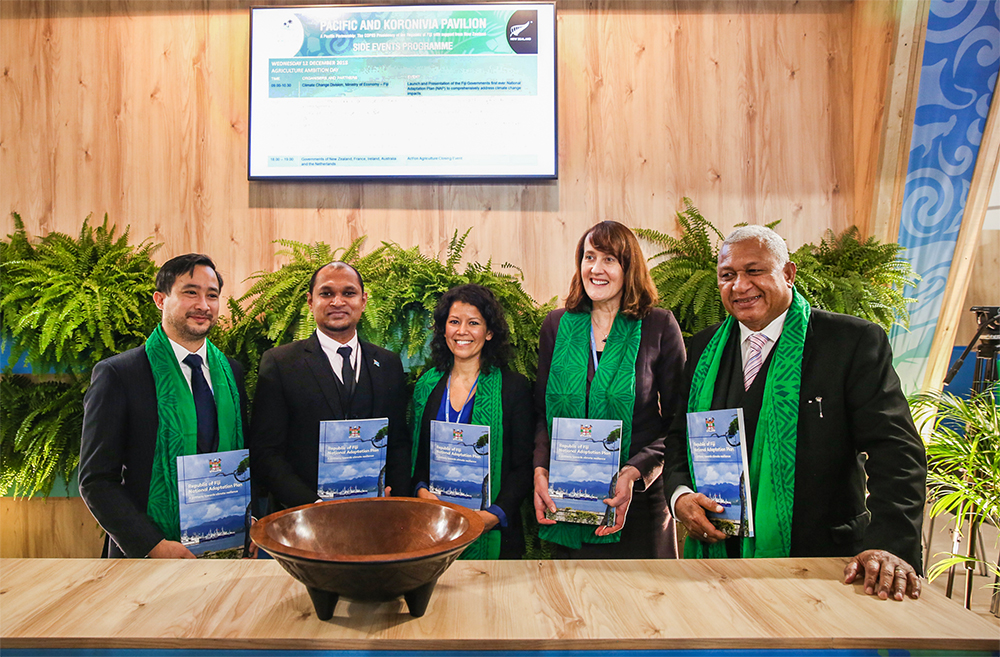 This side event convened to launch and illustrate Fiji's new NAP, which sets out the country's long-term ambitions for building the island's resilience to climate change, and was developed with support from the NAP Global Network.
Moderator Ilisapeci Vakacegu, Fiji, opened the event.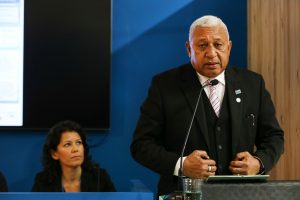 Frank Bainimarama, COP23 President and Prime Minister, Fiji, highlighted that the first Fijian NAP encompasses a holistic adaptation strategy with a vision to achieve a climate-resilient development pathway, which enables Fiji to anticipate, reduce, and manage environmental and climate risks caused by climate variability. He underscored the need to address Fiji's challenges, citing the devastating impact of the 2016 Tropical Cyclone Winston in Fiji, including through: ensuring a systematic approach in all decision-making processes, with a focus on fisheries, biodiversity and agriculture; strengthening multi-stakeholder collaboration; relocating communities threatened by sea rise; and mobilizing adequate resources on adaptation. Stressing the need to address the root causes of climate change, Bainimarama said that Fiji and the Marshall Islands were the first two nations in the world to commit to increase their nationally determined contributions (NDCs). He concluded by highlighting his hope that this NAP will become an unstoppable force for accelerating climate action in the country and beyond.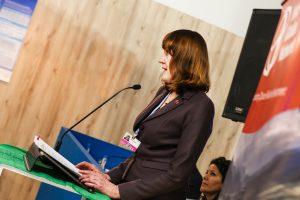 Patricia Fuller, Ambassador for Climate Change, Canada, said that the country assisted Small Island Developing States (SIDS) and coastal regions combat the impacts of climate change during its G7 presidency in 2018. She highlighted Canada's commitment on climate finance totalling CAD 2.65 billion over five years, as a way to increase collective commitment to and actions on climate change in developing countries. She highlighted Canada's CAD 4 million contribution to the NAP Global Network to help facilitate peer learning and exchange, build capacities of developing countries to implement NAPs, and promote implementing the Paris Agreement. She added that Canada has also provided CAD 30 million to the Least Developed Countries Fund (LDCF) for adaptation projects, administered by the Green Environment Facility (GEF), and an additional CAD 10 million to support the improvement of early warning systems in some of the most vulnerable communities. Fuller underscored the importance of addressing the health of oceans, saying that oceans play an important role in "regulating" the global climate system. Congratulating Fiji for the launch of their NAP, she called for enhanced continued support for implementing the NAP, which, she said, would be a great input to the Talanoa Dialogue.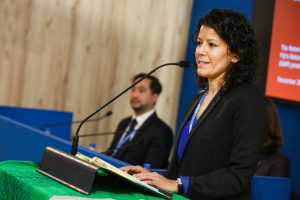 Anne Hammill, International Institute for Sustainable Development (IISD) and the NAP Global Network, presented on the importance of the NAP processes as the foundation for transformation, addressing the urgency of acting upon adaptation through driving coordination and scaling up actions. She outlined the NAP Global Network's work on: facilitating sustained South-South peer learning and exchange; supporting national-level action by providing technical support to countries; enhancing bilateral cooperation; and communications and knowledge production. Noting that more than 116 countries have joined the NAP Global Network and that 31 countries have received direct technical support, Hammill stressed the Network's crucial role in the NAP development process and its implementation. She concluded by highlighting that Fiji's ambition to develop its NAP demonstrates how countries can move from vision to defining priorities on adaptation.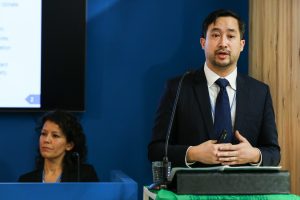 Adrian Fenton, Fiji and IISD, stressed that the NAP document was developed through extensive consultation with Fijians, and reflects their priorities for adaptation action that will preserve Fiji's society, economy, and way of life. He outlined its five priorities on: climate change management; horizontal integration; vertical integration; climate change awareness and knowledge; and resource mobilization. He also described the NAP development process, which involved multi-stakeholder consultations in Fiji, facilitated identification of adaptation challenges in local communities, and gaining common understanding among stakeholders that adaptation entails ensuring the resilience of communities. He concluded by emphasizing the importance of ensuring that the NAP becomes a catalogue for all climate actions contributing to the Sustainable Development Goals (SDGs).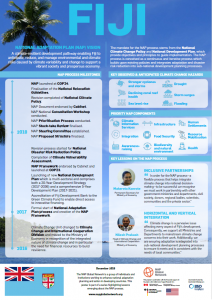 In the ensuing discussion, panelists responding to a question about the important linkages of the Fiji's NAP with other areas such as desertification, explained that relevant international frameworks such as the Sendal Framework for Disaster Risk Management and Biodiversity Action Plans are already integrated into the Fiji's NAP. In concluding remarks, Shivanal Kumar, Fiji, thanked all partners for their contribution to the successful launch of Fiji's NAP, and called for further support to deliver its effective implementation.
Fiji's NAP document is available via the UNFCCC's NAP Central here.
View this original post, including photos, on the IISD Reporting Services website.