The Government of Fiji and the NAP Global Network co-hosted an awareness-raising workshop as part of ongoing communications under the Fijian National Adaptation Plan (NAP) process.
The event aimed to inform key stakeholders from government, civil society and the private sector about Fiji's NAP process and to highlight the important role that actors at the sub-national level play in the implementation of adaptation actions prioritized in the NAP document.
Held in Lautoka in Fiji's Western Division on August 23, the workshop brought together representatives from Fijian government departments, municipal councils and NGOs. The event was the first of a series of outreach activities planned by the Fijian Ministry of Economy's Climate Change Division to raise awareness about the country's NAP process. A second NAP awareness-raising workshop is being planned in the Northern Division.
The NAP Global Network, through its In-country Support Program, has been providing technical assistance to support the Fijian NAP process since 2017. Fiji's NAP document was launched last year during COP 24 in Katowice, Poland.
The Fijian NAP contains 160 prioritized activities covering food and nutrition, health, human settlements, infrastructure, biodiversity and the natural environment. These activities will help stakeholders plan and implement medium- to long-term climate change adaptation actions.
"In order for Fiji's NAP process to be successful, we recognize that we must build strong partnerships across government ministries and departments, and with civil society, donors, regional bodies, scientists, communities and the private sector," said Nilesh Prakash, the division's Head of Climate Change and International Cooperation.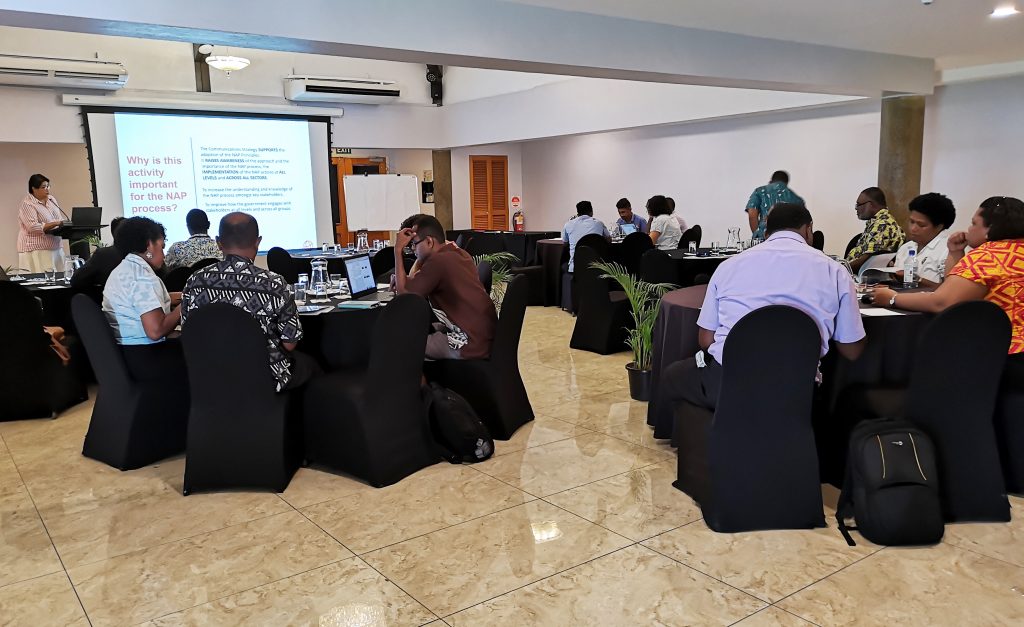 This first NAP awareness workshop was opened by Fiji's Commissioner Western, Joji Satakala, who noted its importance for the region.
"This is well justified, as the Western Division is one of the most vulnerable regions of the country due to extreme weather events that continually puts our people, infrastructure and economy under pressure all year round," said Satakala. He also encouraged participants to interact and exchange information and knowledge related to how their sectors and agencies are responding to the challenges imposed by climate change.
The NAP process is a domestic process to define and address medium- and long-term climate change adaptation priorities. Established in 2010 under the UNFCCC's Cancun Adaptation Framework, the NAP process aims to reduce vulnerability and increase resilience of developing countries to the impacts of climate change, as well as to facilitate integration of climate change adaptation into relevant new and existing policies. The UN reported that 91 countries had launched or initiated NAP processes as of December 2018.
The NAP Global Network has provided technical support on the NAP process to 37 countries, including support on strategic communications for NAP processes in Brazil, Colombia, Ethiopia, Fiji, Guyana, Kiribati, Peru, Saint Lucia, Saint Vincent and the Grenadines, and Sierra Leone.
This workshop took place through the NAP Global Network's U.S. In-Country Support Program for Fiji implemented by the International Institute for Sustainable Development (IISD) and financed by the U.S. Government.
Read more about: