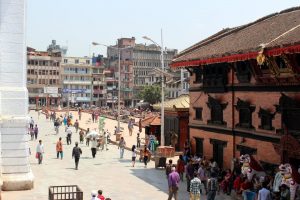 The Government of Nepal held a workshop today to validate a discussion paper exploring the opportunities for policy alignment to advance climate-resilient development in Nepal.
The discussion paper aims to identify potential entry points for increased alignment of policy processes related to the 2030 Agenda for Sustainable Development, the Paris Agreement under the United Nations Convention on Climate Change and the Sendai Framework for Disaster Risk Reduction. As the country is currently formulating its National Adaptation Plan and revising national and international policy processes, the paper assesses the existing and potential synergies among the different policy processes in terms of their objectives and areas of focus, to guide and inform policy-makers in strategically aligning the different processes to increase the coherence, efficiency and effectiveness of climate action in Nepal.
Technical assistance to the Nepali government to develop the policy alignment discussion paper and organize the workshop has been delivered via the NAP Global Network's Country Support Hub.
Learn more about Nepal's NAP process here.