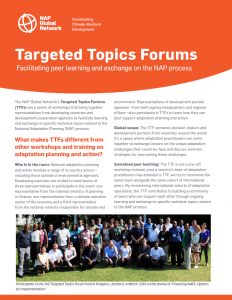 Through our Targeted Topics Forums (TTFs), we bring together adaptation planners from developing countries to learn and exchange with peers on key topics related to the NAP process, alongside staff from development partner agencies and technical experts.
You can read more about what happens at a typical TTF in this two-page backgounder.
Past Targeted Topics Forums
We currently convene two peer groups, or 'cohorts', of adaptation planners who come together once each year to address a new topic.  
Click on the icons below to see photos, presentations, workshop report and more from past TTFs.
First Cohort
Participating country teams from Albania, Brazil, Grenada, Jamaica, Kenya, Malawi, Peru, Philippines and Togo. 
Second Cohort
Participating country teams from Benin, Cambodia, Colombia, Fiji, Madagascar, Mexico, Solomon Islands, South Africa, Tanzania, Thailand, Tuvalu, Samoa, Kiribati and Vanuatu.
More Ways Get Involved in Peer Learning Through the Network
You don't have to be a TTF participant to participate in peer learning and exchange through the Network—here are some more ways to get involved.