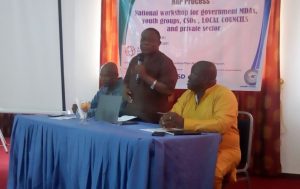 FREETOWN – The Environmental Protection Agency (EPA) of Sierra Leone hosted a workshop this week for key government decision-makers in the country's National Adaptation Planning (NAP) process. The goal of the workshop was to build further political support for strengthening the country's resilience to climate change.
Taking place on July 30, 2019, in the nation's capital, the workshop was attended by key government ministries, departments and agencies, as well as youth groups, civil society organizations and private sector representatives. Participants at the workshop were introduced to the country's NAP Framework, which lays out the government's vision, approach and guiding principles for the NAP process. Discussions then focused on how specific stakeholders can support the planning and implementation of the NAP and worked to identify the human and financial resources required to successfully move forward. 
Participants also focused on the mandates of the various agencies and how adaptation and the NAP process could be integrated into existing initiatives and priorities. 
The workshop was supported by the NAP Global Network through our ongoing work program with the EPA as part of the U.S. In-Country NAP Support Program. Following the national-level consultation in Freetown, four regional workshops will take place throughout August in Port Loko, Makeni, Bo and Kenema (for the North West, Northern, Southern and Eastern provinces, respectively), in order to build political support for the NAP process at the subnational level. 

Learn more about our Sierra Leone in-country program.