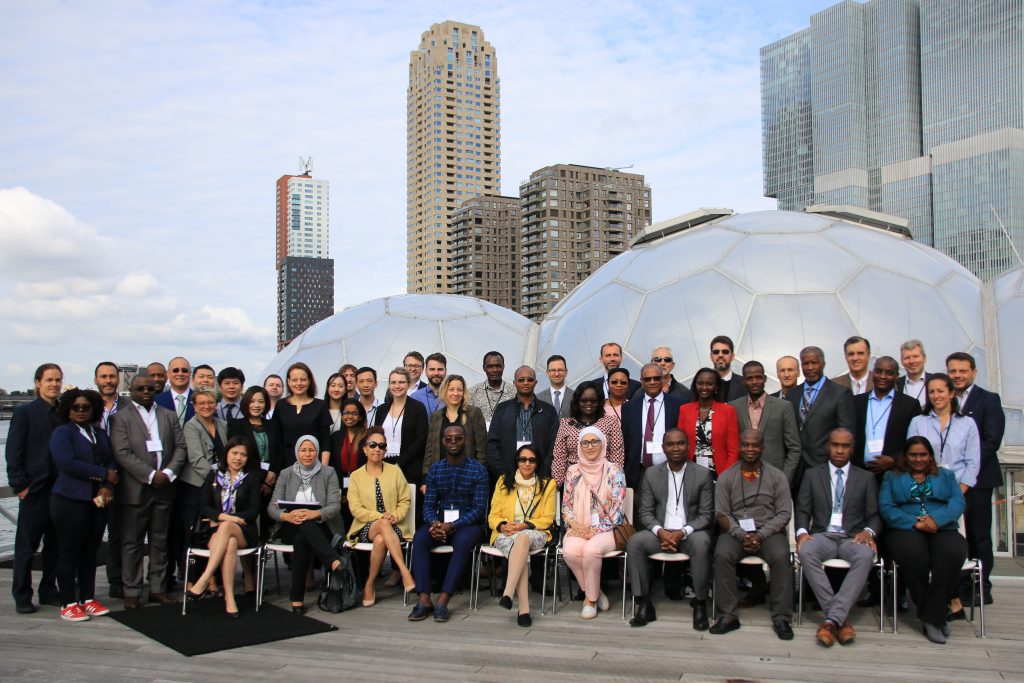 Rotterdam, July 9, 2019­—The National Adaptation Plan (NAP) Global Network, with the support of the Government of the Netherlands, is hosting a summit this week on how developing country governments can engage businesses and investors in their national efforts to prepare for the impacts of climate change.
The summit aims to foster partnership on climate change adaptation between governments and private sector stakeholders through peer learning and exchange between countries.
"The Netherlands is committed to supporting bold action towards the achievement of the Paris Agreement, including the global goal on adaptation," said Ambassador Carola van Rijnsoever, Director, Inclusive Green Growth, with the Ministry of Foreign Affairs of the Netherlands. "As a co-chair of the NDC Partnership, the Netherlands is working with government partners and non-state actors from across the globe to advance climate action. In addition to dramatically reducing global greenhouse gas emissions, national adaptation planning processes are essential for countries to build their resilience to climate threats."
Businesses and investors are key drivers of action on climate change adaptation. According to the Organisation for Economic Co-operation and Development, the private sector currently accounts for 60 per cent of gross domestic product, 80 per cent of capital flows and 90 per cent of jobs in developing countries.
Many private sector actors are already taking action on climate change adaptation by strengthening the resilience of their businesses and supply chains, as well as developing the goods and services needed to adapt to climate change.
"For national adaptation plans to be successfully implemented and countries' climate resilience strengthened, private sector actors and governments will need to build strong partnerships," said Alec Crawford, Senior Researcher with the International Institute for Sustainable Development and lead author of a NAP Global Network report on the topic. "We hope that the lessons and good practices exchanged at this Peer Learning Summit will help inspire new alliances between governments and the private sector to raise their mutual climate ambitions."
As a low-lying country with an abundance of water, the Netherlands has been a leader in climate change adaptation planning and action. The Delta Programme is in place to protect the Netherlands from flooding, to ensure a sufficient supply of fresh water, and to contribute to achieving a climate-proof and water-resilient spatial design in the Netherlands. The Netherlands also launched its National Climate Adaptation Strategy in 2016. The challenges of being a delta culminate within the City of Rotterdam, where urban adaptation is a key part of the Climate Change Adaptation Strategy of the city.
The NAP process was established by the United Nations as an opportunity for countries to plan for sustainable development in the face of climate stress. Each country's NAP process is driven by its unique adaptation needs. Implementation of national climate change adaptation plans is expected to require significant involvement from the private sector—especially micro, small and medium-sized enterprises—through the design, financing and implementation of adaptation actions that governments prioritize through their NAP processes.
The NAP Global Network's Peer Learning Summit will take place from July 9 to 11 in Rotterdam and will be attended by representatives from Ghana, Saint Lucia, Rwanda, Morocco, Vietnam, Brazil, Colombia, Jamaica, Côte d'Ivoire, Kenya, Sierra Leone and Jordan, as well as a range of bilateral development partner agencies and international climate support initiatives.
– 30 –
For media inquiries, please contact:
Ziona Eyob
Media and Communications Officer, NAP Global Network
International Institute for Sustainable Development
Email: zeyob@iisd.ca
About the NAP Global Network
The NAP Global Network was created in 2014 to support developing countries in advancing their NAP processes and helps accelerate adaptation efforts around the world. To achieve this, the Network facilitates sustained South–South peer learning and exchange, supports national-level action on NAP development and implementation, and enhances bilateral support for adaptation and climate-sensitive sectors through donor coordination. The Network's members include participants from more than 120 countries involved in developing and implementing National Adaptation Plans, as well as 11 donor members. Financial support for the Network has been provided by Austria, Canada, Germany and the United States. The Secretariat is hosted by the International Institute for Sustainable Development (IISD). For more information, visit www.napglobalnetwork.org.
About private sector engagement in national adaptation planning processes: