As finance for climate change adaptation is scaled up, there is a real opportunity to promote human rights and gender equality in line with the ambitions of the Paris Agreement.  However, without careful consideration, there is also a real risk that these investments will not benefit those who need them most—vulnerable people in communities on the frontlines of climate change—or, worse, that they inadvertently exacerbate existing inequalities.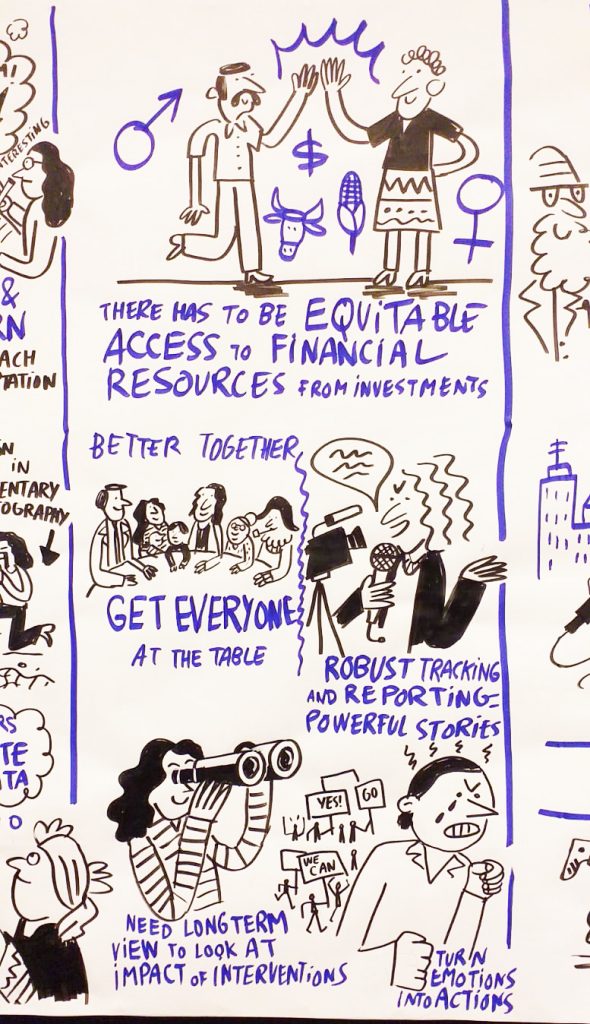 One way to maximize the effectiveness of adaptation investments is to take a gender-responsive approach to finance. Put simply, gender-responsive finance addresses gender differences and involves the meaningful participation of women, men, and non-binary people. It's about ensuring that all adaptation investment decisions, by all types of actors, yield equitable benefits for people of all genders and social groups.
This is something that we can all agree is a good idea. However, there are a lot of misunderstandings about what gender-responsive finance is and how to make it a reality.
In this blog, we unpack the concept of gender-responsive adaptation finance by exploring four key questions.
How do we ensure that the actions proposed for funding are gender-responsive?
In short: by integrating gender considerations in adaptation planning. The process of allocating finance for adaptation starts with collaboratively assessing vulnerabilities and then identifying priority actions to build resilience to climate change. This determines which initiatives will be put forward for funding. Attention to gender during the planning phase helps ensure the proposed actions are gender-responsive.
To integrate gender considerations in adaptation planning, we need to:
Place gender equality at the centre of key adaptation planning processes, including National Adaptation Plan (NAP) processes.
Analyze and address gender and social differences in adaptation needs and capacities, including by incorporating sex-disaggregated data and gender analysis in the identification and prioritization of adaptation actions.
Facilitate equitable and meaningful participation by diverse stakeholders in adaptation planning processes from the very beginning. This must include women, but also men and non-binary people, different social and livelihood groups, and representatives of Indigenous communities and marginalized populations.
Incorporate and value both scientific information and Indigenous and traditional knowledge in adaptation planning processes.
How can we strengthen attention to gender in decisions about adaptation investments?
Adaptation investment decisions are made by governments, donors, multilateral organizations, the private sector, and civil society organizations. Within each of these different types of institutions, there are several factors influencing how gender considerations are incorporated in decisions about allocating finance for adaptation.
A gender-responsive approach to these decisions involves:
Facilitating involvement of experts and advocates for gender and social equality in investment decision making.
Paying attention to gender balance in decision-making bodies such as boards, senior management teams, budget committees, and program coordination units.
Ensuring that decision-making bodies for adaptation finance have access to sex-disaggregated data and gender analysis—and capacities to use this information—to inform decision making.
Considering who will benefit from the adaptation actions that are prioritized and ensuring that resources and opportunities are equitably distributed.
Establishing accountability mechanisms to ensure that the various actors investing in adaptation actions follow through on commitments to integrate gender in their operations.
How can we ensure gender-equitable access to finance for the implementation of adaptation?
Women, women's organizations, and marginalized groups face a number of barriers in accessing climate finance. These exist at multiple levels; for example, at the global level, there are challenges in accessing international climate funds, while at the local level, there are persistent gender gaps in access to financial resources and services.  A gender-responsive approach helps ensure that women, men, and non-binary people—including those who are particularly vulnerable—can access the finance they need to build their climate resilience.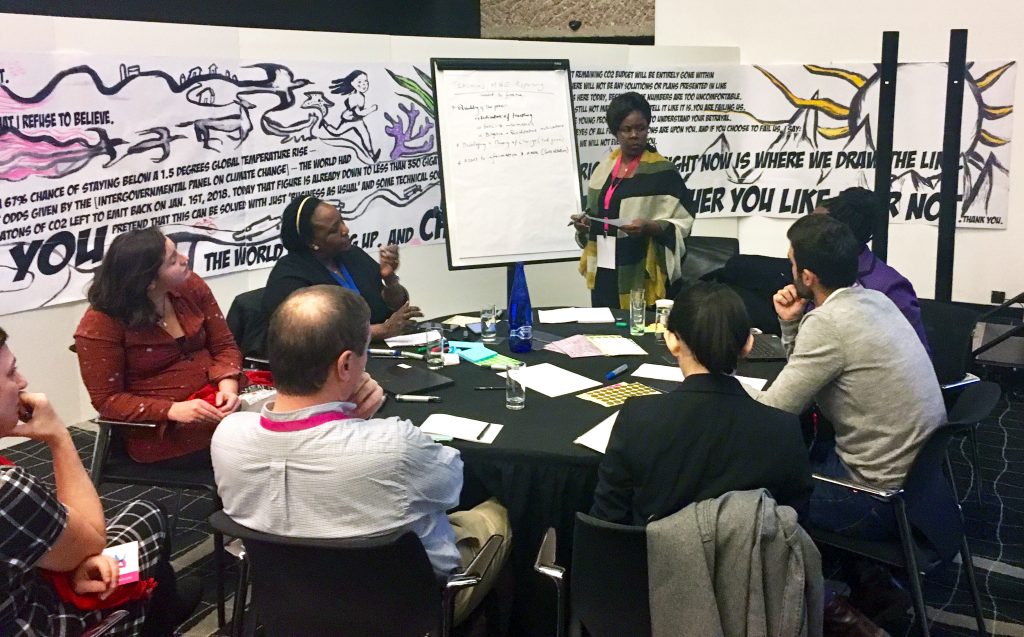 To ensure that access to finance for adaptation is equitable, we need to:
Remove the barriers women's organizations face in accessing climate finance, for example, by building their capacity to seek accreditation with global funds (check out this report for a comprehensive analysis of this issue).
Put in place a mix of different modalities, including systems to channel resources to the local level, as well as mechanisms that specifically target women and particularly vulnerable groups.
Ensure that efforts to engage the private sector in adaptation are inclusive of micro, small, and medium-sized enterprises and businesses led by women and representatives of marginalized groups.
Emphasize women's economic empowerment in the implementation of adaptation actions to address the gender gap in financial inclusion.
How can we assess the gender-responsiveness of adaptation investments?
The last piece in determining whether or not finance is gender-responsive is how investments are tracked and how success is evaluated. This is more than just counting women and men: it is about monitoring who is benefiting from adaptation investments, how and why—or why not.
This requires:
Establishment of appropriate indicators, collection of sex-disaggregated information, and gender analysis of the data.
Tracking the amount of funding that has been spent on actions oriented toward gender equality and what outcomes have been achieved when viewed through a gender lens.
Involving women, women's organizations, and vulnerable groups in evaluating the effectiveness of specific actions helps ensure that variations in results across different social groups are captured.
Monitoring broader changes—in social norms and institutional practices, for example – as well as unintended negative impacts on gender equality.
Document and report on results and lessons learned for accountability purposes and to inform future decision making related to finance for adaptation.
Conclusion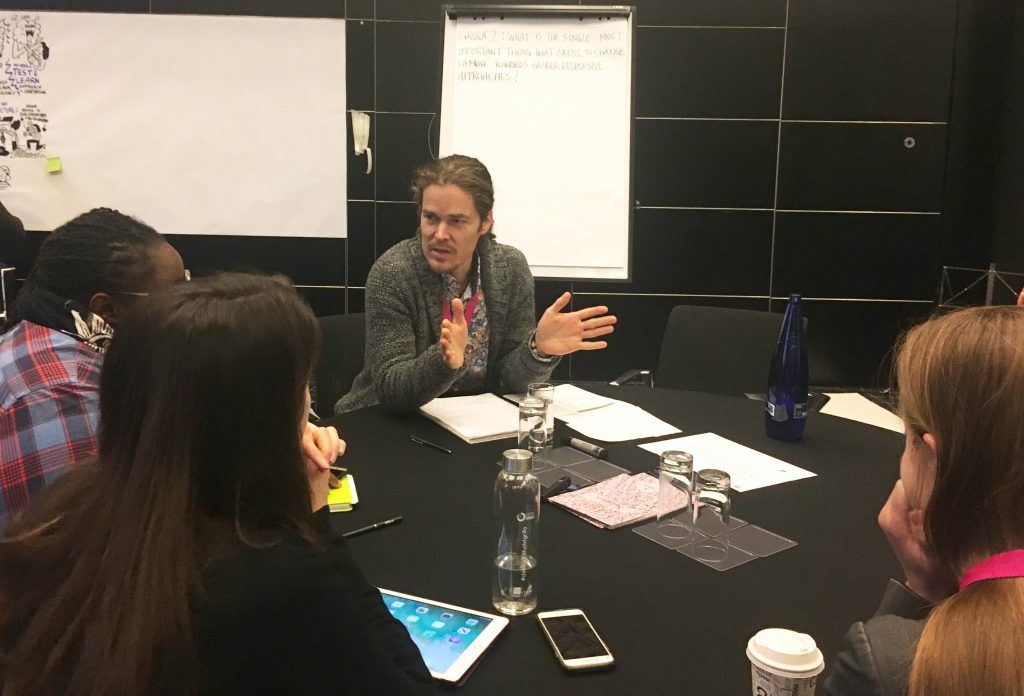 It's clear that gender-responsive climate finance is key to achieving the goals of the Paris Agreement. As the flows of financing for adaptation increase in the coming years, there is an important opportunity to ensure that these investments are shaped and channelled in a gender-responsive manner. This starts with planning to ensure that adaptation priorities are identified through a gender-responsive process. It demands participatory and inclusive decision-making processes at all levels and phases of financial decision-making. Getting money into the hands of women and ensuring that gender commitments are followed through in the implementation phase are key to ensuring that the most vulnerable people are not left behind.  Finally, definitions of progress on adaptation and processes for monitoring and evaluating investments must take gender into consideration and inform the climate finance architecture going forward.
Gender-responsive adaptation finance demands a commitment to reaching the most vulnerable women, men, and non-binary people—even if it takes longer and costs more. This is the only way to ensure that adaptation efforts are truly effective in building the resilience of families, communities, and societies.
In December, IISD and the International Development Research Centre (IDRC) joined forces to organize a dialogue to unpack the concept of gender-responsive adaptation finance.  The session, part of Development and Climate Days at COP25 in Madrid, brought adaptation practitioners together to explore the opportunities and challenges that arise in integrating gender in finance-related decisions.  This blog presents some of the key messages that emerged from these discussions.  We are grateful to all of the participants for sharing their perspectives.
Insights from this work on gender-responsive financing contribute to IISD's ongoing project, Mobilizing Development Finance for Strategic and Scaled-up Investment in Climate Adaptation, which is generously funded by IDRC.
Learn more about gender-responsive NAP processes:
---
Any opinions stated in this blog post are those of the authors and do not necessarily reflect the policies or opinions of the NAP Global Network, its funders or Network participants.