In 2019, Nigeria had some of its heaviest rains in recent history, causing floods virtually everywhere across the country. Climate change is already a challenging reality here, producing increasingly severe and frequent extreme events, including floods, sea-level rise, droughts, storms, and heat waves. It will only get worse, as recent projections for Nigeria to 2050 indicate that, among other things, the country could experience increasingly long-lasting and more frequent heat waves and amplified intensity in heavy rainfall events. All of these weather events cause increased loss of life, as well as damage to properties, socioeconomic infrastructures, and ecological systems. Climate change also exacerbates communal conflicts, as valuable resources, including fresh water and land, become scarce and competition increases. Without an effective adaptation plan, these adverse effects will only worsen, the resilience of communities will weaken, and sustainable development will be compromised.
Over the years, Nigeria has pursued adaptation through several channels. It has signed major global climate agreements and developed domestic policies, including the National Climate Change Policy and Response Strategy and the National Adaptation Strategy and Plan of Action on Climate Change for Nigeria. The Department of Climate Change (DCC) in the Ministry of Environment leads many of these efforts. Additionally, there are adaptation programs and projects supported directly or indirectly with budgetary allocations and external funds through multi-lateral and bilateral relations. However, to make all of these effective, enhanced coherence and coordination of adaptation programs and activities are required.
Nigeria's NAP Framework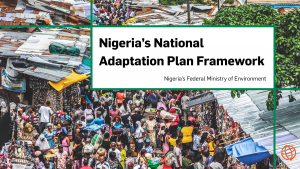 The National Adaptation Plan (NAP) process seeks to reduce vulnerability to the impacts of climate change and facilitate the integration of adaptation into policies, programs and activities, development planning processes, and strategies in a country. In this vein, Nigeria developed a NAP Framework with the support of the NAP Global Network. This strategic document will provide guidance on the development and implementation of the NAP process as it highlights the country's approaches and guiding principles. The methodology adopted for its development included a  review of the country's climate change statistics, relevant national policies, laws, and strategies; consultations with stakeholders in public and private institutions; a national stakeholder validation workshop; and a workshop on assessing vulnerability to climate change impacts.
Nigeria's NAP framework underscores sectoral planning and implementation of adaptation in the country. The NAP process will involve multiple sectors and agencies at different levels of governance, as well as private sector organizations. It will promote collaboration among organizations to share knowledge and prevent duplication across programs and projects. It will work to align adaptation to Nigeria's overall development aspirations. It will be gender-responsive and adopt community- and ecosystem-based approaches where appropriate. It will take advantage of multiple co-benefits and manage trade-offs arising from adaptation programs and projects. In general, the process of developing the framework has unveiled the challenges in Nigeria's adaptation programming, particularly showing which issues need attention for a greater impact in the country.
Key lessons learned
The process of developing the framework has yielded a few important lessons:
| | |
| --- | --- |
| |  Private organizations, including development partners, may have programs that are not known but relevant for national adaptation reporting. A robust plan for tracking programs and projects of all actors in the country is therefore necessary. |
| |  Many individuals holding important positions for adaptation may have a limited understanding of key concepts necessary for the role expected of them. The NAP process should include identifying gaps and upgrading capacity. |
| |  Most critical stakeholders are busy people and getting to interview them may require many visits. This element must be properly thought out and budgeted for in planning the process. |
| |  Several ongoing activities in the country could have substantial benefits for national adaptation. These various activities should be coordinated to optimize any benefits that can be derived from them. |
The way forward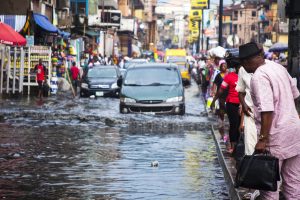 The NAP framework identified eight activities to move things forward in Nigeria:
Launching the country's NAP process. The initiation of the implementation of the Green Climate Fund-supported Readiness Proposal is a good opportunity to get this done. The honourable Minister of Environment will oversee these activities with the DCC coordinating.
Reviewing the Inter-Ministerial Committee on Climate Change (ICCC) for efficiency. An effective ICCC will foster cooperation and collaboration among Ministries, Departments and Agencies (MDA) and assist in eliminating overlaps and duplication of programs.
Implementing a stocktaking process to reset adaptation efforts in the country.
Promoting an enabling environment for adaptation actions, especially through policy review and implementation.
Identifying capacity gaps at various levels of government and in the private sector and developing strategies to address these gaps.
Assessing vulnerabilities in the various sectors to determine the levels of intervention that will help minimize the impacts of climate change.
Developing knowledge-sharing platforms on adaptation actions for rapid information sharing at various levels.
Reviewing the climate financing profile and developing strategies to strengthen funding for adaptation.
Related content: