With climate change at Liberia's doorstep, its government leaders are urgently taking action to adapt vulnerable sectors to the impacts of climate change by following the strategies laid out in its National Adaptation Plan (NAP), a 10-year plan that took effect in 2021 and involves a whole-of-society approach to adaptation.
On April 22, a project to develop a framework for Liberia's Monitoring, Evaluation, and Learning (MEL) system was launched with a 1-day workshop run by the country's Environmental Protection Agency (EPA).
At the opening of the workshop, Arthur Becker, Project Officer of Liberia's EPA, welcomed the stakeholders on behalf of the Executive Director of the EPA, Professor Wilson Tarpeh, and explained that the workshop aimed to lay out the process of building a national model for the development of an adaptation MEL system for the country, primarily focusing on the NAP.
The Government of Liberia recognizes the MEL system as a fundamental pillar of its NAP, supporting the tracking of adaptation actions, improving accountability, and enhancing the delivery of the government's adaptation commitments.
This meeting is an important first step in developing a MEL framework by creating a cohesive understanding of the country's specific MEL needs and objectives and laying out a plan for the development of a MEL system.
Bringing together several relevant sector experts from government institutions, representatives from youth and women groups, civil society organizations, and non-government organizations, this workshop in Monrovia was able to:
Engage participants in a discussion of the objectives and needs of a MEL system for national adaptation.
Analyze existing MEL systems, approaches, or other data collection processes already in place throughout Liberia's government institutions that could be linked to adaptation progress.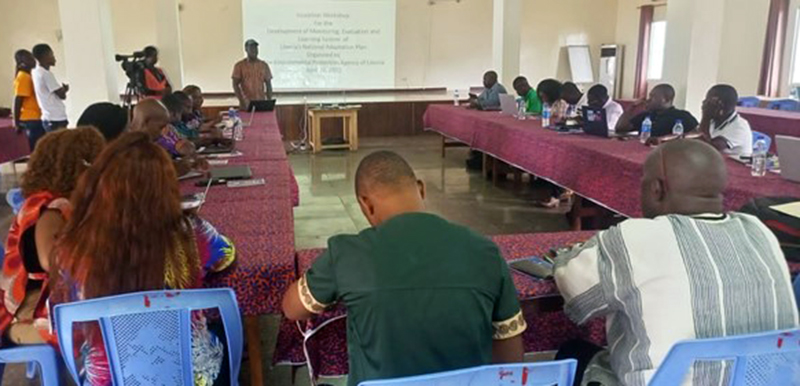 Mr. Becker noted that the monitoring and evaluation system will highlight work done over some time by the EPA and will draw on the critical needs of the Ministry of Finance and Development Planning, Ministry of Health, and Ministry of Agriculture as identified through the NAP process. He explained that the workshop will enable participants to provide input to the process of preparing a document that sets out an appropriate MEL framework for the country's adaptation to climate change.
Following these remarks, the National Consultant, J. Peryekor Dahn, acknowledged support from the NAP Global Network and its funders for the initiative and said the process would involve every sector in Liberia—leaving no one behind in the development of the MEL system.
The NAP Global Network's technical and financial support for the development of Liberia's MEL system was augmented with financial support from Irish Aid. To learn more about the NAP Global Network's support for NAP processes around the world, visit the Country Support Hub. More about our work on the MEL of national adaptation is available on our MEL theme page.
More Coverage: