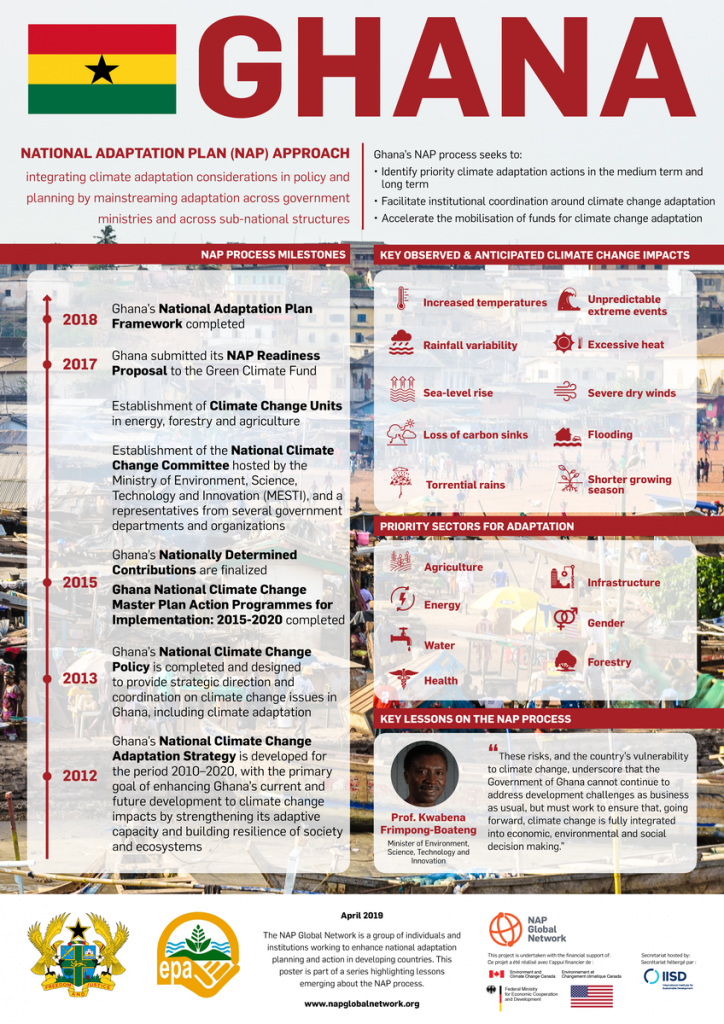 The Government of Ghana is hosting a series of high-level regional consultations this week in order to build momentum for medium- and long-term national adaptation planning efforts. 
Led by the Environmental Protection Agency (EPA) of the Ministry of Environment, Science, Technology and Innovation, the consultations are meant to build political momentum and support for the National Adaptation Plan (NAP) process in Ghana. The consultations, supported by the NAP Global Network's In-Country Support Program, will serve to help strengthen vertical integration across the country, bringing together national and subnational governance structures in support of climate change adaptation in Ghana.  
Ghana's NAP process follows from a number of past national-level initiatives and policies to address climate change, including the National Climate Change Policy and National Climate Change Adaptation Strategy, as well as the submission of the country's Nationally Determined Contributions. 
In 2018, and with support from the NAP Global Network, Ghana developed its NAP Framework, initiating the NAP process with a document that laid out the vision, approach and guiding principles that would define the country's NAP process. Using this framework, the EPA and its partners will now work to bring together all of the work on climate adaptation in Ghana under the NAP banner, aligning these efforts with the country's medium- and long-term development plans.
Ensuring that stakeholders from across the country are included in adaptation planning is central to guaranteeing country ownership of the NAP process. These regional workshops, scheduled to take place in Takoradi (Ghana's Western and Central Regions), in Kumasi (Ashanti Region) and in Koforidua (Eastern Region) from July 23 to 26, will help the EPA and the NAP process move toward this goal. 

Learn more about our Ghana in-country program.