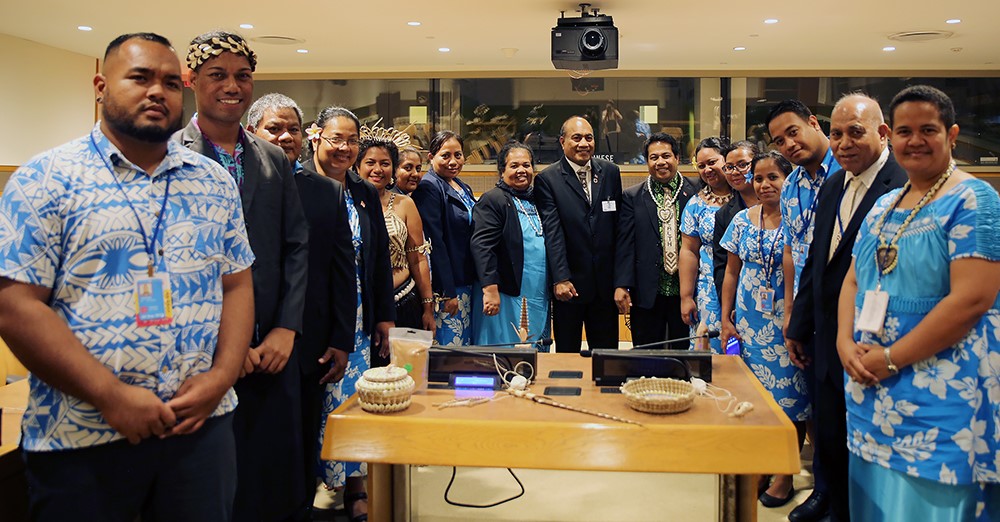 NEW YORK, September 27, 2019 – The Government of the Republic of Kiribati launched its revised Joint Implementation Plan for Climate Change and Disaster Risk Management (KJIP), setting out its ambitions for building Kiribati's resilience to climate change impacts.
The KJIP was launched at a side-event organized by the Republic of Kiribati and the Republic of the Marshall Islands, Securing our Future in the Blue Pacific, as part of meetings convened by the United Nations to review progress made on the Small Island Developing States Accelerated Modalities of Action (SAMOA) Pathway.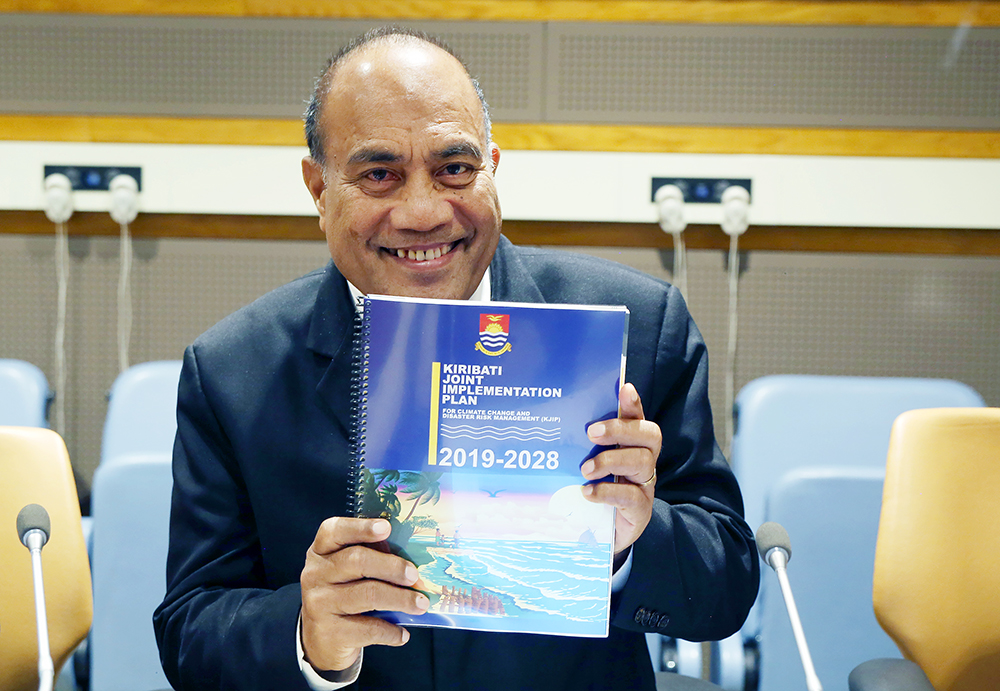 Taneti Maamau, President of Kiribati, highlighted the importance of building partnerships that help address the common challenges that the region faces. He noted that Kiribati is implementing its climate change-related plans through a coordinated national strategy and has recently launched the revised Kiribati Joint Implementation Plan for Climate Change and Disaster Risk Management (KJIP) 2019-2028. He noted that the KJIP aims to uphold and safeguard Kiribati's unique culture, heritage, and identity through enhanced resilience and sustainable development. He emphasized that Kiribati "is not sinking, but fighting."
The goal of the KJIP is to increase resilience to climate change and disaster risks using a "whole-of-country" approach by focusing on mainstreaming and coordination across sectors and scales of governance. The KJIP identifies 12 strategies and associated priority climate change and disaster risk management actions for the next nine years (2019–2028) based on existing policies and strategies.
As a Small Island Developing State, Kiribati is especially vulnerable to climate hazards such as coastal floods, tropical cyclones, droughts, increase of sea surface temperatures and sea level rise. In order to address these vulnerabilities, Kiribati is prioritizing adaptation actions in key sectors as part of its National Adaptation Plan (NAP) process. Through its holistic approach, the updated KJIP will enhance coordination across sectors and access to financial and technical support in order to accelerate action on climate adaptation and disaster risk reduction.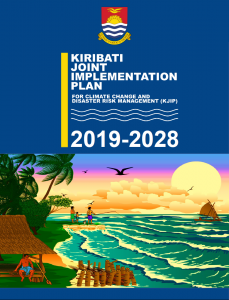 The revision of the KJIP was supported by the NAP Global Network's U.S. In-Country Support Program for Kiribati implemented by the International Institute for Sustainable Development (IISD) and financed by the U.S. government. This support builds on a first phase of in-country NAP support to Kiribati by the NAP Global Network from 2017–2018 with financial support from the Government of Canada.
"We are proud to be supporting Kiribati in working toward achieving their vision for climate resilience," said Anne Hammill, Director of the NAP Global Network Secretariat. "We look forward to continuing to work with Kiribati as they move to implement the adaptation actions they have prioritized in the revised KJIP to address climate threats to their communities and ecosystems."
For more information or media inquires, please contact:
Ziona Eyob, Communications Officer, NAP Global Network
zeyob@iisd.ca
Photos by IISD/ENB | Francis Dejon
About the NAP Process
The NAP process is a domestic process to define and address medium- and long-term climate change adaptation priorities. Established in 2010 under the UNFCCC's Cancun Adaptation Framework, the NAP process aims to facilitate integration of climate change adaptation into development planning and budgeting at national, sectoral and sub-national levels. Its ultimate objective is to reduce vulnerability and increase the resilience of developing countries to the negative impacts of climate change. According to the UNFCCC, 91 developing countries have either launched or initiated NAP processes thus far.