On Thursday, November 28th, the Ministry of Environment of Peru held its first meeting towards the participatory process for the development of its climate change National Adaptation Plan (NAP). This guidance document will be Peru's most important tool for implementing all the actions needed to reduce risks and vulnerability against climate change's effects while simultaneously taking advantage of the opportunities to ensure sustainable development.
The meeting brought together more than 70 representatives from government sectors and institutions linked to climate change adaptation, with the objective of presenting the NAP´s conceptual models. In this regard, Laura Secada Daly, Director General of Climate Change and Desertification of the Ministry of Environment of Peru, highlighted the work that each sector have been doing to put the climate action on their agendas.
"The NAP will be aligned with the National Strategy on Climate Change. In this way, it will allow its update for the adaptation component, and will be an opportunity to generate synergies and facilitate an implementation of climate change adaptation with special focus at subnational level," said the Director-General.
Likewise, the Director of Climate Change Adaptation and Desertification, Cristina Rodríguez, expressed the importance of having a NAP to implement the Framework Law on Climate Change; consolidate the adaptation agenda with a long-term perspective; contribute to achieving the Sustainable Development Goals and access the Organization for Economic Co-operation and Development; and fundamentally, reduce vulnerability and risks against climate change effects for the benefit of the Peruvian population.
"The NAP will be very closely articulated within our Nationally Determined Contributions. The NDCs announce the objectives and goals that are planned for adaptation, while the NAP will account for the planning, implementation and monitoring and evaluation of adaptation," said Cristina Rodríguez.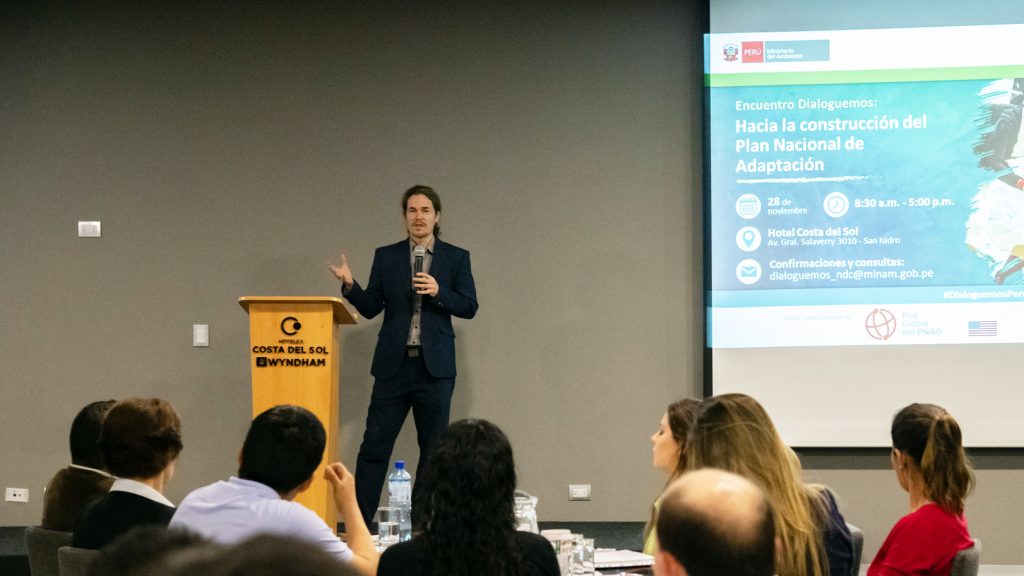 The contributions of the participants to the conceptual models highlight the importance of constructing a strategic document that guides adaptation to climate change at national and sub-national levels. In addition, it is necessary to guarantee the presence of gender, intergenerational and intercultural approaches in its processes and actions, in order to ensure a multi-actor, multilevel and multisectoral approach to the work.
It is important to note that this process is supported by the NAP Global Network's U.S. In-country Support Program for Peru, implemented by the International Institute for Sustainable Development.
"Peru is a country that's made significant progress in adapting to climate change," said Daniel Morchain, representative from the NAP Global Network. "The valuable advances in its Monitoring and Evaluation system, its Dialoguemos process and its communication actions predict the success of the future NAP."
Follow-up meetings will take place in 2020, consolidating advances that have been made on ​​adaptation NDCs, regional climate change strategies and local climate change plans. This will allow for decisions and actions towards the implementation of climate change adaptation actions to involve participation from all actors of the country.