OUR PROGRAM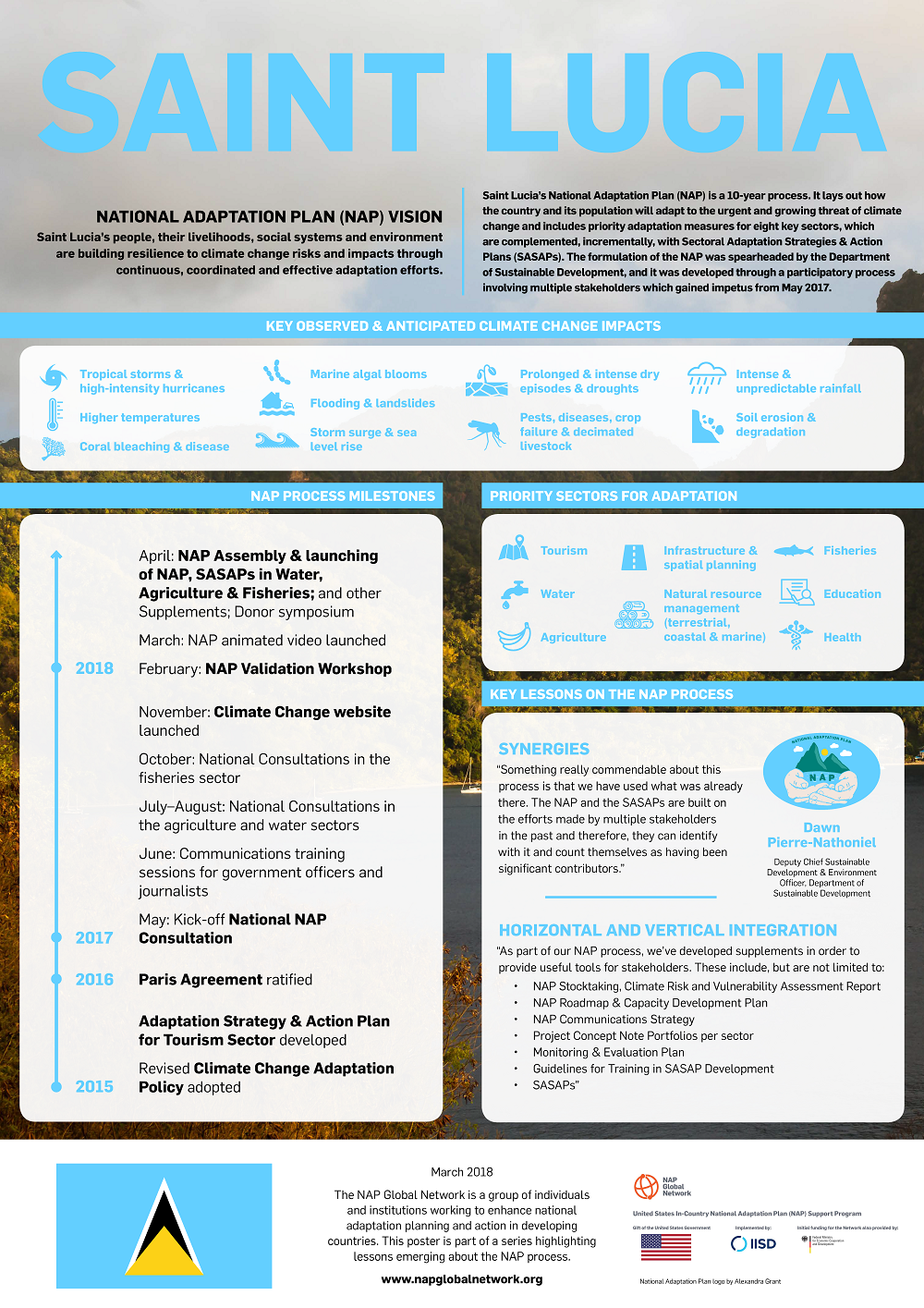 The NAP Global Network has been working with the Department of Sustainable Development and the Ministry of Education, Innovation, Gender & Sustainable Development in Saint Lucia since 2016 to ensure priority sectors build a resilience to the impacts of climate change and the NAP process is communicated among donors, the private sector and general public.
Our program supports the development of sectoral adaptation strategies and action plans (SASAPs), and investment strategies for sectors that are particularly vulnerable to climate change, including agriculture, fisheries and natural resources. We are helping build a bankable pipeline of adaptation projects for these sectors with a corresponding financing strategy.
We are also helping Saint Lucia monitor and evaluate the NAP's progress, as well as develop strategic communications to further engage the private sector in adaptation actions and coordinate with active donors in the region.
MILESTONES
2020
NAP Financing Strategy: Outlined key sources of financing to move from NAP planning to implementation.
Private sector engagement strategy: Strategy to engage the country's private sector in the NAP process, particular focus on agriculture, financial services, construction, and tourism.
Sectoral adaptation plans: Adaptation strategy and action plan for critical ecosystems.
Climate change research policy and strategy: Helping to identify and address national gaps in climate change research.
NAP Progress Report: Measuring the impact of the NAP to date, to ensure that lessons learned can be incorporated in future NAP processes.
2018
NAP Assembly and launching of NAPP and SASAPs in water, agriculture & fisheries sectors.
NAP communications strategy: Outlined how DSD can strategically engage with key audiences in supporting and participating in the NAP process.
Sectoral adaptation plans: Finalized adaptation strategies and action plans for the agriculture and fisheries sectors.
Video posted: Raised awareness of climate change in Saint Lucia and the NAP process.
2017
NAP Communications training sessions: Government officers and journalists trained to effectively communicate about NAP and climate change.
Sector consultations: Consultations with key stakeholders from the agriculture, water and fisheries sectors on their adaptation priorities.
2016
Caribbean NAP Assembly: Caribbean countries share plans to adapt to climate change.